Arburg at the MSV 2017: high performance for the optical industry and additive functional parts
Arburg to demonstrate sophisticated applications in injection moulding and additive manufacturing
LSR processing: high-performance electric Allrounder producing flexible magnifying glasses from liquid silicone rubber
Additive manufacturing: freeformer producing multipiece part from ABS standard granulate
Lossburg, 21 August 2017
The MSV 2017 in Brno is the most important industry event in the Czech republic and Slovakia. Arburg will be demonstrating two sophisticated applications for production-efficient plastic processing there in Hall G1, Stand 39 from 9 to 13 October: an electric injection moulding machine from the high-performance Alldrive series producing flexible and transparent LSR magnifying glasses for the optical industry, and a freeformer producing a clamping jaw from ABS standard granulate using additive manufacturing.
"There is huge demand for high-quality and automated injection moulding solutions at the moment. We will be demonstrating Arburg's standing as the right partner, including and particularly for special high-tech applications, using the example of a sophisticated optical application based on an electric injection moulding machine from the high-performance Alldrive series", stressed Dr Daniel Orel, Managing Director of the Arburg subsidiary in the Czech Republic. "We will also be demonstrating the current state of Arburg Plastic Freeforming for industrial additive manufacturing of functional individual parts and small volume batches, an area where we see great potential for the future in our market. With our product portfolio and innovative process technology, we cover an enormous range for production-efficient manufacturing of plastic parts. In addition, our experienced technicians offer outstanding support and service."
Processing of liquid silicone rubber into flexible magnifying glasses
An electric Allrounder 470 A with 1,000 kN of closing force and LSR screw suitable for use in clean rooms will be used to produce flexible and transparent magnifying glasses from liquid silicone rubber (LSR). The high-performance machine features a 4-cavity mould with needle-type shut-off nozzle and cold runners from Rico. The highly transparent Lumisil LR 7600 from Wacker has a hardness of 60 Shore A. Unlike highly transparent thermoplastics like PC or PMMA, the LSR material does not discolour and remains colourless even in the presence of heat and sunlight. The fully electric dosing system is supplied by 2KM. The cycle time is 40 seconds, while the moulded part weight is 5.5 grams.
Alldrive high-performance series
The electric Allrounder Alldrive has an energy requirement which is up to 50 per cent lower than for hydraulic standard machines. Servo drive energy recovery during braking also contributes to this saving. Short cycle times are achieved with the aid of the standard, servo-electrically driven independent main axes. Play-free, direct-acting spindle drives ensure maximum repeat accuracy and part quality. Low emissions thanks to liquid-cooled, encapsulated servo-electric drives are a further benefit. Convenient operation of the production sequence is ensured by means of the universal Selogica control system.
Additive manufacturing: Functional parts made from original materials
Using 3D CAD data as a basis, functional parts are produced from inexpensive qualified plastic granulates using Arburg Plastic Freeforming (APF). At the MSV 2017, a freeformer will be demonstrating an example of additive manufacturing of clamping jaws with star grip from qualified ABS standard granulate (Terluran GP 35). A metal nut will be clipped into the star grip for screw connection and manual securing. The build time for the part is around three hours for a layer height of 0.2 millimetres.
The freeformer is equipped with two discharge units as standard. This allows it to process an additional component in order to manufacture a part in different colours, with special tactile qualities or as a hard/soft combination, for example. Support material can alternatively be used as a second material for realising complex part geometries like undercuts or ribbed structures – in the application on show at the trade fair, this will be alkaline-soluble Armat 21. This support material, which has been available from Arburg since May 2017, is easy to process and thermally stable. It has very good droplet formation and adhesion properties, as well as excellent edge definition with respect to the build material.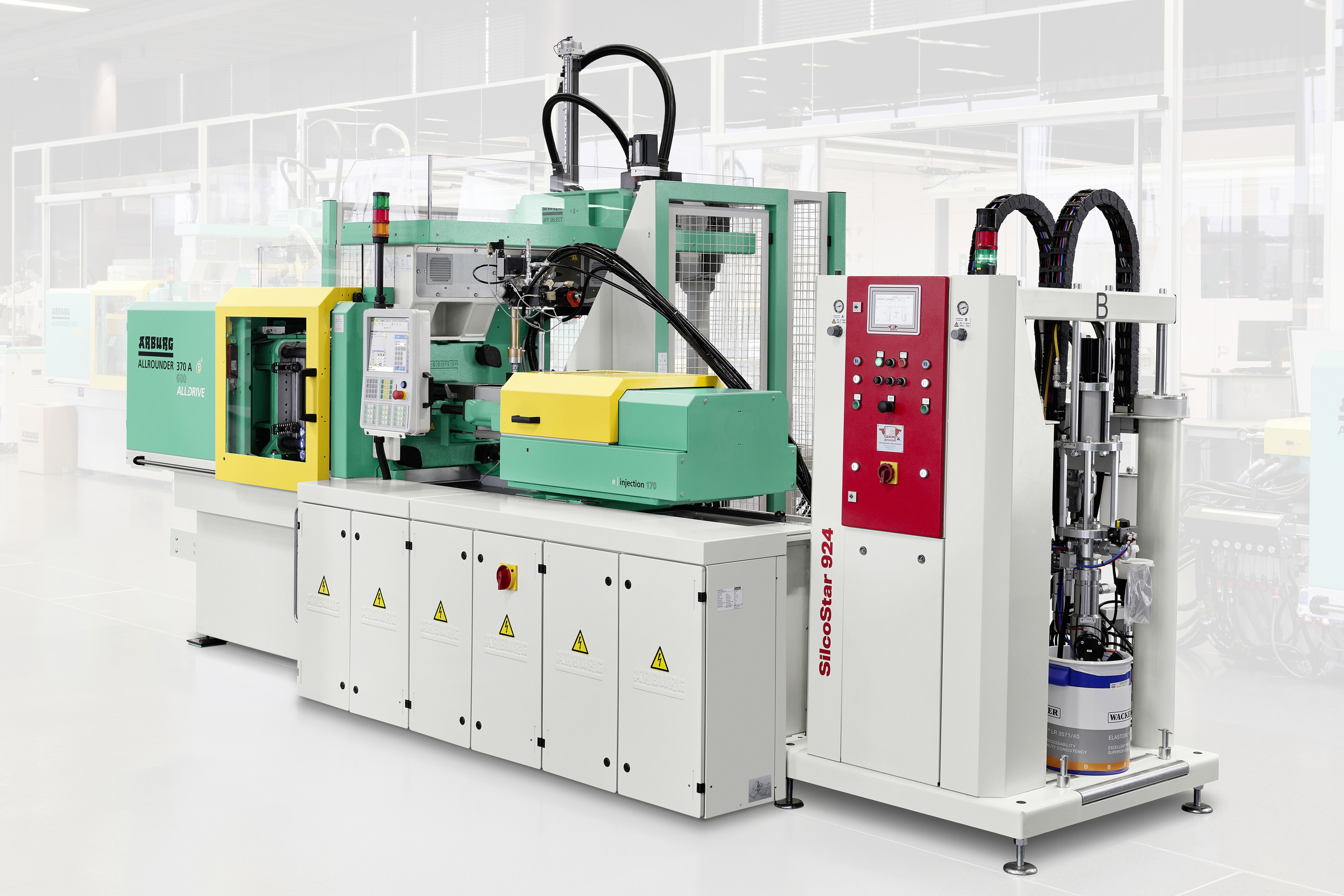 About Arburg
A German family-owned company, Arburg is one of the leading global manufacturers of plastic processing machines. The product portfolio encompasses Allrounder injection moulding machines with clamping forces of between 125 and 6,500 kN, the Freeformer for industrial additive manufacturing and robotic systems, customer and industry-specific turnkey solutions and further peripheral equipment.
The company places the topic of production efficiency at the centre of all its activities, taking into account the entire value-added chain. The objective is to enable ARBURG customers to manufacture their plastic products, whether as one-off parts or in high-volume production, with optimal quality and at minimum unit costs – e.g. for the automotive and packaging industries, communication and entertainment electronics, medical technology or the white goods sector.
An international sales and service network ensures first-class customer support at the local level: Arburg is represented by fully owned organisations at 33 locations in 25 countries and by trading partners in more than 50 countries. The machines are produced exclusively at the parent company in Lossburg, Germany. Of a total of around 2,700 employees, about 2,200 work in Germany. About 500 further employees work in Arburg's organisations around the world. In 2012, Arburg became one of the first companies to gain triple certifications: ISO 9001 (quality), ISO 14001 (environment) and ISO 50001 (energy).
Further information about Arburg can be found at www.arburg.com.
Πηγή: Arburg