"Additive manufacturing is an integral part of our future production strategy."
Annual General Meeting of the Additive Manufacturing Working Group at VDMA in Herzogenaurach
AM establishes itself in the technology group
Guided tours of the AM Experience and Digital Experience Centers in Erlangen round off the program
Frankfurt, May 14, 2019 – "We look back on the most exciting and best year in Additive Manufacturing (AM) to date. And 2019 also feels very good," said Christoph Hauck, Chairman of the Executive Board of the Additive Manufacturing Working Group at VDMA last week (May 9) at the start of the 2019 AG General Meeting at the headquarters of Schaeffler Technologies AG & Co. KG in Herzogenaurach.
"AM is growing up and is well on the way to industrialization," reported Hauck, who has been familiar with additive processes since 2005 as Managing Director of manufacturing service provider MBFZ toolcraft. According to Hauck, advances in AM plant technology, further developments in digital process chains and the growing range of automation concepts and materials are clear indications of increasing maturity. He also sees announcements by the automotive industry to establish AM in series production processes not only from 2035, but with a view to new electric mobility requirements from 2025, as a good signal. "It is very positive that AM is anchored in the national industrial strategy of Federal Economics Minister Altmaier, and that the Federal Government is providing 30 million euros in subsidies for projects for line integration of AM in automotive engineering and for applications in the aerospace and energy sectors," said Hauck.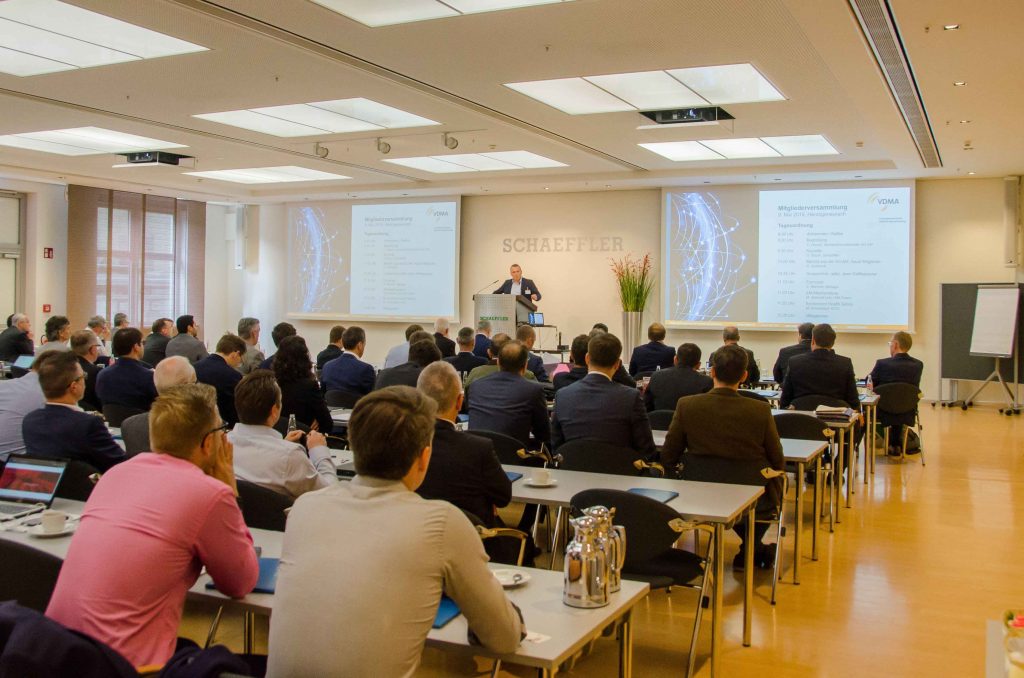 Firm place in Schaeffler Technologies' production strategy
Gerhard Baum also sent out positive messages for the young AM industry. The Chief Digital Officer (CDO) of the host Schaeffler Group explained how the technology group is tackling the upcoming digital transformation and what effects it will have on production strategies. "Now that more is changing than in the last hundred years, working groups such as yours are very important," he explained with a view to major projects such as automated driving, electric mobility and the reorganization of mobility in the rapidly growing urban centers of the world, "because it is a matter of developing common thinking, recognition and action in order to shape this change effectively. As an integrated technology group that is comprehensively involved in the development of "Mobility for tomorrow" from vehicle components and solutions for energy chains to new approaches such as bio-hybrid vehicle concepts, Schaeffler wants to shape this change.
According to Baum, digital technologies ranging from big data to cloud/edge solutions and artificial intelligence will change the industry and Schaeffler himself from scratch. This process needs to be accelerated in view of strong global competitors; at the product level and in the production infrastructure. Because a wave of change is rolling in: electric/hybrid drives, fuel cells, digital braking, springs and steering, robot taxis, car sharing services and new data-based business models. New ecosystems with partners and new development platforms are needed. Technological openness is becoming a must. And this is where additive manufacturing comes in. "We need much more flexible variable production systems and decentralized approaches," explained Baum. Schaeffler is therefore consistently developing its existing lean production system with digital solutions in order to become faster and to be able to implement changes faster. "Additive manufacturing has a firm place in the new production system," he said. In interaction with neural networks for quality assurance and production control, additive manufacturing will become the central element of the digital production strategy. This first in the automotive after-market for a fast decentralized spare parts supply, later also in the area of volume production.
Development of the AG Additive Manufacturing
With around 80 participants, the general meeting was the largest since the Additive Manufacturing Working Group was founded five years ago. According to Rainer Gebhardt, AG AM Project Manager in the VDMA, the number of member companies has since grown to 143. These include suppliers of AM systems and suppliers, manufacturing service providers and a large number of industrial users. In addition, software and automation specialists as well as leading research institutes contribute their know-how to the working groups.
Occupational safety – Fraunhofer expert points to positive perspectives
In Herzogenaurach, Mario Schafnitzel, occupational safety expert at the Fraunhofer Institute for Foundry, Composite and Processing Technology IGCV Augsburg, assumed this role. He reported on recent research and standardisation efforts for safe working processes in the additive processing of metal powders. According to Schafnitzel, personal and stationary measurements at the workplace did not result in any alarming findings. Limit values were only exceeded in one case where the powder was sieved by hand. "Wearing a dust mask was sufficient here as a protective measure," he reported. The results of the research had been brought to technical committees for standardisation. Two specific VDI guidelines (VDI 3403 Part 6.1 and 6.2) on occupational health and safety in the AM area are expected by the end of 2019. The company is also working on compact safety and occupational safety recommendations along additive process chains in order to provide users with targeted support in this complex area.
Increasing maturity and high development dynamics
Schafnitzel's remarks, but also the success story of the partner trade fair formnext or the concrete approaches to market research by companies such as Ampower, Dr. Markus Heering, Managing Director of AG AM in the VDMA, sees clear evidence of the increasing maturity of the industry. "Five years ago, we set ourselves the goal of developing a platform for the rapid industrialization of technology," he explained. "This goal has been achieved. We see a highly dynamic development and a rapid increase in industrial applications of additive processes," says Heering. Sasha F. Wenzler, Vice-President of formnext, had previously reported on the rapid growth of formnext and current internationalisation strategies. Matthias Schmidt-Lehr promoted the participation in market studies of his Ampower GmbH to the AG member companies in order to jointly create a data basis for market development that would enable AM actors to make well-founded strategic decisions.
At the end of the general meeting, Siemens invited the AG members to take guided tours of the Additive Manufacturing Experience Center and the Digital Experience Center in nearby Erlangen. While immersing themselves in completely integrated digital worlds of the future, some visions flashed up as to how AM could contribute to digitized lean production in the future. "In view of the high dynamics with which AM is currently developing, these visions could become reality much more quickly than we can imagine today," explained Heering.
About 150 companies and research institutes collaborate under the roof of the VDMA  in the Additive Manufacturing Association. System manufacturers, suppliers of components and materials, industrial users from the metals and plastics sectors, services providers for software, manufacturing, and finishing as well as researchers all have a common goal: the industrialization of additive manufacturing technologies.