Allrounder 1300 T: Next-generation rotary table machine
New: Vertical injection moulding machine with 1,300-millimetre rotary table

Optimised: Ten percent smaller footprint with 15 percent more space for moulds

Automatable: Multilift V 15 for part handling
Lossburg, 23/09/2020
With the Allrounder 1300 T, Arburg is significantly expanding its range of vertical rotary table machines to include a 1,300-mm table diameter option. Compared to its predecessor, the 1200 T, this new machine offers more space for heavier moulds – and with a significantly reduced installation area.
Arburg offers a wide range of vertical V and T-series Allrounders for manual and automated loading and unloading tasks. The rotary table machines can be automated all the way through to complete turnkey systems. The new Allrounder 1300 T has been further developed on the basis of the proven Allrounder 1200 T.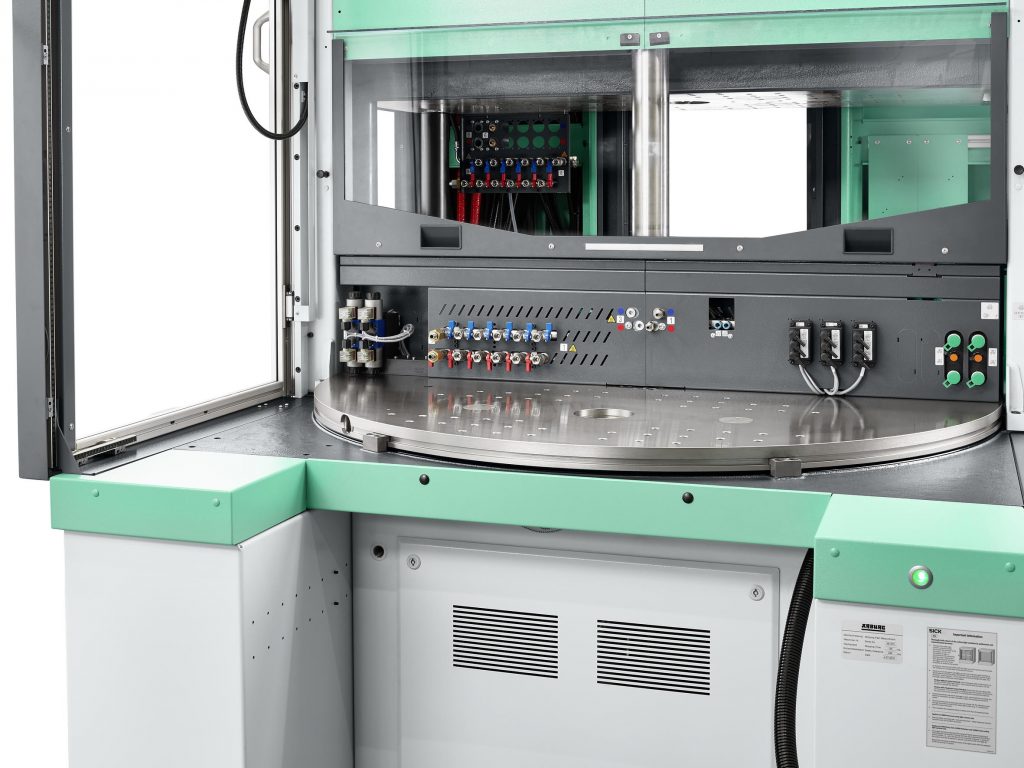 The Allrounder T''s tie-barless rotary table concept makes media connections easily accessible and provides ample free space for clamping the moulds.
Allrounder 1300 T: Compact with more space for moulds
As with its size 1600 T big brother, many of the Allrounder 1300 T's components have been optimized in terms of installation area, weight and ergonomics. And the clamping unit, machine base, and control cabinet have been redesigned in the process. Compared to the Allrounder 1200 T, the new machine features a ten percent smaller footprint and installation height. The table diameter is now 100 millimetres larger, while the ergonomic table and working height is around five percent lower at 950 millimetres.
The mould mounting surface has been increased by 15 percent and the up to 100 kilograms higher mould weight per mould half corresponds to a 25 percent increase. The re-engineered cable routing and easily accessible media connections allow a quick and easy set-up.
The Allrounder 1300 T is the first rotary table machine to be equipped with the Selogica ND control system as standard, making it particularly convenient to operate. Clamping forces of 1,000 and 1,600 kN and injection units in sizes 70 to 400 or 800 are available.
Servo-electric and automatable rotary table machines
The rotary tables are generally servo-electrically driven and therefore operate with particular speed and precision. Two-circuit pump technology ensures simultaneous movements for the ergonomic overmoulding of inserts. To ensure reliable operation, the Allrounder T machines are equipped as standard with an ergonomic efficiency package including a combined vertical and horizontal light curtain.
Full range of vertical machines
Arburg offers the widest range of vertical injection moulding systems in the industry. In addition to the T series, these include the Allrounder V with clamping forces from 125 to 500 kN, whose vertical free-space system provides unimpeded access to the mould. The vertical injection moulding machines from Arburg are suitable for both manual and automated loading and unloading tasks, and can be automated all the way through to complete turnkey systems. The robotic systems are integrated into the production cell's control system. The vertical MultIift V 15 comes, for example, with a design tailored to the rotary turntable machine and integrated into its footprint to save space.
Like all Allrounders, the vertical machines are also modular in design and offer a variety of clamping-force and injection-unit combinations. Special equipment is available for multi-component, thermoset or silicone processing.
About Arburg
German family-owned company Arburg is one of the world's leading manufacturers of plastic processing machines. Its product portfolio encompasses Allrounder injection moulding machines with clamping forces of between 125 and 6,500 kN, the Freeformer for industrial additive manufacturing and robotic systems, customer- and industry-specific turnkey solutions and further peripheral equipment.
An international sales and service network ensures first-class customer support at a local level: Arburg has its own organisations at 35 locations in 26 different countries and, together with its trading partners, is represented in more than 100 countries. Its machines are produced exclusively at the parent company in Lossburg, Germany. Of a total of roughly 3,200 employees, around 2,650 work in Germany. About 550 further employees work in Arburg's organisations around the world. Arburg has triple certification, in accordance with ISO 9001 (quality), ISO 14001 (environment) and ISO 50001 (energy).
Further information about Arburg can be found at www.arburg.com