Arburg at Chinaplas 2020: Digitalisation, Circular Economy, Efficiency
"arburgXworld": customer portal receives its premiere in Asia, plus comprehensive digital services
"arburgGREENworld": efficient use of resources – lightweight construction as a practical example
Innovative: LSR processing, fibre direct compounding and Arburg Plastic Freeforming
Lossburg, 21/1/2020
At Chinaplas, which will take place in Shanghai, China, from 21 to 24 April 2020, Arburg will use practical examples to show how digitalisation and circular economy can help to improve production efficiency. All the injection moulding exhibits on show at stand C61 in hall 2.1 will be networked and automated with the Arburg ALS host computer system. An LSR processing product will receive its premiere and also on show will be innovative injection moulding applications and two Freeformers for industrial additive manufacturing. The "arburgXworld" customer portal receives its premiere in Asia. A resource-saving lightweight construction application will be presented for the "arburgGREENworld" program.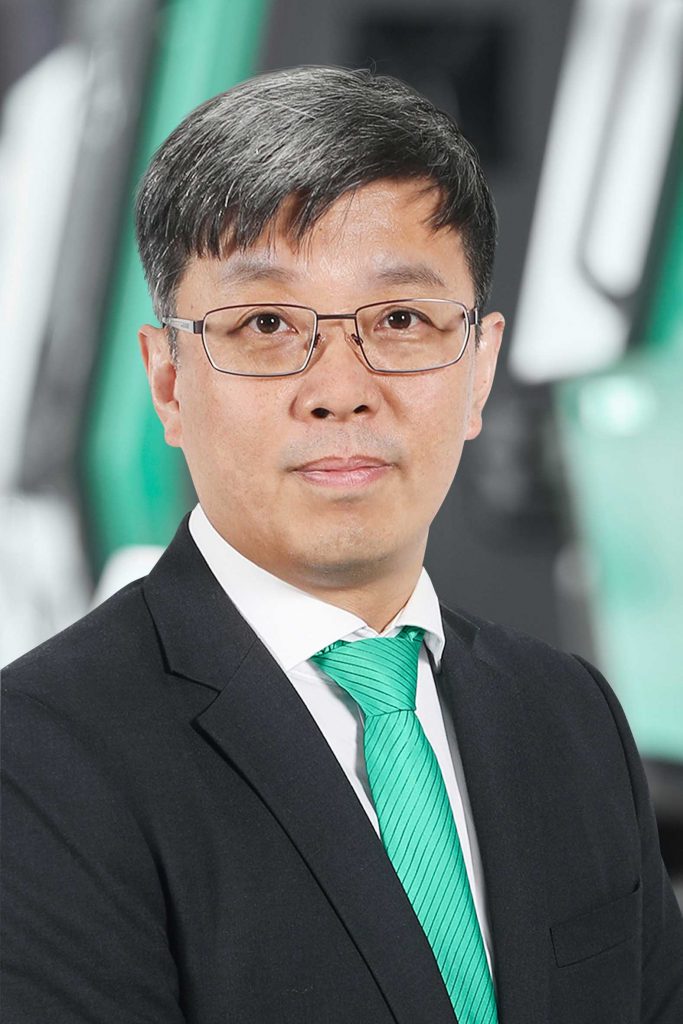 "Digitalisation has picked up some incredible momentum in China. Our new "arburgXworld" customer portal is set to celebrate is Asian premier at Chinaplas 2020. We strive to use our wealth of digital products and services to help our customers achieve greater production efficiency and create smart factories," says Zhao Tong, Managing Director of the Arburg organisations in China. "A particular highlight is sure to be the world's first Allrounder from the Golden Electric series for LSR processing. We will also showcase the resource-friendly fibre direct compounding lightweight construction process, a high-performance machine for IML packaging, a turnkey system for multi-variant production on demand and our latest achievements in additive manufacturing. So we have the right solution readily available for practically any requirement – from single-unit batches right up to high-volume production that is automated and integrated with the IT network."
Asian premiere: "arburgXworld" customer portal
Arburg is an industry pioneer when it comes to digitalisation. The "arburgXworld" customer portal, which is available in 18 languages including Chinese, is set to celebrate its Asian premiere. The portal has a number of apps and configuration levels that offer comprehensive support for a range of tasks – from dimensioning and ordering the new Allrounder 270 S compact, to simulating the control system, monitoring the machine fleet and documenting production processes, right through to ordering spare parts and providing digital services.
Arburg has now brought its entire range of digital products and services, which also includes a number of assistance functions, together in one tool: "arburgXworld". All the injection moulding exhibits on show at Chinaplas will feature an IIoT gateway and be networked with the Arburg ALS host computer system. Arburg will also present the benefits that digitalisation and Industry 4.0 can bring to bear on injection moulding production in the form of a smart Allrounder exhibit that is integrated with the IT network. This exhibit can be found in the "Factory of the Future" (Smart Manufacturing Tech Zone, stand F41), an initiative from Adsale and iPlast.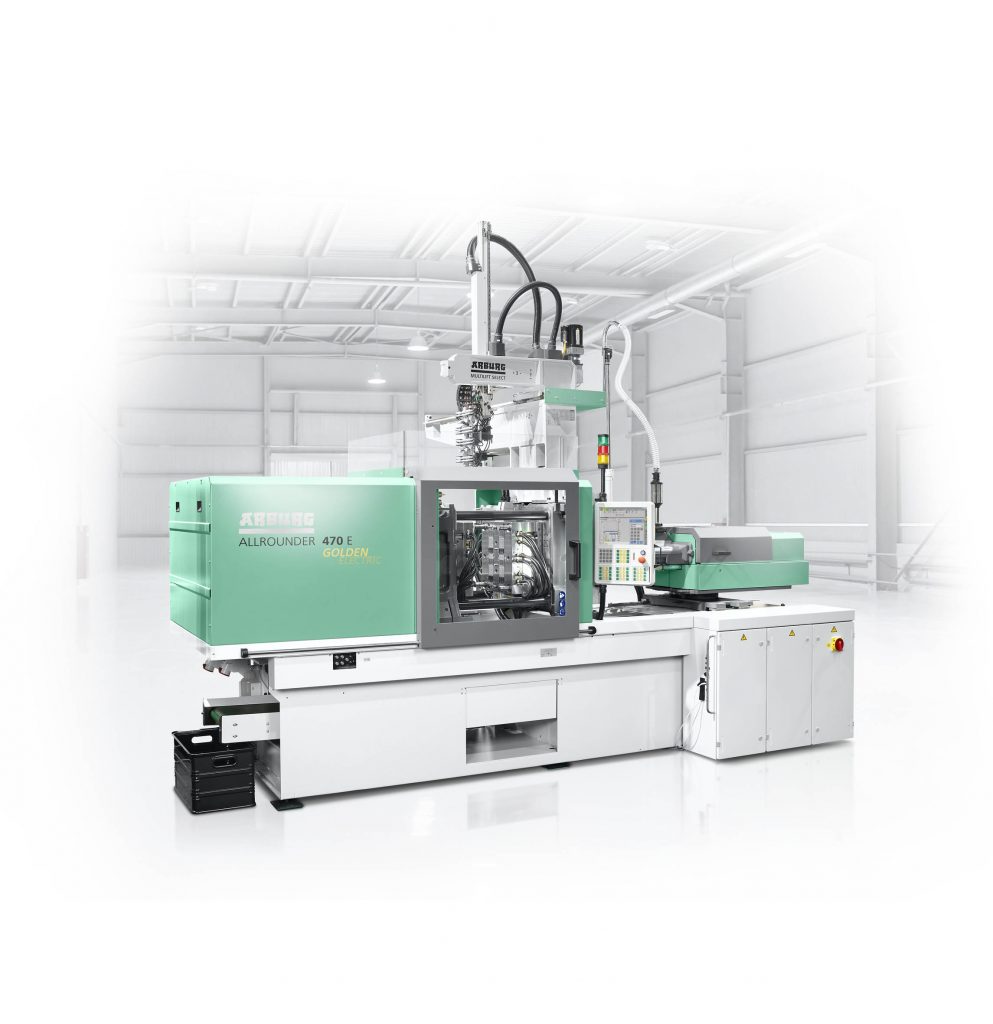 Allrounder Golden Electric for LSR applications
Heat-resistant and transparent components made of liquid silicone rubber are in demand in lots of industries. Arburg will show an LSR version of an Allrounder from the Golden Electric series for the first time in Shanghai. This economical electric machine is ideal for the requirements of the Asian market and available all over the world as of now. At the trade fair, an Allrounder 470 E Golden Electric with a clamping force of 1,000 kN will produce high-quality lenses for the automotive industry. LSR lenses are used in car matrix headlights, for example, to enable LED main beams to be switched on and off to suit the conditions. The exhibit produces two LSR lenses, each with 33 light guides, in a cycle time of around 60 seconds. The turnkey system is equipped with two robots and a 2-cavity mould from local partner Concraft. A linear robot system Multilift Select removes the lenses from the mould and sets them down on a cooling station. A six-axis robot made by Chinese company AID feeds the injection moulded parts to a laser station, where a DM code is applied, thus making each component 100 percent traceable. Visitors to the trade fair will be able to view the production date of any individual component via this code in the "arburgXworld" customer portal.
Flexible turnkey system produces injection moulded parts on demand
As a smart exhibit, a compact turnkey system built around a vertical Allrounder 375 V produces various types of elastic tension straps on demand from shot to shot – without any need for conversion, thanks to a clever product and mould design and Industry 4.0 components. The customer requirements are integrated into the running injection moulding process online. Visitors will be able to choose between elastic tension straps of three different lengths in three colours and with three different end piece combinations, entering their variant of choice directly at a terminal. After the order has been transferred to the central Selogica control system, the tension strap is cut to the selected length and handled by a space-saving six-axis robot located within the machine installation area. It places the ends of the strap in the cavities of the 4-cavity mould, where hook/hook, hook/eyelet or eyelet/eyelet combinations are moulded in a cycle time of about 40 seconds. In industrial practice, such a system would be ideal for cable assembly in the automotive industry, for example.
FDC process for innovative lightweight construction
A resource-saving lightweight construction application will be presented for the "arburgGREENworld" program: Arburg shows how plastic can replace metal in some cases using fibre direct compounding (FDC). In this innovative lightweight construction injection moulding process, a lateral feeder cuts glass fibre rovings into lengths before adding them directly into the liquid melt to reinforce the component with continuous fibres. The materials involved in this technique are readily available and the process reduces costs by up to 40 percent, but these are just some of its advantages. The fibre length, fibre content and material combination can be adapted really flexibly to influence the component properties in a targeted manner.
The exhibit, a hydraulic Allrounder 820 S with a clamping force of 4,000 kN, produces long glass fibre-reinforced PP platforms for use in the seat adjusters installed in car interiors. The cycle time is around 60 seconds and the weight of the moulded part 250 g. The consistency of the shot weight, and therefore of the fibre content, is displayed via a weight monitor integrated into the automation system, with the measurement being checked as a process parameter in the control system. A linear Multilift Select robotic system deposits the finished parts on a conveyor belt.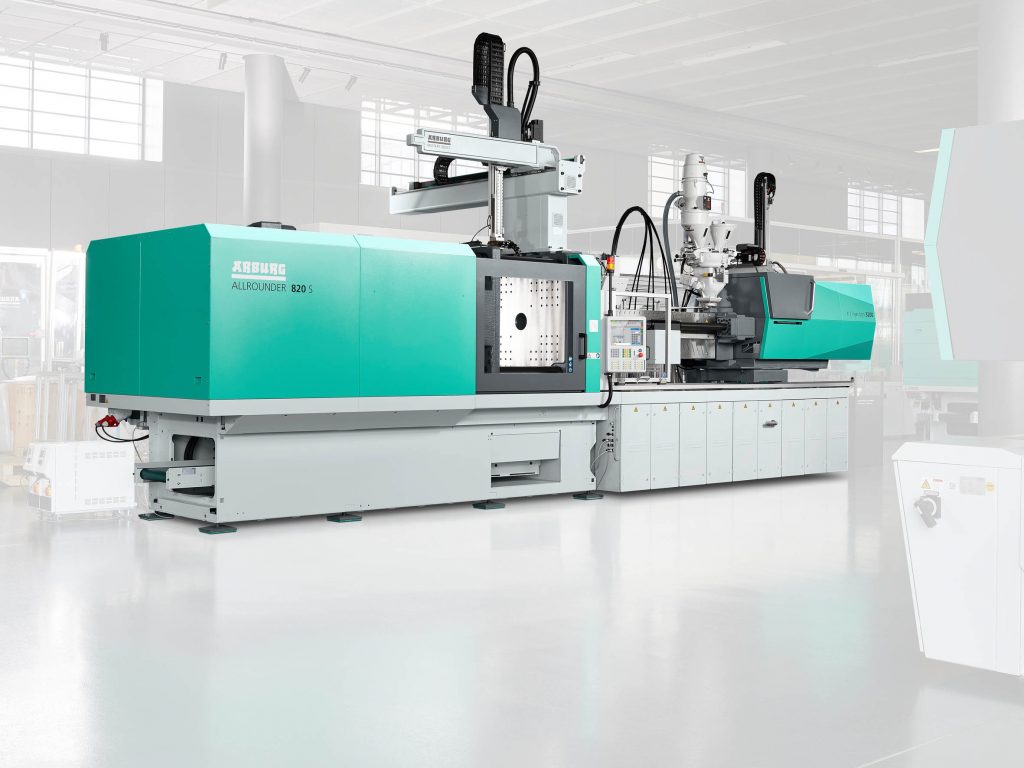 High-performance machine for the packaging industry
A hybrid Allrounder 820 H in the clamp design and a special Packaging version will demonstrate how mass-manufactured articles can be produced really efficiently for the packaging industry. This high-performance machine has a clamping force of 3,700 kN, a size 2100 injection unit and the "Thin-walled part" package of optional extras. It stands out from the crowd thanks to excellent dynamics, reproducibility and injection speeds of up to 500 mm/s. The machine is "Ready for digitalisation" by virtue of the four assistance packages, which come as standard on all Allrounders in the clamp design and featuring the Gestica control system. The exhibit produces four thin-walled PP IML containers with a capacity of 500 millilitres each in a cycle time of around four seconds. This equates to an output of roughly 3,900 units per hour. The IML system from Swiss company Mueller inserts the labels, removes the finished containers and stacks them on a conveyor belt.
Additive manufacturing
Arburg will also present Arburg Plastic Freeforming (APF) and its product portfolio for industrial additive manufacturing at Chinaplas. On display will be a Freeformer 200-3X with two discharge units and a large Freeformer 300-3X with three discharge units. Both exhibits will turn original plastic granules into functional components "live". Visitors will also be able to see a broad range of components and test the quality of selected APF parts for themselves at interactive stations.
About Arburg
The German family-owned company Arburg is one of the world's leading manufacturers of plastic processing machines. The product portfolio encompasses Allrounder injection moulding machines with clamping forces of between 125 and 6,500 kN, the Freeformer for industrial additive manufacturing, plus robotic systems, customer and industry-specific turnkey solutions, and further peripheral equipment.
Arburg has its own organisations at 34 locations in 26 different countries and, together with its trading partners, is present in more than 100 countries. This creates an international sales and service network that allows the company to provide first-class customer support on the ground. Production takes place exclusively at the parent company in Lossburg, Germany. Of a total of roughly 3,200 employees, around 2,650 work in Germany. About 550 further employees work in Arburg's organisations around the world. Arburg has triple certification according to ISO 9001 (quality), ISO 14001 (environment) and ISO 50001 (energy).
Further information about Arburg can be found at www.arburg.com.