Arburg at DKT 2022: working with fast-curing LSR
Allrounder 470 A: working with fast-curing LSR materials at low temperature
A growth market: application with high wall thicknesses is interesting for e-mobility in particular
German Rubber Conference: Presence fair again after online event in 2021
Lossburg, 18/3/2022
The German Rubber Conference DKT will be "live" in Nuremberg once again from 27 to 30 June 2022. The event is placing particular focus on the steadily growing market and developments in the areas of e-mobility, fuel cells, and the medical industry. Together with its partner Momentive Performance Materials, Arburg will be showcasing the processing of a new type of LSR on an Allrounder 470 A at its stand (no. 4307) in Hall A4.
The exhibit will demonstrate the processing of a liquid silicone rubber (LSR) that cures at 110 degrees Celsius – a much lower temperature than the types of LSR that have been available up until now. "LSR frisbees" will be produced as demo parts with high wall thickness.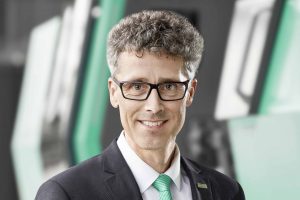 High demand in the area of soft materials
Sales Director Germany Oliver Giesen has great confidence in the advanced levels of technology within the industry: "The fast-curing material and the turnkey system we are presenting really are the future. Specifically, we are also seeing high demand from customers and interested parties looking to use this new technology for the first time. At the same time, we are using our expertise to meet the demand from highly industrialised markets to make use of digitalisation and we are also working hard to minimise carbon footprints." In exhibiting in Nuremberg, Arburg is hoping to make contact with manufacturers of elastomer components and companies processing rubber, HCR, and LSR in particular. "We are also expecting high levels of interest from professionals attending the event from the fields of multi-component technology and generally from automation in rubber processing," adds Oliver Giesen, reflecting on the specific nature of the trade fair application.
Cross-linking at low temperatures: new LSR material
At DKT, Arburg will be demonstrating the processing of the fast-curing LSR on the turnkey system based around an energy-efficient electric Allrounder 470 A injection moulding machine with a clamping force of 1000 kN and a size 290 injection unit. The performance of the Alldrive machine is a perfect match for the new cross-linking technology, which is effective even at low temperatures and at the same time offers processors greater flexibility with long pot life. The exhibit shows how an electric injection moulding machine set up in this way and combined with compact automation can be used to produce thick-walled components with relatively short cycle times. The parts are produced using a two-cavity injection mould and with direct injection via the ACH valve gate system. The Multilift Select robotic system removes the parts from the mould and sets them down on the conveyor belt. It is interesting to note that the machine has been fitted with a compact cover for the automation, which is attached directly to the machine base together with the conveyor belt. This results in a space-saving design.
The material is fed in via an ACH MaxiMIx 2G dosing system for 200-litre barrels. The injection mould and the removal module for the robotic system have also been provided by ACH solution GmbH. GWK Gesellschaft Wärme Klimatechnik mbH supplied the chiller. This equipment is integrated into the system via an OPC-UA EM 82.3 interface.
Comprehensive know-how
Users can benefit from Arburg's comprehensive know-how not only specifically in the context of establishing new liquid silicone rubbers but also generally in the processing of LSRs – from procurement to technical equipment, process optimisation, mould testing, and machine comparisons and beyond to training for cross-linkable injection moulding compounds both in the Arburg Customer Center and in subsidiaries all over the world.
About Arburg
German family-owned company Arburg is one of the world's leading manufacturers of plastic processing machines. Its product portfolio encompasses Allrounder injection moulding machines with clamping forces of between 125 and 6,500 kN, the Freeformer for industrial additive manufacturing and robotic systems, customer and industry-specific turnkey solutions and further peripheral equipment.
An international sales and service network ensures first-class customer support at a local level: Arburg has its own organisations at 35 locations in 26 different countries and, together with its trading partners, is represented in more than 100 countries. Its machines are produced exclusively at the company's German headquarters in Lossburg. Of a total workforce of over 3,300, approximately 2,750 people are employed in Germany. Over 550 people work in Arburg organisations around the world. Arburg has triple certification, in accordance with ISO 9001 (quality), ISO 14001 (environment) and ISO 50001 (energy).
Further information about Arburg can be found at www.arburg.com