Arburg at Greenplast 2022: sustainability in practice
Premiere: Greenplast makes its first appearance in Milan
arburgGREENworld: eco-friendly and efficient manufacturing
R-Cycle: digital product passport for precision sorting
Lossburg, 21/3/2022
The Greenplast trade fair will be held in Milan for the first time from 3 to 6 May 2022. The event will focus on the topics of sustainability, recycling and energy efficiency in the plastics and rubber industry. At its exhibition stand (stand number 62/61, hall 14), Arburg will be demonstrating its expertise in circular economy and resource conservation with a turnkey system producing cups from bio-based polypropylene (PP) with a lasered R-Cycle code for single-sort recycling.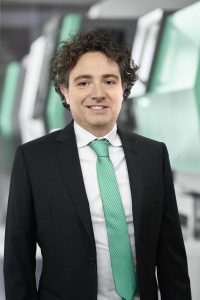 "Our focus at Greenplast in Milan will be on sustainability, an issue of major importance for the future of the plastics industry," explains Raffaele Abbruzzetti, Managing Director of the Arburg subsidiary in Italy. "At the trade fair, we will show visitors how the move towards resource-conserving and simultaneously efficient production can be achieved. This makes our trade fair activities a perfect fit with our arburgGREENworld programme, which combines our activities in the areas of circular economy and resource conservation," Abbruzzetti adds.
Allrounder produces cups from bio-based PP with QR code
During the trade fair, Arburg will be showing an electric Allrounder 470 A with a Multilift robotic system. In addition, the machine is equipped with assistance packages that help with set-up, production start-up, process optimisation, programming freedom, monitoring and service, making the Allrounder a true 'smart machine'.
The fully-automated machine produces plastic cups made from bio-based PP in a single-cavity hot runner injection mould. Following the injection moulding process, a QR code is lasered onto the cups in line with the R-Cycle initiative. This digital product passport enables the cups to be precisely sorted and recycled after use. The pivotal element of R-Cycle is a database that contains all the information about the materials used. Arburg will use this application example to show how it is possible to obtain high-quality recyclate from post-consumer plastic products and close the cycle of recyclable materials.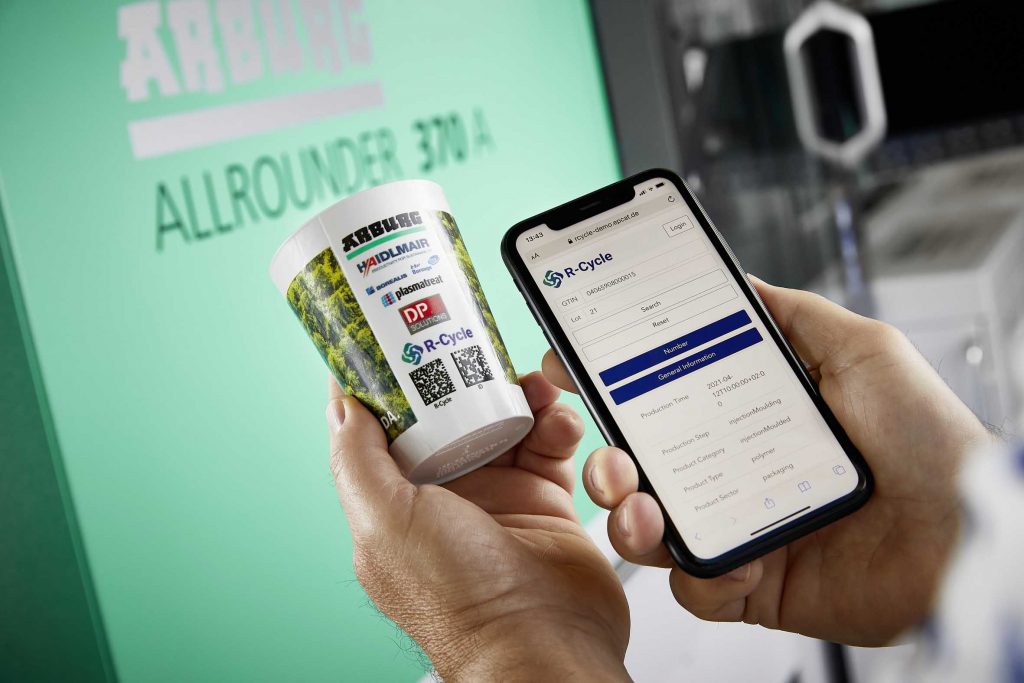 arburgXworld and Arburg host computer system ALS as demos
Visitors will also have the opportunity to get to know the arburgXworld customer portal and Arburg host computer system ALS at two stations and try them out live. Both systems are modular and have features that help make production more efficient.
The arburgXworld portal already offers customers comprehensive digital support and access to a wealth of information from Arburg's extensive know-how as a free basic version and with numerous apps and configuration levels. Key features include an overview of the machine fleet (MachineCenter) and online spare parts ordering (Shop). Arburg is continually updating its customer portal with new digital services that create added value and make everyday injection moulding easier.
Connecting to the Arburg host computer system (ALS) makes it possible to record and analyse production data in real time and significantly increase production efficiency and transparency.
Presentation adds to trade fair exhibit
The trade fair will also be hosting a conference in parallel with the exhibition, at which Bertram Stern, Arburg's Sustainability Manager, will give a presentation on the aims and added value of adopting a resource-efficient approach to the processing of plastics. "I will also be describing specific actions that can be taken to help to reduce both CO2 emissions and the use of resources in production. Our customers can put this expert knowledge to work straight away," explains Bertram Stern.
About Arburg
German family-owned company Arburg is one of the world's leading manufacturers of plastic processing machines. Its product portfolio encompasses Allrounder injection moulding machines with clamping forces of between 125 and 6,500 kN, the Freeformer for industrial additive manufacturing and robotic systems, customer and industry-specific turnkey solutions and further peripheral equipment.
An international sales and service network ensures first-class customer support at a local level: Arburg has its own organisations at 35 locations in 26 different countries and, together with its trading partners, is represented in more than 100 countries. Its machines are produced exclusively at the company's German headquarters in Lossburg. Of a total of roughly 3,400 employees, around 2,850 work in Germany. About 550 further employees work in Arburg's organisations around the world. Arburg has triple certification, in accordance with ISO 9001 (quality), ISO 14001 (environment) and ISO 50001 (energy).
Further information about Arburg can be found at www.arburg.com