Arburg at MECSPE 2019
Turnkey, Freeformer and Digitalisation
Turnkey: Complex production cell produces inspection mirrors as hard/soft combination
Additive manufacturing: Freeformer processes FDA-approved original TPE
Digital transformation: Arburg setting the course for the digital future of plastics processing
Lossburg, 29/1/2019
At the MECSPE trade fair to be held from 28 to 30 March 2019 in Parma, Italy, Arburg will focus on automation, additive manufacturing and digitalisation. A complex turnkey system built around a hydraulic Allrounder 370 S and a Freeformer 200-3X for industrial additive manufacturing will be on display at Stand F49 in Hall 6. Both machines are networked "live" with the Arburg ALS host computer system. In addition, experts at the stand will be presenting an outlook on the digital future of plastics processing.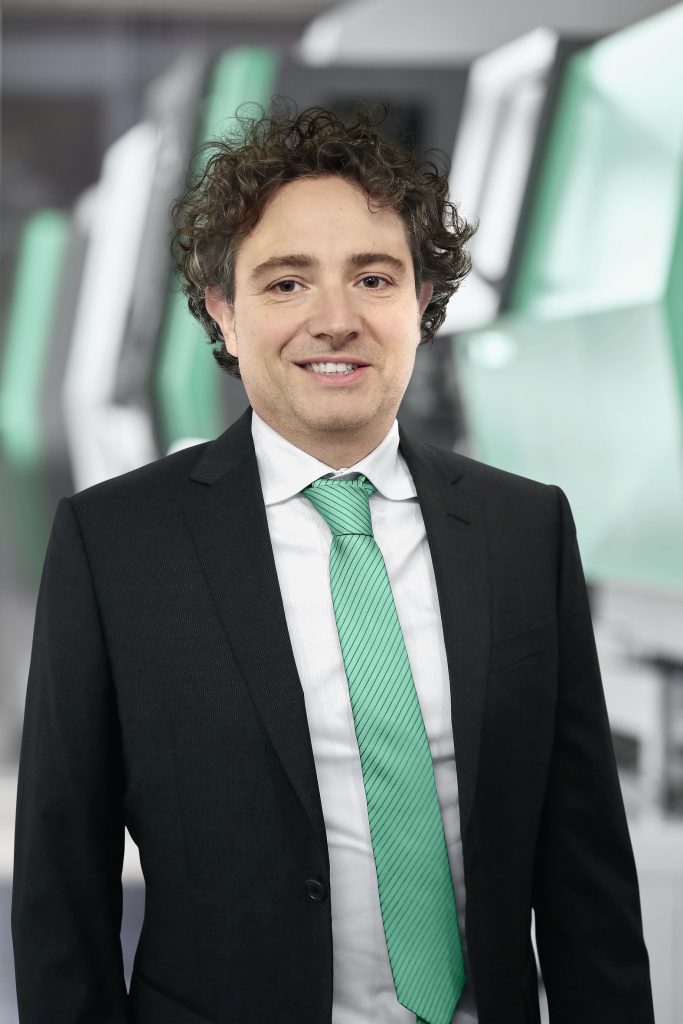 "MECSPE 2019 is the most important trade fair for the manufacturing industry in Italy and, with its focus on Industry 4.0 and automation, it is an ideal match for Arburg," comments Raffaele Abbruzzetti, who was appointed Managing Director of Arburg Srl in Italy in January 2019. "We are not only a machine manufacturer and expert in injection moulding, but we also have our own MES, our own controllers, automation technology and the Freeformer for industrial additive manufacturing as part of our product portfolio. With more than 30 years of experience in networked and flexibly automated production, we offer our customers everything they need in the era of digitalisation to increase their added value, production efficiency and process reliability – from the smart machine to the smart factory and smart services. We will present examples of all of this at MECSPE."
Complex turnkey system with six-axis robot
The highlight on the stand will be a complex turnkey system implemented together with partner Sverital and built around a hydraulic Allrounder 370 S with 700 kN of clamping force and a size 170 injection unit. The production cell is networked with the Arburg ALS host computer system and, in a cycle time of 35 seconds, produces ready-to-use inspection mirrors in a hard/soft combination for injection moulds.
It combines advanced technologies from various manufacturers, including a 1+1-cavity hot runner mould from Biemmegi and a second vertical injection unit from Plasdan. Handling is performed by a six-axis robot. The pre-moulded ABS part is transferred to the second cavity and overmoulded with TPE. Automated gluing of the mirror and laser marking of the 8.8-gram end product has also been integrated into the production cell.
Freeformer: open system processes original materials
The Freeformer offers material freedom for the additive manufacturing of prototypes, functional components and individualised high-volume parts and is therefore referred to as an open system. Users can process their own original materials and optimise droplet size as well as process control themselves. The process is based on qualified plastics in the form of inexpensive granulates, which are also used in injection moulding.
At MECSPE 2019, a Freeformer 200-3X will produce medical bellows from soft, FDA-approved original TPE Medalist MD12130H (hardness 32 Shore A).
In addition, Arburg's portfolio includes the Freeformer 300-3X – a large, three-component machine that can produce complex and resilient functional components in hard/soft combinations, made from two plastic components plus support material. The new Freeformer also offers more space and higher temperatures in the build chamber and can be automated and integrated into networked production lines.
ALS host computer system a key component for Industry 4.0
When it comes to digitalisation and Industry 4.0, Arburg is exactly the right partner for plastics processors. The Arburg ALS host computer system allows machines, peripheral components and moulds to be networked in a simple and standardised manner to realise efficient production management. As the company's central building block for Industry 4.0 and the "smart factory", ALS collects and archives all relevant production and quality data, facilitating 100 percent traceability of orders, batches or individual parts. In addition, Arburg's own MES features an interface to a wide range of ERP systems, including SAP.
At MECSPE 2019, both Arburg exhibits will be connected to ALS so that visitors to the stand can experience first-hand how the host computer records and archives relevant process data online.
Arburg Italy actively strengthens turnkey and digitalisation
Since 1957, Arburg has been working with Sverital in Italy, a company which is now managed by the third generation of the Norén family. For many years, the partnership between the companies has been a gateway to the Italian market, enabling both parties to venture into areas such as turnkey solutions. In the future, the partnership between Arburg Srl and Patrik Norén and his father Björn Norén, former subsidiary manager of Arburg Italy, will not be limited to automation. The topic of digitalisation will also be addressed in order to illustrate the potential of Industry 4.0 to customers in Italy and to implement individual solutions in this sector.
Press release from ARBURG