Arburg at MSV 2021: "Smart" and digitalised for efficient injection moulding
Efficient: Electric Allrounder manufactures world-renowned Fischer dowels
Gestica: Benchmark in injection moulding machine control systems
arburgXworld: Test the advantages and added value of the customer portal for yourself
Lossburg, 15/09/2021
At the MSV in Brno, Czech Republic, Arburg will present from 8 to 12 November 2021 in Hall G1 an efficient injection moulding application with an electric Allrounder 520 E. A hands-on experience of the Gestica control system and the "arburgXworld" customer portal will also be provided at two different stations. In this way, trade visitors can get a picture for themselves of Arburg's portfolio, which includes numerous digital products and services in addition to machine technology and proprietary control systems.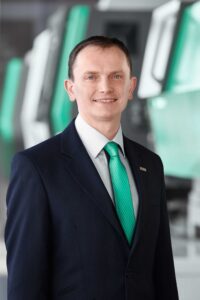 "The willingness to invest is currently high in our market. If you are looking for production-efficient machines, customised turnkey solutions or innovative processes, Arburg is the right choice," emphasises Dr Daniel Orel, Managing Director of Arburg spol. s. r.o. in the Czech Republic. "Other highlights at our stand will be a Gestica simulator and the customer portal 'arburgXworld'. We are delighted to be able to present all this again live and in personal discussions at the MSV trade fair."
Efficient injection moulding and control simulator
The machine exhibit, an electric Allrounder 520 E with 1,500 kN clamping force and a size 400 injection unit, demonstrates with a 4-cavity mould the efficient production of Fischer dowels, which are known worldwide and valued for their quality.
A simulator will demonstrate the high level of comfort and extensive support offered by the many practical features of the Gestica control system for setting up and operating in everyday production, as well as for integrating robotic systems. Unique assistance functions and "pilots" for adaptive process control and regulation include, for example:
The "aXw Control FillAssist", which is based on STL data and creates a mould filling study online to determine the appropriate injection process parameters for the machine and the process.
The "aXw Control MeltAssist", which automatically calculates parameters such as plasticising utilisation and residence times via a chip in the cylinder module and enables performance-based maintenance.
The "aXw Control ScrewPilot", which ensures a stable filling process by regulating the position of the screw.
The "aXw Control PressurePilot", which, with its bionically optimised pressure control, makes mould filling more consistent and thus avoids burr formation and underfilling.
arburgXworld: Customer portal offers added value
The "arburgXworld" customer portal is developing into a central marketplace for plastics processors. Numerous features offering real added value will be on show at MSV 2021. At a terminal on the trade fair stand, visitors can learn how to digitalise their plastic parts production with "arburgXworld", and make it far more efficient, even with the free basic version. Numerous apps and configuration levels offer comprehensive digital support and access to a wealth of information and Arburg know-how.
About Arburg
German family-owned company Arburg is one of the world's leading manufacturers of plastic processing machines. Its product portfolio encompasses Allrounder injection moulding machines with clamping forces of between 125 and 6,500 kN, the Freeformer for industrial additive manufacturing and robotic systems, customer and industry-specific turnkey solutions and further peripheral equipment.
An international sales and service network ensures first-class customer support at a local level: Arburg has its own organisations at 35 locations in 26 different countries and, together with its trading partners, is represented in more than 100 countries. Its machines are produced exclusively at the company's German headquarters in Lossburg. Of a total of over 3,300 employees, over 2,750 work in Germany. Over 550 further employees work in Arburg's organisations around the world.  Arburg has triple certification, in accordance with ISO 9001 (quality), ISO 14001 (environment) and ISO 50001 (energy).
Further information about Arburg can be found at www.arburg.com