Arburg at PIAE Europe 2020: Efficiency and conservation of resources in automotive
VDI congress: Arburg participates as exhibitor and with a presentation

Lecture: Efficient production of high-strength components using fibre direct compounding (FDC)

Research projects: Economical and resource-friendly lightweight construction
Lossburg, 10.02.2020
PIAE Europe 2020, to be held in Mannheim, Germany, on March 25 and 26, is the world's largest congress on plastics in the automotive industry. Arburg will participate in the renowned event organised by the VDI (Association of German Engineers) with a presentation on the subject of in-process material preparation and resource conservation in lightweight construction. In addition, the manufacturer of injection moulding machines and systems for additive manufacturing will be presenting innovative research projects and lightweight parts (Foyer, Stand 119).
In automotive engineering, fibre reinforcement of plastics is a fundamental process for the targeted modification of component properties for lightweight construction. Development focuses on cost reduction through the substitution of metal and the replacement of technical plastics such as PA with PP, improving the CO2 footprint, recyclability and energy requirements, while increasing production efficiency. Lightweight construction therefore offers great potential in terms of saving resources and a circular economy – topics that also play an important role in the "arburgGREENworld" programme.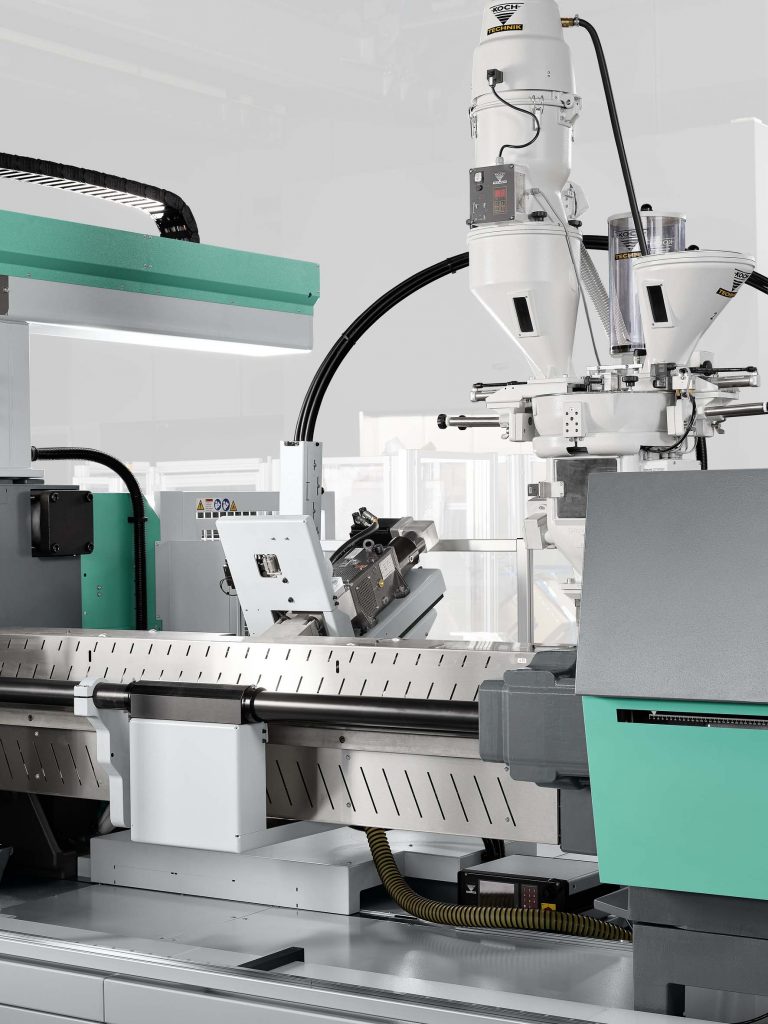 FDC process: lightweight construction that saves resources
In his specialist presentation (25 March, 11:30 a.m.), Martin Hoyer, Head of Application Technology Development at Arburg, will discuss how process-integrated material preparation can be used to achieve resource-saving and efficient production of high-strength components. The fibre direct compounding process (FDC), jointly developed by Arburg and the Kunststoffzentrum SKZ in Würzburg (Germany), as well as practical examples from series production will be presented.
The FDC lightweight construction process is notable for the high availability of materials and up to 40 percent lower costs when compared to special long-fibre granulates. The FDC unit on the injection unit comprises a side feeder with an integrated cutting device, an adapted cylinder and a special screw geometry. The glass fibres are supplied as rovings, cut inline and fed directly into the liquid melt. It is also possible to combine materials flexibly, individually adjust fibre length and fibre content and thereby systematically influence the component properties.
Research projects: lightweight construction expertise from Arburg
Arburg is actively involved in many research projects that will be presented at PIAE. The MoPaHyb project (modular production system for the manufacture of highly resilient hybrid components) is one example illustrating the economical production of hybrid fibre composite components. For this project, Arburg and the Fraunhofer ICT, Pfinztal (Germany), have developed a bolt-on long-fibre injection unit with integrated fibre direct compounding (FDC) and used it on a vertical 3,600-tonne press from Dieffenbacher. A car seat shell was used to demonstrate how component dimensions that were previously impossible to produce can now be realised.
High-tech system solutions for lightweight construction in multi-material design for electric vehicles of the future is what Forel is striving for. As part of this nationwide open platform, Arburg collaborated on two research projects with the Technical University of Dresden (Germany):
The SamPa project focused on the integral manufacturing of hybrid sandwich structures using particle foam composite injection moulding. An innovative vehicle door with foamed and overmoulded components was developed for this project. This involved creating a new process chain for the combined processing of plastics in particle foams and injection moulding.

The innovative modular system for fibre composites of the FuPro project, in which thermoplastic composite sheets, fibre composite hollow profiles and injection moulding compound are combined to form highly integrative multi-component structures, as well as the highly automated process chain developed for this purpose, were awarded the AVK Innovation Prize and the Materialica Award in Gold in 2019. The example of a passenger car backrest shows the potential of this lightweight solution for electric vehicles of the future. It was produced on an Allrounder 920 S with FDC equipment. Arburg was also involved in the implementation of a new type of gripper technology.
For ProLemo (production technologies for efficient lightweight motors), a production environment for lightweight motors was developed. Arburg and other partners covered the entire value chain for the production of electric drives. The research partners in this project were the Karlsruhe-based Institute for Production Engineering (wbk) and Institute for Vehicle Systems Engineering (FAST).
Additively manufactured lightweight components
In addition to injection moulded exhibits, Arburg will present a selection of functional components at PIAE Europe 2020, which were produced on a Freeformer using Arburg's Plastic Freeforming process (APF). With this open system, and while the parameters remain unchanged, the filling level of the component can be systematically changed, thereby varying the part's mechanical properties. Different material densities can also be achieved within a component, as shown by the example of a honeycomb test sample. The Freeformer is also suitable for economical additive manufacturing of automation components and operating equipment in small batches. As an example, elements of the handling gripper were produced for the FuPro project using the APF process.
About Arburg
The German family-owned company Arburg is one of the world's leading manufacturers of plastic processing machines. Its product portfolio encompasses allrounder injection moulding machines with clamping forces of between 125 and 6,500 kN, the freeformer for industrial additive manufacturing and robotic systems, customer- and industry-specific turnkey solutions and further peripheral equipment.
An international sales and service network ensures first-class customer support at a local level: Arburg has its own organisations at 34 locations in 26 different countries and, together with its trading partners, is represented in more than 100 countries. Its machines are produced exclusively at the parent company in Lossburg, Germany. Of a total of roughly 3,200 employees, around 2,650 work in Germany. About 550 further employees work in Arburg's organisations around the world. Arburg has triple certification according to ISO 9001 (quality), ISO 14001 (environment) and ISO 50001 (energy).
Further information about Arburg can be found at www.arburg.com