Arburg at Rapid + TCT 2019: Large Freeformer 300-3X for the first time in America
New large Freeformer 300-3X: Resilient hard/soft combinations made of three components
Arburg Plastic Freeforming (APF): Processing of qualified original materials
Freeformer for industrial additive manufacturing: Suitable for automated use in production lines
Lossburg, 1/4/2019
Arburg will present its large Freeformer 300-3X for the first time in America: The new machine for industrial additive manufacturing can be seen from 21 to 23 May 2019 at Rapid + TCT in Detroit (Michigan, USA). At the trade fair stand in hall C, stand 1253, a Freeformer 300-3X will produce resilient gripper fingers in a hard/soft combination made of ABS, TPE and support material. A Freeformer 200-3X will also produce a part with honeycomb structures from an FDA-approved original TPE. The capabilities of Arburg Plastic Freeforming (APF) will be demonstrated by numerous functional components and at two interactive stations.
"We will be demonstrating the great progress we have made in Arburg Plastic Freeforming (APF) at Rapid + TCT. Our highlight is the Freeformer 300-3X – the world's first machine capable of additively manufacturing resilient hard/soft combinations with support structure from three components", emphasises Lukas Pawelczyk, Department Manager Sales Freeformer at Arburg. "With our know-how in plastics processing and the two Freeformers in sizes 200-3X and 300-3X, we offer attractive solutions to experts and newcomers for industrial additive manufacturing. The great advantage of the APF process is the ability to use qualified plastic granulates. Customers can therefore process the same original materials they would use in injection moulding and from this additively manufacture components with similar mechanical properties. This is particularly interesting for medical technology. The Freeformer is also in great demand for processing thermoplastic elastomers."
Freeformer 300-3X expands application spectrum
The Freeformer 300-3X with three discharge units opens up a host of completely new applications. It is capable of additively manufacturing complex and resilient functional components in hard/soft combinations, made from two qualified plastics plus support material – which is unique in the industry. The exhibit at Rapid + TCT 2019 will produce movable gripper fingers made of ABS, TPE and support material – in a single step and without requiring additional assembly effort.
The designation 300 stands for the available platform surface area in square centimetres. This is just under 50 percent larger than on the proven Freeformer 200-3X. The build chamber of the large Freeformer offers space for larger small-volume batches and parts with dimensions of up to 234 x 134 x 230 millimetres. "3X" stands for the moving axes of the part carrier in the x, y and z directions. A closed cooling system with an industrial cooling water connection is available as an option. This will enable materials to be processed at high build chamber temperatures of up to 200 degrees Celsius in the future. The two-piece build chamber door is another new feature and allows, for example, that the feed hoppers can be refilled during ongoing operation by opening the top half of the door. The heated build chamber now only needs to be opened for inserting the part platform and removing the finished parts. Due to the automatic opening and closing function of the build chamber door, the Freeformer 300-3X can be integrated in IT-networked production lines.
A wide range for industrial additive manufacturing
With its Freeformers in sizes 300-3X and 200-3X, Arburg covers a broad spectrum for industrial additive manufacturing. The APF process is particularly suitable for industrial additive manufacturing of functional components. This includes individual plastic parts for consumer goods, spare parts made of original materials and implants for medical technology. FDA-approved TPE-S (Medalist MD 12130H) with Shore A hardness 32 can only be processed on the Freeformer. In Detroit, a Freeformer 200-3X with two discharge units will process the material to produce components with honeycomb structures that could be used for lightweight construction or as filter elements, for example.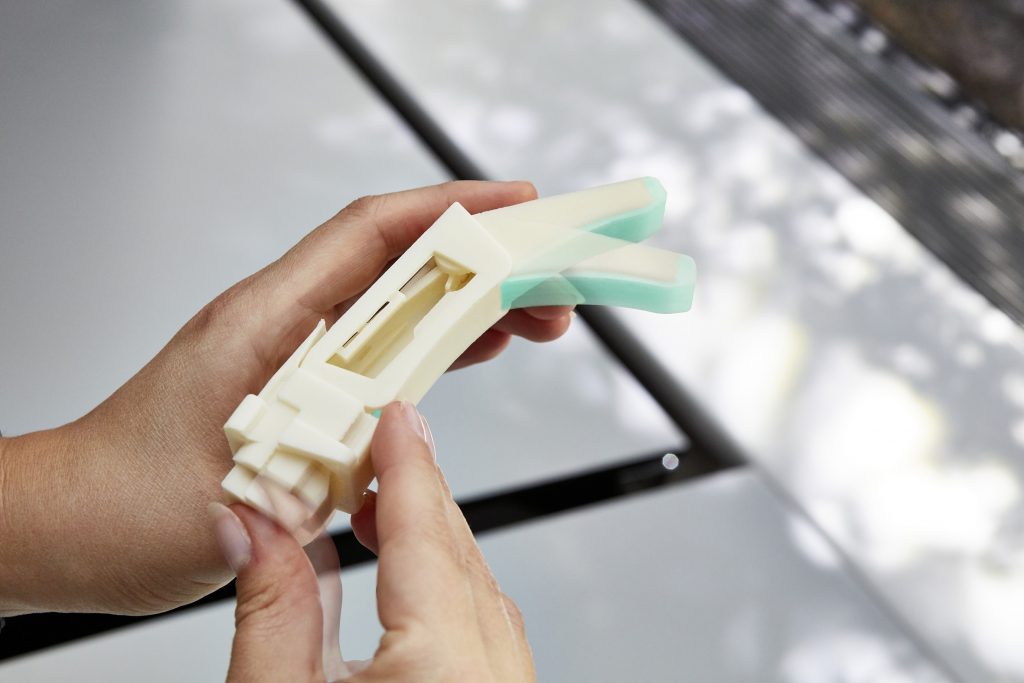 Trade visitors to Rapid + TCT 2019 can also gain an impression of the capabilities of the Freeformer exhibits based on numerous functional parts. Exhibited parts will include cable clips made from PP, transparent test discs made from PMMA and bellows made from elastic TPE.
Two interactive stations will be available where trade visitors can test the functionality and durability of selected functional parts for themselves. These will include a very thin and elastic "spider membrane" made of medical TPE-S, screw caps made of PP and skull implants made of resorbable PLLA.
Benchmark parts for potential customers
In the Arburg Prototyping Center (APC) at the German headquarters in Lossburg, a number of Freeformers produce benchmark parts for prospective customers. Preliminary trials are conducted to determine whether the technology is actually suitable for the desired part, material and application. Further machines are used for the same purpose at the company's subsidiaries across the world, including in the USA.
About Arburg
The German family-owned company Arburg is one of the world's leading manufacturers of plastic processing machines. The product portfolio encompasses Allrounder injection moulding machines with clamping forces of between 125 and 6,500 kN, the Freeformer for industrial additive manufacturing and robotic systems, customer- and industry-specific turnkey solutions and further peripheral equipment.
The company places the topic of production efficiency at the centre of all its activities, taking into account the entire value chain. The objective is to enable Arburg customers to manufacture their plastic products, whether as one-off parts or in high-volume production, with optimal quality and at minimum unit costs –
for sectors such as the automotive and packaging industries, communication and entertainment electronics, medical technology and white goods.
An international sales and service network ensures first-class customer support at a local level: Arburg is represented by fully owned organisations at 33 locations in 25 countries and by trading partners in more than 50 countries. Its machines are produced exclusively at the parent company in Lossburg, Germany. Of a total of roughly 3,000 employees, around 2,500 work in Germany. About 500 further employees work in Arburg's organisations around the world. In 2012, Arburg became one of the first companies to gain triple certification: ISO 9001 (quality), ISO 14001 (environment) and ISO 50001 (energy).
Further information about Arburg can be found at www.arburg.com