Arburg at Rapid + TCT 2021: Freeformer will manufacture functional parts from original material
Powerful: APF process for functional automotive TPU prototypes
Cost-effective: Freeformer for customised production equipment for single-unit batches and upwards
Diverse range of sample parts: From resorbable implants to customised baseball bats
Lossburg, 14/07/2021
From 13 to 15 September 2021, Arburg will be exhibiting at Rapid + TCT in Chicago, Illinois/USA. In the Lakeside Centre, Level 2, Stand E7619, two freeformers and a large number of sample parts will demonstrate the capabilities of Arburg Plastic Freeforming (APF). The freeformers will be producing customised grippers for robotic systems live, as well as a functional part made of soft original TPU for the automotive industry.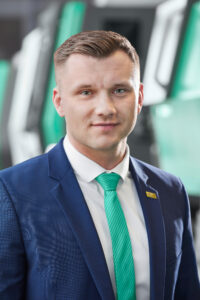 "Our freeformers can additively manufacture positive material bonds in hard/soft combinations and also convert very soft original materials into fully functional parts. This makes them particularly interesting for medical technology and for well-known OEMs and automotive suppliers," says Lukas Pawelczyk, Head of Freeformer Sales at Arburg.
Functional prototype in black TPU
When developing new products, well-known OEMs and automotive suppliers use the APF process to produce items such as elastic hoses, axle boots and housing seals from original soft materials. As an example of a typical automotive part in the engine compartment, a Freeformer 200-3X will be producing a hose from thermoplastic polyurethane Texin 770A (hardness 70 Shore A) and water-soluble support material for connection to an HVAC unit (heating, ventilating and air conditioning) at Rapid + TCT 2021. The dense and flexible TPU connector in a black design is resistant to chemicals, cold and abrasion. This means it can be used to its full extent for prototype vehicle function tests – significantly accelerating time to market as a result.
Customised production equipment in single-unit batches
The freeformer can also manufacture production equipment such as customised assembly devices and grippers for robotic systems cost-effectively and on demand, in single-unit batches and upwards. A gripper of this type with a positive bond in hard/soft combination is used, for example, in Arburg's own plastic parts production for the automated removal of handles from Arburg's temperature control units. A Freeformer 300-3X will be converting PC/ABS, TPU (hardness 70 Shore A) and water-soluble support material into a two-component gripper with hard housing and a soft membrane at the trade fair. The membrane expands as soon as compressed air is passed through, while the hard housing ensures that the shape remains stable. The complete assembly is created in one work step.
Parts for industrial applications
The APF process offers an interesting complementary production technology for the manufacture of functional plastic parts. Arburg will be using selected sample parts to demonstrate the wealth of applications made possible by its Freeformers. Functional and resilient flip-top closures made of semi-crystalline PP and soft TPE are unique in the AM industry to date. Customised baseball bats made by a well-known freeformer customer from its own material are another highlight. Products relevant to medical technology include resorbable implants made of FDA-approved original material and patient-specific tablets with variable density and filling content that deliver their active ingredients to the body in a targeted manner over a specific period of time. High-temperature plastics such as sterilisable Ultem 1004 for medical technology and flame-retardant Ultem 9085 for aerospace will also be on show.
Sustainability and the conservation of resources
The Freeformer also caters to broader issues of the future such as sustainability and the conservation of resources. In the APF process, almost every standard bioplastic can be processed in the form of standard granulates. As no special filaments are required, there is no need for the energy-intensive extrusion stage. The droplet-based discharge method and the design of the support structures make it possible to create hollow bodies, complex lightweight structures and component walls that are just a few layers thick. The support material is then simply dissolved in the water bath – there is no need to remove it separately.
About Arburg
German family-owned company Arburg is one of the world's leading manufacturers of plastic processing machines. Its product portfolio encompasses Allrounder injection moulding machines with clamping forces of between 125 and 6,500 kN, the Freeformer for industrial additive manufacturing and robotic systems, customer and industry-specific turnkey solutions and further peripheral equipment.
An international sales and service network ensures first-class customer support at a local level: Arburg has its own organisations at 35 locations in 26 different countries and, together with its trading partners, is represented in more than 100 countries. Its machines are produced exclusively at the company's German headquarters in Lossburg. Of a total of roughly 3,200 employees, around 2,650 work in Germany. About 550 further employees work in Arburg's organisations around the world.  Arburg has triple certification, in accordance with ISO 9001 (quality), ISO 14001 (environment) and ISO 50001 (energy).
Further information about Arburg can be found at www.arburg.com