Arburg at TaipeiPLAS 2022: Digitalisation and Sustainability
Highlight: production of closures made from a recycled material
Digitalisation: ALS Arburg host computer system and arburgXworld customer portal
Versatile: Allrounder Golden Edition for thermoplastic and LSR processing
Lossburg, 29/8/2022
Arburg is looking forward to welcoming trade visitors, especially from the electronic, medical and automotive sectors, at TaipeiPLAS from 27 September to 1 October 2022. The topic of digitalisation is also charging ahead at full speed in Taiwan. Keeping in line with this trend, Arburg's stand no. I0110 in Hall 1F will showcase its versatile ALS Arburg host computer system and arburgXworld customer portal. What's more, Arburg's showstopper will feature the production of closures from a recycled material for the food industry.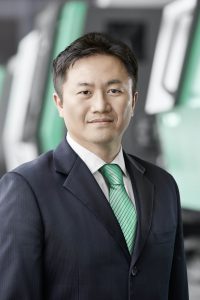 Embarking on a mission to "support industrial growth and economic development", Michael Huang, Managing Director of Arburg's subsidiary in Taiwan, also recognises the importance of Taiwanese customers operating throughout the whole of the APAC economic region of Asia-Pacific and the significant role they play in the value chain. "Arburg Taiwan offers its customers the most sophisticated digitalisation concepts, coupled with high-performance machines." In doing so, the subsidiary is clearly targeting the country's leading industries such as electronics, medical, optics and semiconductors. "There is great potential in the medical sector in particular, for example when it comes to processing liquid silicone rubber (LSR) – one of Arburg's key technologies," explains Michael Huang.  At the trade show, the company will present the Allrounder 420 C Golden Edition, a very flexible machine which, with just a few adjustments, is equally suitable for processing thermoplastics and silicones.
Closures made from a recycled material
Taiwan is home to many global players and there is high demand for injection moulding solutions. As a result, Arburg expects to meet many decision-makers throughout the exhibition halls. "Our solutions can help large injection moulding companies enhance their operations, including in terms of sustainability," says Michael Huang. At TaipeiPLAS, the Allrounder 420 C Golden Edition will process a Trucircle thermoplastic – a very interesting material produced by Sabic. Using a 1-cavity mould from Taiwanese mould manufacturer Pass Card, the machine will produce a closure for edible oil packagings that has to meet specific food-grade requirements. Even more so because this material has been recycled and is one of only a few materials which have been approved for use in food packaging.
Sustainability: an issue of major importance for the future in Taiwan
Processing the Trucircle material sheds a light on the issue of sustainability in plastics production – an issue which is also gaining in importance in Taiwan. And the issue is not only about using recycled materials, but increasingly about ensuring that these reprocessed plastics are suitable for use in highly demanding applications from, for example, the food packaging sector or the field of medical technology. To date, these industries have been largely off-limits for recycled materials due to their special requirements.
Arburg has long been involved in the circular economy and resource conservation. Since 2019, these topics have been summarised in the arburgGREENworld programme.
The company's aim is to continuously increase the production efficiency of plastics processing across all areas, to sustainably reduce its carbon footprint and to promote the use of bioplastics and recycled materials. This last category includes the use of the Trucircle material at the TaipeiPLAS industry show. Here, Arburg and Sabic will present a concrete application featuring plastics as valuable materials which can be reused and processed into new products, even in sensitive areas such as the food industry.
Digitalisation on the rise
Arburg's portfolio at the trade fair will also be enhanced by the ALS Arburg host computer system as well as the arburgXworld customer portal with its different apps. Here, attendees will get to see how the two systems can be used to retrieve, adapt and update quality, production planning, technology management and service management features across a company's entire fleet of machinery and on all digital devices. Digitalisation specialists will be ready and available to answer any specific questions directly. For many years, personal support has been an important factor driving success in the country. Regarding Arburg's location in Taiwan, Managing Director Michael Huang explains: "Taichung is the third largest city in the country and was chosen strategically as the ideal location in an important and rapidly growing industrial region of the island. What's more, a large number of our customers are also based in this area." In addition to several training rooms, the subsidiary also houses an extensive spare parts warehouse. Support from service bases in Taipei in the north, Taichung in the middle and Tainan in the south of the country rounds off the subsidiary's service portfolio.
About Arburg
German family-owned company Arburg is one of the world's leading manufacturers of plastic processing machines. Its product portfolio encompasses Allrounder injection moulding machines with clamping forces of between 125 and 6,500 kN, the Freeformer for industrial additive manufacturing and robotic systems, customer and industry-specific turnkey solutions and further peripheral equipment.
An international sales and service network ensures first-class customer support at a local level: Arburg has its own organisations at 34 locations in 25 different countries and, together with its trading partners, is represented in more than 100 countries. Its machines are produced exclusively at the company's German headquarters in Lossburg. Of a total of roughly 3,500 employees, around 2,900 work in Germany. About 600 further employees work in Arburg's organisations around the world. Arburg has triple certification, in accordance with ISO 9001 (quality), ISO 14001 (environment) and ISO 50001 (energy).
Further information about Arburg can be found at www.arburg.com