Arburg at tct Asia 2021: Freeformer "live"
"Wir sind da." – Arburg to have a presence at AM trade fair in Shanghai
Unique: functional parts made of PP and TPE in hard/soft combination
Arburg Plastic Freeforming (APF): an open system for novel material combinations
Lossburg, 27/04/2021
From 26 to 28 May, Arburg will be exhibiting at AM trade fair tct Asia 2021 in Shanghai, China. At stand G70 in hall 7.1, the company will showcase the great potential offered by its open system Arburg Plastic Freeforming (APF). Two Freeformers will produce functional parts live, including a two-component closure in a unique material combination of original PP and TPE. Visitors can also expect a wide range of parts, and will be able to test the quality of selected APF parts for themselves at interactive stations.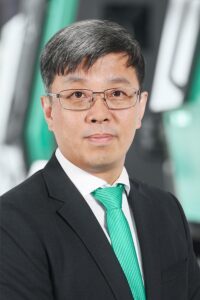 "The response at Chinaplas in April was very good and showed that everyone is happy that they can again find out about new products and highlights live and in person at trade fairs. Many new projects have also been initiated," said Zhao Tong, Managing Director of the Arburg organisations in China. "We're expecting the same from tct 2021 in Shanghai, the big AM event in China. Customers and interested parties will be able to benefit from our comprehensive expertise in plastics processing and meet our experts on site for detailed advice on the potential of our APF process."
Freeformer 300-3X: resilient flip-top closure
"With two Freeformer exhibits, we will be presenting innovative and sophisticated applications," explained Wei Yen Lim, APF expert from Arburg China. "Our large Freeformer 300-3X will produce a functional flip-top closure from semi-crystalline PP and elastic TPE at tct Asia 2021. This is a unique and challenging combination of materials in the AM industry." Prototypes like this with film hinges can be opened and closed several thousand times and can therefore be subjected to full functional testing. The Freeformer 300-3X can process up to three components, thereby enabling the industrial additive manufacturing of complex functional parts in resilient hard/soft combinations with support structure.
Freeformer 200-3X: flame-retardant electronics housing
The second exhibit, a Freeformer 200-3X with two discharge units, will additively manufacture an electronics housing for Hongfa from flame-retardant materials PA6 and ABS. In addition, many part examples will be on display at the Arburg stand and visitors will be able to test the functionality and resilience of various demo parts for themselves at interactive stations.
Know-how in plastics processing
The plastic granules processed in injection moulding can also be used in Arburg Plastic Freeforming (APF). The open system is suitable as well for very soft and certified original materials, and is perfect for demanding applications, for example in medical technology and the automotive industry. The Freeformer is particularly interesting for users who want to produce and test individually customised parts or functional prototypes made from exactly the same material as in large-scale production of the end product. The real added value fully comes into its own when innovative applications, integrated functions, and completely new geometries and designs can be realised additively. In China, Arburg operates a Prototyping Center where Freeformers produce benchmark parts around the clock. This allows potential customers to check exactly which APF process is actually suitable for their desired component, material, or application before considering a purchase.
About Arburg
German family-owned company Arburg is one of the world's leading manufacturers of plastic processing machines. Its product portfolio encompasses Allrounder injection moulding machines with clamping forces of between 125 and 6,500 kN, the Freeformer for industrial additive manufacturing and robotic systems, customer and industry-specific turnkey solutions and further peripheral equipment.
An international sales and service network ensures first-class customer support at a local level: Arburg has its own organisations at 35 locations in 26 different countries and, together with its trading partners, is represented in more than 100 countries. Its machines are produced exclusively at the company's German headquarters in Lossburg. Of a total of roughly 3,200 employees, around 2,650 work in Germany. About 550 further employees work in Arburg's organisations around the world.  Arburg has triple certification, in accordance with ISO 9001 (quality), ISO 14001 (environment) and ISO 50001 (energy).
Further information about Arburg can be found at www.arburg.com