Arburg at the Fakuma 2017: Busy stand, great atmosphere and excellent business
The Arburg stand drew the crowds: Ten exhibits demonstrated innovative applications and industry trends
One-off parts to high-volume production: from additive PP parts in single-unit batches through to 7,700 IML tubs per hour
Great atmosphere: avid international interest in exhibits, efficiency and expert discussions
Lossburg, 24/10/2017
For those looking for information on industry trends, innovations and the latest topics at the Fakuma, a visit to Arburg was a must. Highlights were the two large hybrid machines, the Allrounder 1120 H and Allrounder 920 H, both with a new design and featuring the new visionary Gestica control system, as well as the new practical example of Industry 4.0. Ten innovative exhibits, most of them turnkey systems, demonstrated the efficient production of plastic parts, ranging from additively manufactured PP functional components in single-unit batches and multi-variant moulded part production on demand through to the high-volume production of 7,700 IML tubs per hour. Ten additional exhibits were presented on partner stands.
"We are very satisfied with the Fakuma 2017. We received many firm enquiries, business is excellent – for our customers from all industries as well as for us. During such boom times, production-efficient machine technology, individually tailored solutions and reliable service are especially in demand," concluded Michael Hehl, Managing Partner and Spokesperson for the Arburg Management Team. "Moreover, topics such as Industry 4.0, host computer systems and additive manufacturing are becoming increasingly relevant for our customers. In Friedrichshafen we were once again able to impressively demonstrate that we can offer not just the suitable smart machine technology for any requirement, but that we are at the customer's side as a technology partner." There was also a great deal of interest at the special recruiting stand which industry pioneer Arburg has provided at the Fakuma since 2015 for the purpose of meeting professionals and recruiting new employees.
 Premiere of second Allrounder in new design
The unmistakable highlights at the Arburg trade fair stand were the two hybrid large machines, the Allrounder 1120 H and Allrounder 920 H with a new design and featuring the new visionary Gestica control system.
The new-look Allrounder 920 H with a clamping force of 5,000 kN made its debut in Friedrichshafen. The exhibit was equipped with the linear Multilift V 40 robotic system and produced 720-gram housings of which seven units at a time were packaged in boxes inline.
The Allrounder 1120 H with a clamping force of 6,500 kN, which produced the popular folding step stool in the Arburg design as part of a sophisticated turnkey solution, can be ordered by customers worldwide as of the Fakuma 2017. At a separate station, Arburg experts presented the functions of the new Gestica control system featuring the look and feel of smart mobile devices, and were involved in discussions with customers and interested parties virtually non-stop. The feedback on the new machine design and the new control system was very positive throughout.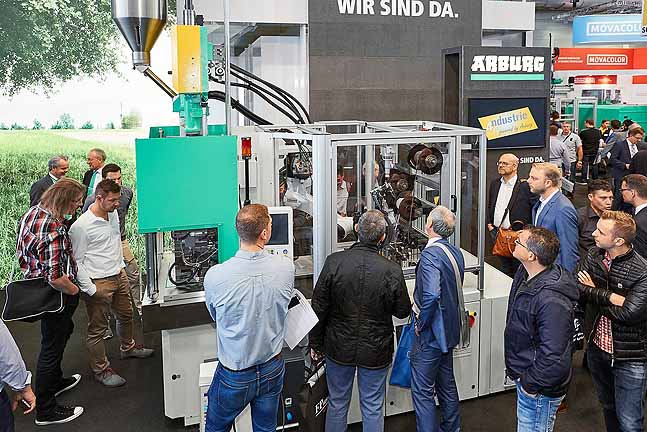 Industry 4.0 in practice: Tension straps "on demand"
With regard to "Industry 4.0", "Digital Transformation" and "Smart Factory", products such as the Arburg host computer system (ALS) as well as the integration of IT solutions into the production process are much in demand.
As a third highlight, Arburg presented a new practical example of Industry 4.0 that was tailored specifically to the requirements of the injection moulding sector. In this regard, customer requirements were integrated into the running injection moulding process for multi-variant high-volume production. A compact turnkey system featuring a vertical Allrounder 375 V produced flexibly tension straps in various lengths, colours and end piece combinations on demand from shot-to-shot – without any need for conversion. Visitors could enter the desired tension strap variant directly at the terminal, causing the order to be transmitted directly to the central Selogica control system via the OPC UA communication protocol. The tension strap was automatically cut to the selected length, both ends spliced by means of a plasma process and placed in the cavities of the four-cavity mould in accordance with the order. Handling was performed by a six-axis robot compactly housed within the installation area. The inserts were optionally overmoulded in hook/hook, hook/eyelet or eyelet/eyelet combinations and the finished tension strap then removed from the system. In industrial practice, this kind of high-volume production with multiple variants is ideal for cable assembly in the automotive industry, for example.
Premiere: Additive processing for standard PP and Armat 12
Many injection moulding customers at the Fakuma 2017 were also interested in additive manufacturing. Because using the
Freeformer and Arburg Plastic Freeforming, the original materials used in injection moulding can be utilised. Furthermore, the user remains independent of the pre-defined settings and can carry out individual part and process optimisations.
For the first time, the open system additively processed the semi-crystalline standard PP (Moplen) and the new Armat 12 support material to form functional components. The delicate yet durable cable clips had the click effect typical of injection moulded parts.
Innovative applications and turnkey solutions
Arburg brought two automated applications for the automotive industry to the trade fair: A hydraulic two-component Allrounder 470 S produced steering wheel covers for car interiors. The PC component ensures the required part strength, while the surface made from PC/ABS can be selectively galvanised downstream. A special feature was the 100-percent quality control with the aid of a thermal imaging camera integrated directly in the mould.
The second automotive component was a ring gear made from PA 6 (GF 40) for small planetary gear sets. The technical component was produced on an Allrounder 370 E Golden Electric which represents the electric entry-level machine series. This individual turnkey solution also involved 100-percent inline quality control with visual inspection, in this case after part removal.
A Packaging version of a hybrid Allrounder 570 H demonstrated a high-speed thin-walled application especially for the packaging industry. In a cycle time of less than 1.9 seconds, the high-performance machine produced four IML tubs with a wall thickness of 0.32 millimetres that were packaged directly in boxes. This amounts to a production output of around 7,700 tubs per hour. The turnkey solution involving an electric two-component Allrounder 570 A with a linear Multilift V 15 robotic system was also very popular with trade fair visitors. The system manufactured two complete watches in one 70-second injection moulding cycle – an impressive demonstration of what can currently be achieved in the processing of liquid silicones. The 2+2-cavity mould came from Rico and the dosing system from Reinhardt-Technik was connected to the Selogica control system via an OPC UA interface. Assembly as a ready-to-use wristwatch is performed by a linear Multilift V 15 robotic system.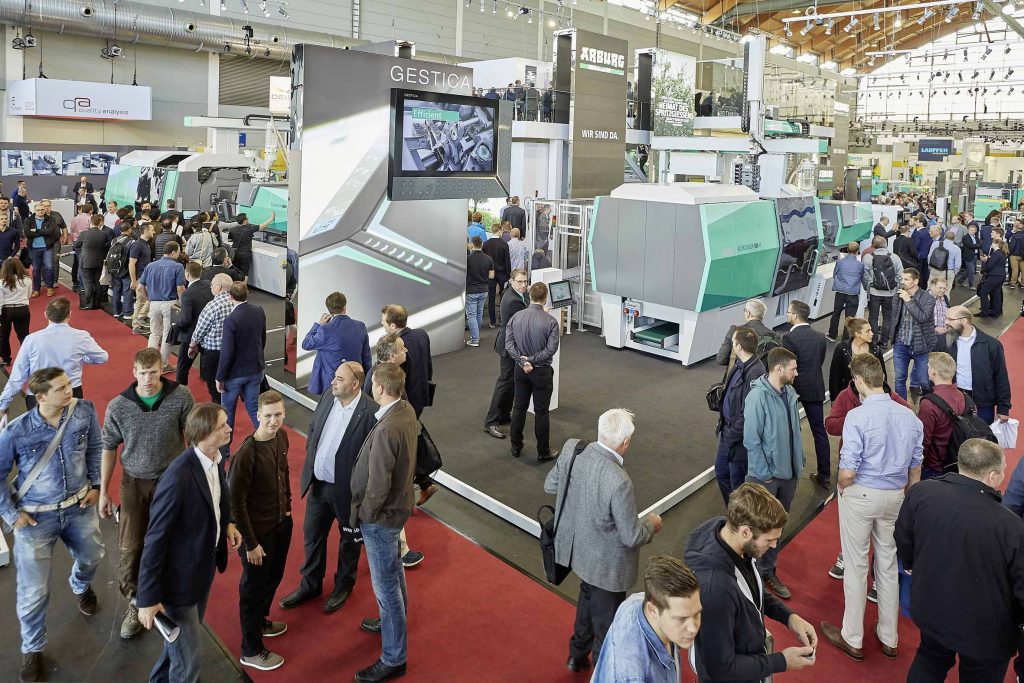 Smarter service
Arburg also presented numerous smart solutions in the service area. This included condition monitoring, predictive maintenance, the remote maintenance tool for fast, efficient and reliable online support, the new "Mobile Maintenance" ALS module for maintenance and repair and machine connectivity via various OPC UA interfaces.
Arburg defines Fakuma
Arburg presented a total of ten exhibits on its own stand and ten more with partners. This presence was a reflection of the importance of the Fakuma which celebrates its 25th anniversary this year. Arburg has not only always been the largest exhibitor, but was also co-founder of the Fakuma. When Paul E. Schall presented his idea to Eugen Hehl decades ago, he was immediately attracted to the concept of a trade fair at Lake Constance: practical relevance combined with professional expertise, an attractive location on the German, Austrian and Swiss border and a familial atmosphere – a winning formula that has remained extremely successful to this day.
Press release/Photos:  ARBURG