Arburg at the Fakuma 2018: on track for success with the "Road to Digitalisation"
Hot-spot: trade visitors delighted with exhibition stand, exhibits and future prospects
Production efficiency: assistance packages, customer portal and "smart services" support day-to-day injection moulding tasks
Innovative strength: excellent mood and strong interest in Arburg portfolio
Lossburg/Friedrichshafen, 22/10/2018
At the Fakuma 2018, Arburg provided insights into the digital present and future of injection moulding: on the "Road to
digitalisation", digital products and services were presented and, in numerous expert talks, introduced in detail to the trade visitors. These included Arburg's six assistance packages, the introduction of a new customer portal and practical examples of "smart services". On the exhibition stand, existing and prospective customers were also able to experience how their new machines will look from 2019. This was because all the injection moulding exhibits appeared in the new Arburg colour scheme of mint green, light grey and dark grey.
"With the 'Road to digitalisation' and numerous practical examples from day-to-day injection moulding practice, we delighted our customers and demonstrated just how well positioned Arburg is with regard to the digital transformation. All those who are interested in this area found exactly the right partner in Arburg, regardless of whether they are just setting out or have already travelled part of the way," summarises Michael Hehl, Managing Partner and Spokesman for the Management Team. "The Allrounder 820 H in the new clamp design and 'Packaging' version, as well as the new ATCM SCADA  system for Arburg turnkey systems also celebrated their premieres. Moreover, with the injection moulding of LSR micro components, the topic of Industry 4.0, the production of technical moulded parts and additive manufacturing, we presented some exciting applications on our ambitious exhibition stand."
"Road to Digitalisation" strikes nerve of the times
The focus at the trade fair this year was on digital transformation, an area in which Arburg is a leading influence on the industry. The unanimously positive feedback from the visitors demonstrated that Arburg has struck the nerve of the times with its "Road to Digitalisation". At various stations, visitors could obtain detailed information on digital assistance systems and services from competent Arburg experts and take numerous new ideas away with them. An insight into the future was offered by the Gestica control system featuring filling simulation, augmented reality (AR) for "smart" service, as well as new cloud-based services.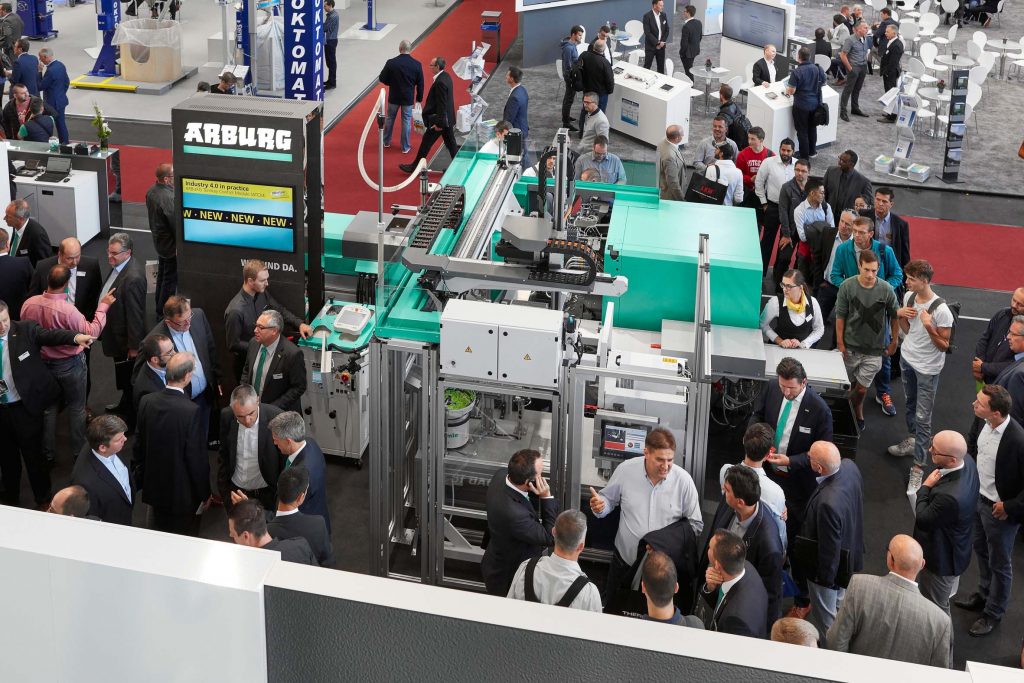 Two impressive premieres
The hybrid Allrounder 820 H in the clamp design and with the Gestica control system in the special "Packaging" version celebrated its premiere. In a cycle time of 3.8 seconds, it produced four thin-walled IML containers. Equipped with four assistance packages, this high-performance machine for the packaging industry was "ready for digitalisation". With immediate effect, these packages are included as standard with all Allrounder machines featuring the clamp design and the Gestica control system.
The new Arburg Turnkey Control Module (ATCM) also garnered a great deal of interest. This SCADA  system for complex turnkey systems from Arburg visualises the complete process, captures the corresponding data and transmits the part-specific data sets to an evaluation system for archiving or big-data analysis, for example. At the Fakuma 2018, a complex turnkey system built around an electric Allrounder 470 A produced ready-to-use spirit levels. The process also includes several test steps and the labelling of each spirit level with a QR code. The ATCM captured the information from the injection moulding process and camera inspection via OPC-UA and allocated it to the relevant part via the QR code. Visitors were able to scan this code with their smartphones and view the corresponding process data on a part-specific website.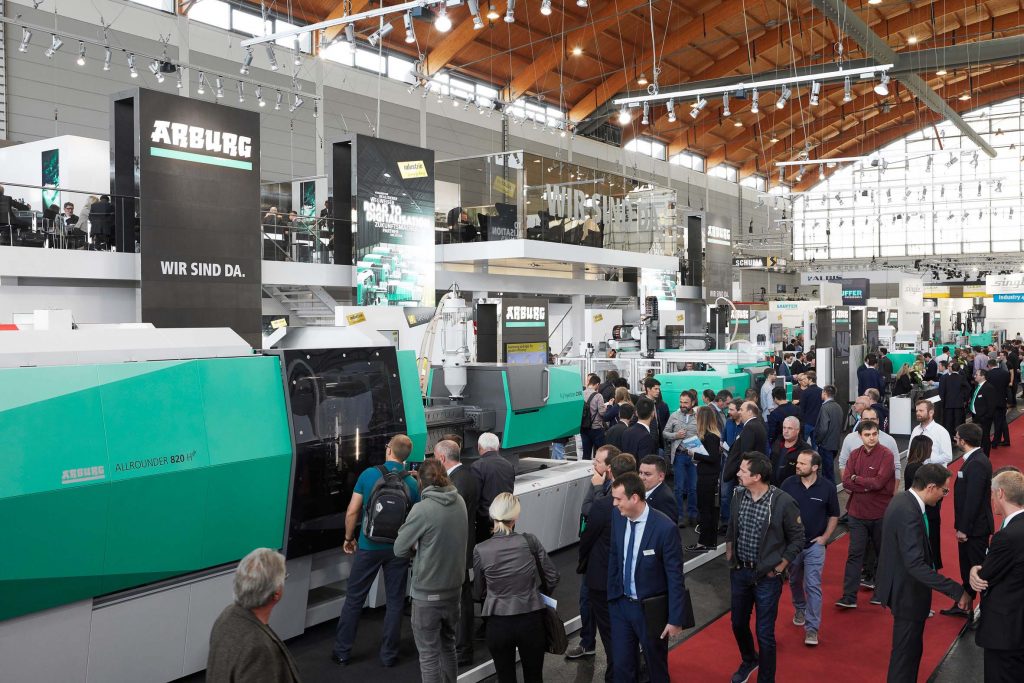 Application highlights
A further application technology highlight was an automated production cell in a clean-room version for the production of medical micro components made from untempered LSR. For this purpose, an electric Allrounder 270 A with a clamping force of 350 kN and a size 5 micro injection unit was equipped with a new LSR cylinder module. The exhibit produced four 0.038-gram dosing valves in a cycle time of around 20 seconds. Handling and set-down separated according to cavity was performed by a Multilift H 3+1 robotic system.
The practical Industry 4.0 example of "tension straps" demonstrated how individual customer wishes can be integrated into the ongoing injection moulding process online. A turnkey system built around a vertical Allrounder 375 V injection moulding machine with a six-axis robot compactly positioned within the installation space produced the elastic tension straps "on demand" yet cost-effectively in high volumes as different variants, flexibly from shot-to-shot.
An electric Allrounder 570 E Golden Electric with a 2,000 kN clamping force produced a high-precision technical component for housing optical components in a cycle time of around 55 seconds.
Arburg presented its training and service offerings, including the Arburg Remote Service ARS and an example of predictive maintenance on a hydraulic Allrounder 370 S.
The potential of the Freeformers and Arburg Plastic Freeforming (APF) was demonstrated based on the example of functional medical technology parts made from TPE (Medalist).
Dedicated recruiting stand
Since 2015, Arburg has been represented with a separate recruiting stand in hall A3 at the Fakuma. This year, employees from the HR department advertised more than 40 vacancies for skilled personnel and young professionals in Germany alone – from service-technician through to key-account-manager positions. They also advertised attractive offerings relating to dissertations, practical semesters and internship places.
Arburg – biggest exhibitor at the Fakuma
As the biggest exhibitor, Arburg presented the "Road to Digitalisation" as well as six injection moulding machines and one Freeformer for additive manufacturing on its 1,240 square-metre exhibition stand. Ten further exhibits were on view at partner stands.
As a co-founder of the Fakuma, the Lossburg company has been convinced by the trade fair and its informal working atmosphere since 1981. In addition to visitors from Germany, Austria and Switzerland, international guests from far afield travelled to the Lake Constance venue. On each day, more than 200 Arburg employees from more than 30 countries were present at the exhibition stand to provide individual support and consulting to existing and prospective customers.
Press release from ARBURG