Arburg at the Industry Fair 2019: Automated injection moulding "on demand"
Flexibly automated turnkey system produces multiple variants flexibly in high volumes
Arburg ALS host computer system as a key component of Industry 4.0
Arburg leading the way in the field of digitalisation
Lossburg, 25/2/2019
Arburg will be present at the Industry Fair in Celje, Slovenia, from 9 to 12 April 2019. As the industry leader, Arburg has been focusing on the subject of digitalisation for many years now and has set out on the path to the digital future of plastics processing together with its customers. What this could look like will be demonstrated at Stand 31 in Hall K with a practical example for Industry 4.0: A flexibly automated turnkey system produces multiple variants of elastic tension straps cost-effectively "on demand" in high volumes. The customer requirements are integrated into the running injection moulding process online.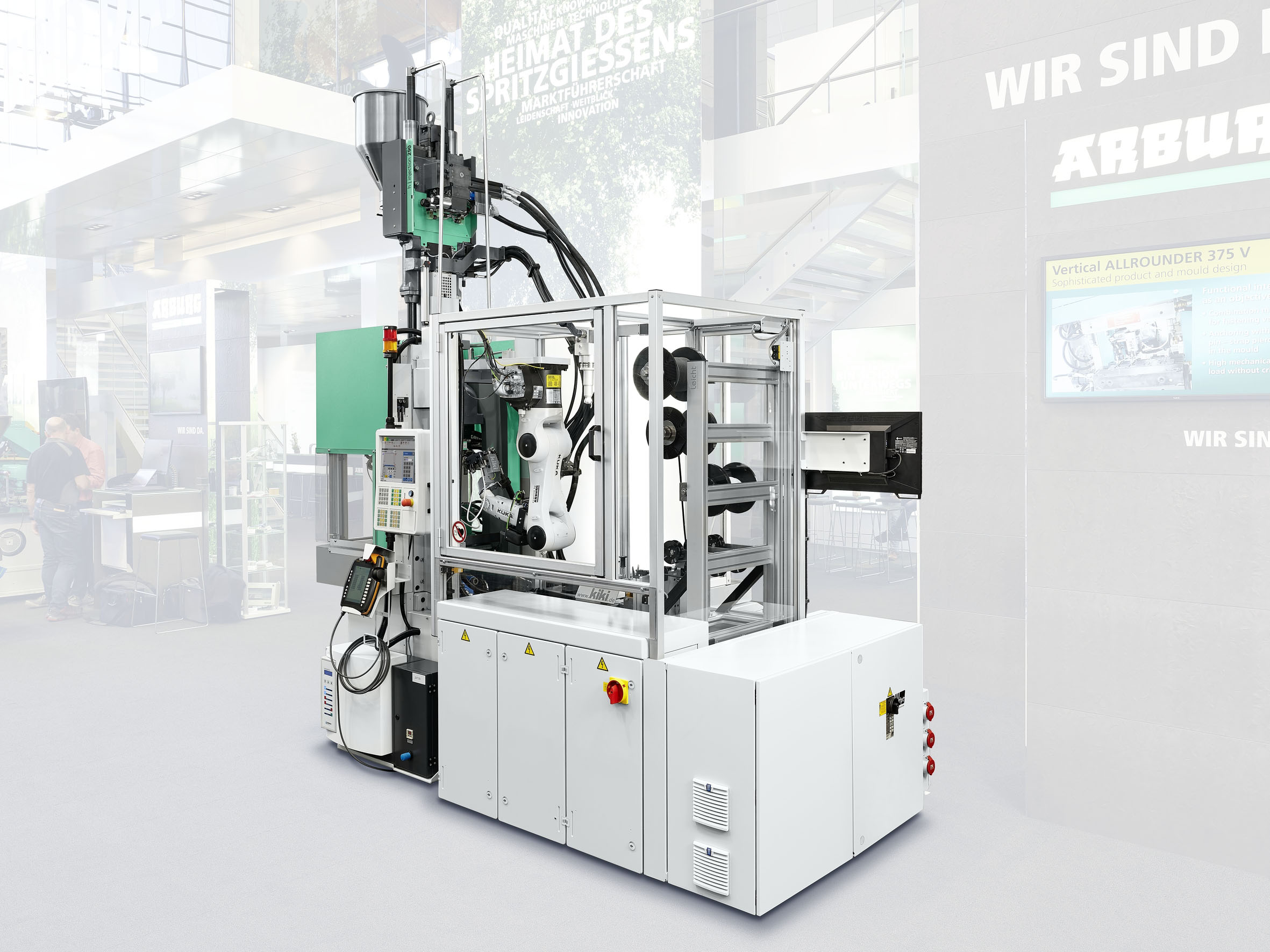 Arburg has more than 30 years of know-how in IT-networked production. In addition, the globally positioned company is advancing the digitalisation of its business processes and services. Plastics processing companies benefit from "smart" solutions that enable them to boost their added value, production efficiency and process reliability – from the smart machine and host computer system to the smart factory and smart services. The "smart" exhibit at the Industry Fair 2019 demonstrates flexible shot-to-shot production.
Multiple variants: high-volume production according to customer requirements
In the application demonstrated at the trade fair, it is possible to choose between 40, 60 and 80 centimetre long elastic tension straps in three colours and with three different end piece combinations and enter the variant of choice directly at the terminal. The order is then transferred to the central Selogica control system via the OPC UA communication protocol. The compact turnkey system built around a vertical Allrounder 375 V machine produces the required product "on demand" with no need for conversions – thanks to a clever product and mould design and Industry 4.0 elements.
The strap is first cut to the selected length from the roll and the ends are spliced by means of a plasma process. The flexible inserts are handled by a six-axis robot that is compactly housed within the machine's installation area. The two ends of the strap are placed into the cavities of the 4-cavity mould for eyelet or hook in accordance with the order. This allows hook/hook, hook/eyelet or eyelet/eyelet combinations to be produced in a cycle time of about 40 seconds. The finished elastic tension strap is finally taken from the mould by the robot and removed from the system.
Industry 4.0 component: Arburg host computer system (ALS)
As a central component of Industry 4.0, the Arburg host computer system (ALS) can record and archive all the relevant production and quality data, ensuring complete traceability of orders, batches and individual parts. Thanks to the OPC UA-based interface, machines and peripheral components can be integrated in a simple and standardised way. ALS also features an interface to a wide range of ERP systems, including SAP.
Individual turnkey solutions
Automation increasingly enables further and more complex process steps to be implemented in injection moulding, as well as simplifying the material flow and logistics. Arburg turnkey experts provide turnkey systems and work closely with customers to develop individual solutions that increase part quality, process reliability, availability, productivity and cost-effectiveness of the production processes. In addition, turnkey systems can be used to integrate additional functions into parts. A holistic view is important in all cases: this begins with product design, but also encompasses mould and process technology and the configuration of production cells including functional tests and data provision.
Press release from ARBURG