Arburg at the MSV: Potential of digitalisation
Automation: Multi-variant injection moulding "on demand"

Digitalisation: Augmented reality for service purposes

Freeformer: Functional components from original plastic granules
Lossburg, 25/7/2019
Digitalisation is opening up new potential for plastic processing. As a pioneer in this sector, Arburg is presenting a range of solutions at its stand in hall G1, stand number 36 at the MSV trade fair, which is being held in Brno from 7 to 11 October 2019.  These include a compact, flexible turnkey system, which allows the online integration of customer requirements into the injection moulding production process, and a practical example of how augmented reality (AR) can be used for service purposes. Arburg will also be using a freeformer and numerous components to demonstrate the benefits of Arburg Plastic Freeforming (APF).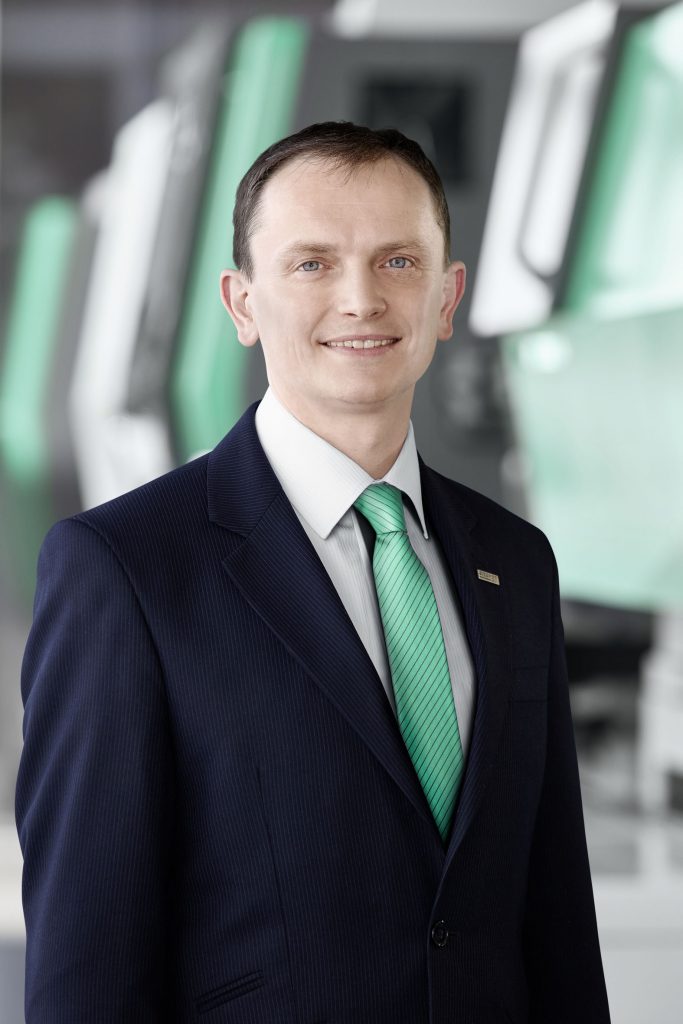 Dr Daniel Orel, Managing Director of Arburg spol. s r.o. In the Czech Republic, stressed the importance of the trade fair: "The MSV has a 50-year history and we've been exhibiting our products there for more than 20 years. The fair offers a unique opportunity to take up contact with current and prospective customers." According to Dr Orel, the Czech and Slovak plastics industries are very closely linked with their German counterpart, meaning that the requirements and trends are very similar. "This is why digitalisation is one of the main topics of this year's MSV" he explained. "With our three exhibits, we are perfectly placed to showcase our products and services and answer any questions from our customers. Our technology allows you to produce high-quality moulded parts with great flexibility, and to expand your production range using Arburg Plastic Freeforming. We will also be demonstrating how we will be making our highly regarded service even more efficient in future, thanks to digitalisation." Despite a certain degree of uncertainty in the market, Dr Orel maintained that his view of the future was positive, as plastics processors in the Czech Republic and in Slovakia continued to be well positioned and were very open to innovations.  
Focus on turnkey: Flexible automation based on customer specifications
The tension strap application meets the requirements for increased individuality in series production. As a "smart" exhibit, a compact turnkey system built around a vertical Allrounder 375 V produces elastic tension straps "on demand" from shot to shot – without any need for conversion, thanks to a clever product and mould design and Industry 4.0 components. The customer requirements are integrated into the running injection moulding process online. Visitors will be able to choose between elastic tension straps of three different lengths in three colours and with three different end piece combinations, entering their desired variant directly at a terminal. After the order has been transferred to the central Selogica control system, the tension strap is cut to the selected length and handled by a space-saving six-axis robot located within the machine installation area. The robot places the ends of the strap in the cavities of the 4-cavity mould, where hook/hook, hook/eyelet or eyelet/eyelet combinations are moulded in a cycle time of about 40 seconds. In an industrial setting, an area of application for a system of this type might be cable assembly in the automotive industry, for example.
Focus on augmented reality (AR): New insights in service
Using the example of virtual maintenance of an injection unit via AR data goggles, visitors to the Arburg trade fair stand will be able to observe complex interrelationships in a realistic, "live" way, thereby gaining a clear understanding of the benefits that such visual support will be able to offer in the area of "smart services" in the future. The computer-aided augmentation of reality with additional virtual information – for example on lubrication points and sensors within the machine – provides service personnel with entirely new "insights". Complex maintenance work can be performed with increased ease, safety, and speed, and errors can be efficiently identified and fixed. This reduces the time required for troubleshooting and increases machine availability.
Freeformer: open system processes original materials
The open ARBURG Plastic Freeforming (APF) system offers great freedom in terms of materials. Users can process their original materials, and optimise droplet size and process control themselves. The process is based on qualified plastics in the form of inexpensive granulates, which are also used in injection moulding. A Freeformer 200-3X and numerous functional components made from a wide variety of different materials will be presented at MSV 2019. The resilience of selected APF components can additionally be tested at various workstations.
About Arburg
The German family-owned company Arburg is one of the world's leading manufacturers of plastic processing machines. The product portfolio encompasses Allrounder injection moulding machines with clamping forces of between 125 and 6,500 kN, the Freeformer for industrial additive manufacturing and robotic systems, customer- and industry-specific turnkey solutions and further peripheral equipment.
An international sales and service network ensures first-class customer support at a local level: Arburg has its own organisations at 34 locations in 26 different countries; together with its trading partners, it is present in more than 100 countries. Its machines are produced exclusively at the parent company in Lossburg, Germany. Of a total of roughly 3,000 employees, some 2,500 work in Germany. Around 500 further employees work in Arburg's organisations around the world. Arburg has triple certification according to ISO 9001 (quality), ISO 14001 (environment) and ISO 50001 (energy).
Further information about Arburg can be found at www.arburg.com