Arburg at the Plast 2018: Machine premiere, Industry 4.0 and innovative processes
Trade fair premiere: Hybrid Allrounder 820 H in new design and with visionary Gestica control system
Industry 4.0: Multi-variant production based on the example of tension straps – flexibly from shot-to-shot
Additive manufacturing: Freeformer produces two-component functional parts from original material
Arburg will be presenting a special highlight at the Plast 2018 in Milan, Italy from 29 May to 1 June: to mark the 25th anniversary of Arburg's Italian subsidiary, international trade visitors will be able to see the hybrid Allrounder 820 H with a clamping force of 4,000 kN in a new design and with the innovative Gestica control system for the first time outside the company headquarters, in hall 22, on stand C81/D82. When it comes to digital transformation and Industry 4.0, a practical example of multi-variant injection moulding will be presented, involving "on demand" manufacture of elastic tension straps, as well as the Arburg host computer system (ALS) and numerous features for integrated plastic parts production. In addition to two other injection moulding applications, stand C25 will also feature industrial additive manufacturing with the Freeformer.
"This year's Plast in Milan is a very special trade fair for us. We have now been represented by our own subsidiary in the Italian market for 25 years. The trade fair launch of the hybrid Allrounder 820 H in a new design and with the visionary Gestica control system shows that we continue to set trends in the market and that we will be a reliable and innovative partner for our customers in Italy for the decades to come," emphasises Björn Noren, Managing Director of Arburg Italy. "We look forward to being there for our customers, providing them with comprehensive support and continuing to grow with them. At present, this particularly applies to digital transformation and the topic of Industry 4.0, which has gained a lot of momentum thanks to state subsidy programmes in Italy. In addition to the practical example of elastic tension straps, we also have many features to offer in terms of information technology-linked plastic parts production and the individualisation of high-volume parts. In addition, of course, we are showing innovative solutions for industrial additive manufacturing with the Freeformer and numerous functional components."
Third machine size in the new design
The worldwide sale of the Allrounder 1120 H with a clamping force of 6,500 kN began at the Fakuma 2017 in Friedrichshafen; in addition, an Allrounder 920 H with a clamping force of 5,000 kN was presented for the first time in the new design and with the visionary Gestica control system. At the Plast 2018, the next machine size, a hybrid Allrounder 820 H with a clamping force of 4,000 kN, will be celebrating its trade fair premiere in a "new look". The exhibit is the highlight on the exhibition stand and uses PP to produce a 300-gram bucket with a capacity of nine litres in just 11 seconds. Handling is by means of a Multilift V40 linear robotic system with a load capacity of 40 kilos.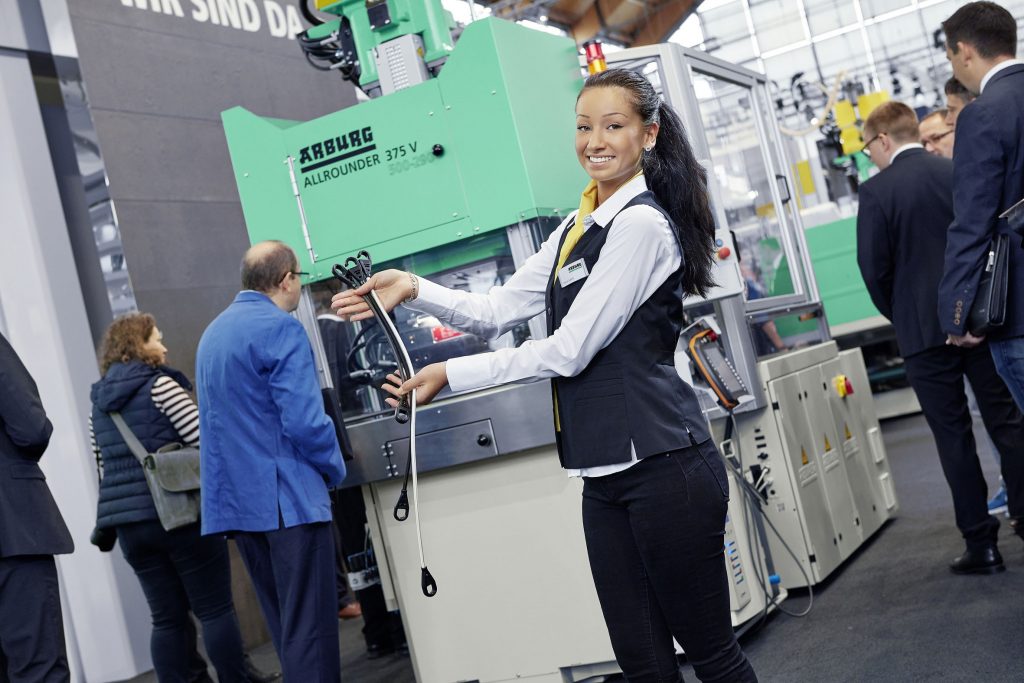 Practical example of Industry 4.0 – elastic tension straps "on demand"
As a practical example of Industry 4.0, a turnkey system built around a vertical Allrounder 375 V injection moulding machine will show how customers' requirements can be incorporated online into the ongoing injection moulding process. Elastic tension straps will be produced in different variants "on demand" and yet cost effectively in a flexible process from shot to shot without any need to change the machine set-up, thanks to a clever product and mould design. In industrial practice, such an application would be ideal for cable assembly in the automotive industry, for example.
In the application demonstrated at the trade fair, visitors can choose between straps of different lengths, colours and end piece combinations and can enter the variant of their choice directly at the terminal. The requirements are transmitted to the central Selogica control system via the OPC UA communication protocol. The strap is cut to the selected length from the roll and handling is by means of a six-axis robot, which is compactly arranged within the machine installation area. The mould has two cavities each for hook and eyelet. The strap ends are placed in the cavities and overmoulded according to the order. This allows hook/hook, hook/eyelet or eyelet/eyelet combinations to be produced in a cycle time of about 40 seconds. The finished elastic tension strap is finally removed by the robot and removed from the system.
Networked and flexibly automated production
Visitors to the Arburg stand can also get an idea of all aspects of digital transformation: they will see solutions for the smart factory, combinable Industry 4.0 components or for the individualisation of high volume parts in batches of a single unit thanks to the combination of injection moulding and additive manufacturing. At the Plast 2018, all exhibits on the Arburg trade fair stand and on the Sverital partner stand are networked via the Arburg host computer system (ALS). As an important component of Industry 4.0, the ALS, enables the comprehensive traceability of orders and batches. Machines can be networked in a simple, standardised manner by means of interfaces based on the OPC UA communication protocol. The Arburg experts provide detailed information on the connection of this MES system to ERP systems.
Cost-effective automated moulded part production
With two other injection moulding exhibits, Arburg will be demonstrating the cost-effective automated production of plastic parts at the Plast 2018. An Allrounder 470 E Golden Electric that produces four 5.75 g switch housings from PA6 (GF 30) for the automotive industry in a cycle time of around 20 seconds, demonstrates that the electric entry-level series is ideally suited to technical injection moulding. A servo-electrical Integralpicker is used for sprue removal.
A specially equipped hydraulic Allrounder 370 S is configured for the processing of liquid silicone (LSR). The LSR machine uses a 4-cavity mould to produce a four-gram valve diaphragm (hardness 60 Shore A) in a cycle time of 30 seconds.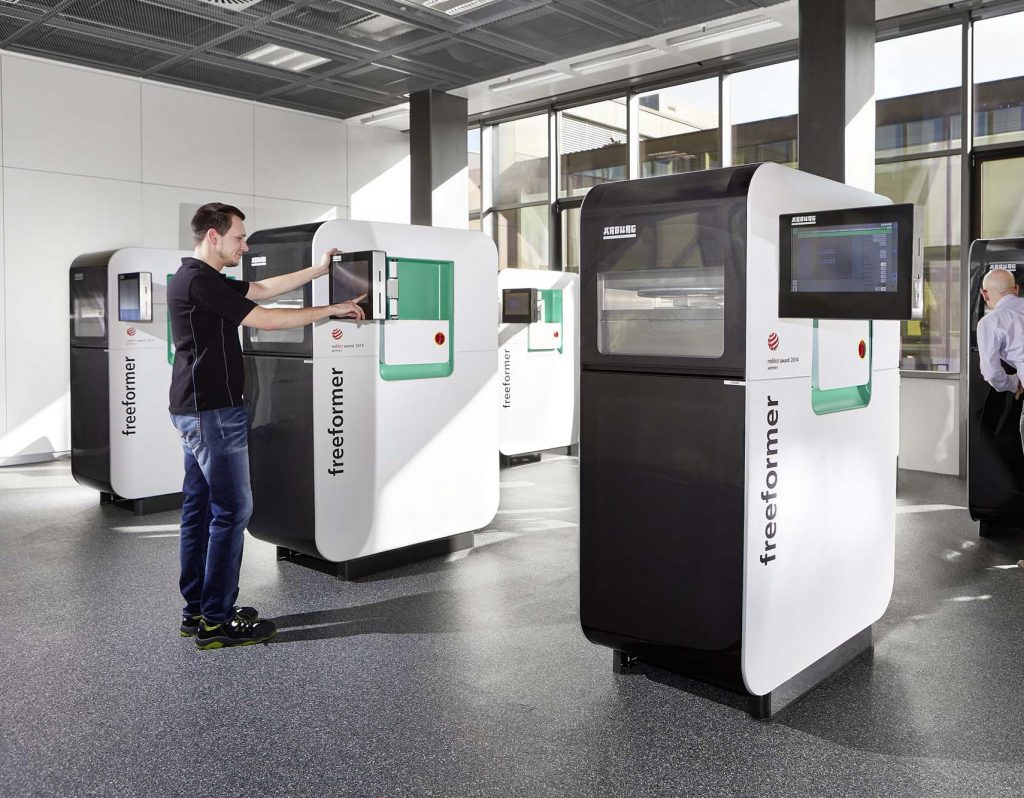 Industrial additive manufacturing
A Freeformer and numerous functional components will be used at the Plast 2018 to demonstrate that Arburg Plastic Freeforming (APF) is not only suitable for prototyping but also for the industrial additive manufacturing of functional components in particular. Visitors can handle parts at an interactive station and convince themselves of their functionality and quality. The exhibit uses the components PP and elastic high-performance TPE to produce retaining clips in a hard/soft combination.
The Freeformer is an open system that allows users to qualify their own original materials in the APF process and optimise the freely programmable process parameters specifically to their particular application. One huge advantage in this context is that original materials certified e.g. for medical technology or aerospace applications can be used. In addition to amorphous standard granulates such as ABS, PA and PC, the ever-expanding range of materials qualified by Arburg includes, for example, elastic TPE, semi-crystalline PP, medical grade PLLA and PC approved for the aerospace industry.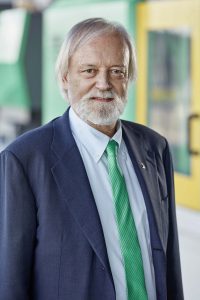 25 years of Arburg in Italy
2018 is not only the year of the Plast trade fair in Milan, but also the 25th anniversary of Arburg Italy. The subsidiary was established in 1993 under the management of Björn Noren, who is still Managing Director, and has developed very successfully. The subsidiary in Peschiera Borromeo near Milan has 38 employees. Arburg's "Wir sind da." brand promise formulates the company's high standards of quality, reliability and personal proximity to customers and partners. In addition to the efficiency of the machine technology, these groups particularly value Arburg's comprehensive expertise in service and consulting. The extensive range of services includes the hotline staffed by experts, experienced service and application technicians, a well-equipped spare parts warehouse, a 300 square metre showroom for trials with Allrounders and a training programme in either Italian, English or German.
Further information about Arburg can be found at www.arburg.com.