Arburg despite corona: "Wir sind da."
Even in times of crisis: Further developing innovative technologies
Protective equipment: Turnkey exhibits produce high-quality masks and safety goggles
Looking forward: Arburg is well positioned for the future
Lossburg, 03/08/2020
Arburg has responded to the Corona crisis very early on with great prudence and excellent know-how. Thanks to that, the machine manufacturer based in Lossburg considers itself well-positioned for the future after the pandemic, in terms of technology, know-how and organisation: production continues to progress and the development of innovative solutions for injection moulding, industrial additive manufacturing and progress in digitalisation is being driven forward. In order to contain the pandemic, Arburg produced high-quality masks and safety goggles very quickly at its headquarters in Lossburg as proof of its technology.
During the corona crisis, Arburg has been and continues to be able to provide its customers with unrestricted delivery, competence, reliability and solution orientation. Despite or even because of the Corona pandemic, innovative first-class technologies are still being developed.
Arburg produces high-quality protective equipment
In recent months, Arburg has very quickly initiated several specific projects to contain the corona pandemic. Since spring, four injection moulding machines and turnkey systems have been producing high-quality safety goggles and multifunctional LSR masks at the Lossburg headquarters. The protective clothing and equipment were distributed to employees as well as to nursing staff in charitable and medical facilities in the region. The two sophisticated applications also show how the original Arburg know-how in automation and digitalisation can contribute to increasing production efficiency.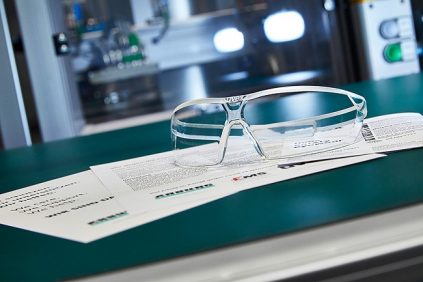 Safety goggles "ready to wear"
Arburg implemented the "safety goggles" project within a very short time together with the Swiss speciality chemicals group Ems-Chemie and the German protective and safety glasses manufacturer Uvex. Because it was possible to build on the experience of the K trade fair: Arburg had already presented the fully automated production of sunglasses there as a trade fair demonstrator. Thanks to first-class and unbureaucratic coordination between the parties involved, the sunglasses could also be used to produce safety goggles quickly, using the same tools and thus the same design. Ems agreed to the use of the tool and Uvex made the goggles usable for the new application with a quick certification. Since 16 April, safety goggles have been produced at Arburg in Lossburg and thus bottlenecks during the corona pandemic have been immediately eliminated. The goggles are produced in one piece on an electric Allrounder 570 A with the Gestica control system in a cycle time of about 50 seconds. Handling and depositing are carried out with a six-axis robot. The packaging is done manually downstream via a packaging station.
In the comparable trade fair application, it was shown by way of example how processes can be visualised using the Arburg Turnkey Control Module (ATCM) and how all relevant process and quality data can be merged for specific parts. With the help of this Scada system for turnkey systems, individual parts or installed assemblies can be 100 percent traceable.
From the prototype to the certified high-tech mask
On 11 May, Arburg started production of LSR and PP mouth and nose masks for everyday use. The project impressively shows how "time-to-market" can be accelerated in exceptional cases – namely when all partners pool their competencies, technologies and equipment. The companies involved in this project are Sigma Engineering (LSR component and mould simulation), Polar-Form, Foboha and Wilhelm Weber (mould), Ewikon (cold runner), Männer und Günter (hot runner technology), Mechanik (grippers), Wacker und Borealis (materials), Karl Küfner (filters), Herrmann Ultraschall (welding technology) and Packmat (packaging technology).
Arburg developed the high-quality and sustainable masks made of flexible LSR and PP itself and produced the first prototypes with its Freeformer additive. The flexible multifunctional masks consist of a soft LSR mask, which is put over the nose and mouth, and a fixed holder made of PP with eyelets for fastening elastic bands. To prevent infection in everyday life, the mask opening is closed with a cover so that the breathing air is discharged downwards. To reliably protect the carrier themselves from the coronavirus, a disposable filter can be placed on the opening.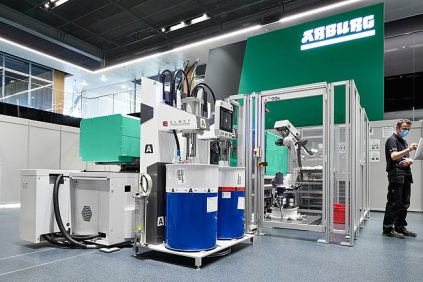 Mask production set up in record time
The injection moulds for the LSR and PP components were built in a record time of only five weeks. The very special corona pandemic situation certainly played a role here. Since mid-May, a Allrounder 570 A with a clamping force of 2,000 kN has been producing the LSR masks with a 4-cavity mould from Polarform in the Arburg Training Center, while a Allrounder 520 E Golden Electric with a clamping force of 2,000 kN and a 2-cavity mould from Foboha is simultaneously producing the associated PP shields in the Customer Center. The larger injection moulding machine operates with an LSR dosing unit from Elmet and a six-axis robot from Kuka, which removes the flexible masks from the mould in a demanding moulding removal process and places them on a conveyor belt. In the second machine, a linear Multilift Select robotic system takes over the easier handling of the PP shields. Finally, the PP label is manually placed on the silicone mask with form closure, the mask is completed with the corresponding elastic straps and packed. As a next step, it is planned to produce the disposable filter, which can be placed on the opening, also at Arburg. Arburg is in contact with the partners Karl Küfner (nonwovens) and Wilhelm Weber (mould) for this purpose.
With know-how and turnkey solutions against coronavirus
The application shows how complex turnkey systems can be implemented within the shortest possible time, if necessary, in order to efficiently manufacture high-quality products. Arburg does not want to earn money with the masks and safety goggles project; they are therefore not sold individually to end customers. The aim is rather to use the know-how and machine fleet to support hospitals and care facilities with protective clothing and equipment in the fight against the coronavirus as well as to show the injection moulding market the huge amount of know-how available at Arburg that allows them to design and supply highly complex systems for economically efficient and technologically advanced production in the shortest possible time, even in high-wage countries.
About Arburg
The German family-owned company Arburg is one of the world's leading manufacturers of plastic processing machines. The product portfolio encompasses Allrounder injection moulding machines with clamping forces of between 125 and 6,500 kN, the Freeformer for industrial additive manufacturing, plus robotic systems, customer and industry-specific turnkey solutions, and further peripheral equipment.
Arburg has its own organisations at 34 locations in 26 different countries and, together with its trading partners, is present in more than 100 countries. This creates an international sales and service network that allows the company to provide first-class customer support on the ground. Production takes place exclusively at the parent company in Lossburg, Germany. Of a total of roughly 3,200 employees, around 2,650 work in Germany. About 550 further employees work in Arburg's organisations around the world. Arburg has triple certification according to ISO 9001 (quality), ISO 14001 (environment) and ISO 50001 (energy).
Further information about Arburg can be found at www.arburg.com