Arburg – Digitally networked production cell communicates with mould and periphery
An especially "smart" exhibit at the Arburg trade fair stand "13A13" and an example for the future of digital production cells is the turnkey system based on a hybrid Allrounder 630 H: the injection moulding machine communicates via the Gestica control system and OPC UA with mould, hot runner controller, material dryer and automation. The "Moldlife Sense" computer system is integrated into the 32-cavity mould provided by Arburg's partner Hack, and enables monitoring across the complete life cycle.
In this example, the practical advantages of digitalisation and automation in plastic processing are especially evident in the production of blood vials for medical technology.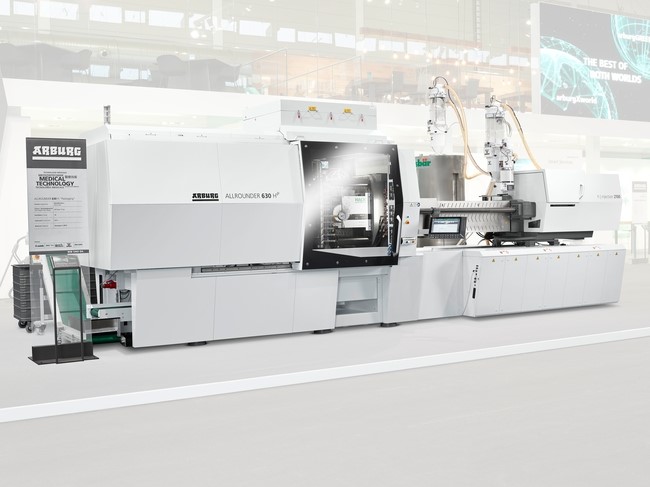 New interface: machine communicates with mould
The "Moldlife Sense" computer system enables the complete life cycle to be monitored. Arburg has implemented the new solution for communication between mould and machine together with the cooperation and development partner Hack. A hybrid "Packaging" Allrounder 630 H in clean-room design produces, with the 32-cavity mould of Hack, transparent blood vials made of shatterproof PET. The location of changes occurring at the mould can be precisely assigned with the help of a sensor system. Two cameras take images or videos, e.g. of mould separation and parts ejection. There are also four displacement as well as four knock sensors for the tie-bar guidance. In this way, process changes can be detected at an early stage and damage to the mould reliably avoided. The data is passed directly to the machine control system via an OPC UA interface.
Gestica features for quick and secure working
In addition to the mould, the central Gestica control system, hot runner controller (Mold Masters), a special PET material dryer (Eisbär) and the automation (Waldorf) are connected to the central Gestica control system via OPC-UA. In this way, the temperatures of hot runner and dryer can be monitored, and the automation started and stopped directly via the Gestica. The hot runner controllers also communicate via the Euromap (EM) 82.2, and the automation via the new interface EM 79. Further features such as the "aXw Control PressurePilot" controller function and the "aXw Control MeltAssist" provide additional process reliability and enable comfortable and quick working.
In-line quality assurance
32 blood vials are produced in a cycle time of around 7.5 seconds, and removed via a side-entry robot made by Waldorf. The encapsulated automation is equipped with four cameras, which check that the components are straight. A QA request can also be called up at the push of a button.
About Arburg
German family-owned company Arburg is one of the world's leading manufacturers of plastic processing machines. Its product portfolio encompasses Allrounder injection moulding machines with clamping forces of between 125 and 6,500 kN, the Freeformer for industrial additive manufacturing and robotic systems, customer and industry-specific turnkey solutions and further peripheral equipment.
Arburg is a pioneer in the plastics industry when it comes to production efficiency, digitalisation and sustainability. The "arburgXworld" program comprises all digital products and services and is also the name of the customer portal. The company's strategies regarding the efficient use of resources and circular economy, as well as all related aspects and activities, are outlined in the "arburgGREENworld" program.
Arburg's central aim is for customers to be able to produce their plastic products, from one-off parts to large-volume batches, in optimum quality at minimum unit costs. The target groups include, for example, the automotive and packaging industries, communication and entertainment electronics, medical technology and the white goods sector.
An international sales and service network ensures first-class customer support at a local level: Arburg has its own organisations at 34 locations in 25 different countries and, together with its trading partners, is represented in more than 100 countries. Its machines are produced exclusively at the company's German headquarters in Lossburg. Of a total of roughly 3,500 employees, around 2,900 work in Germany. About 600 further employees work in Arburg's organisations around the world. Arburg has triple certification, in accordance with ISO 9001 (quality), ISO 14001 (environment) and ISO 50001 (energy).
Further information about Arburg can be found at www.arburg.com