Arburg Italy: Opening event receives great response
Inspired: Arburg Srl presented new premises in Peschiera Borromeo to 300 guests

Extended: More space for Allrounders, consulting, training and conferences

Hands-on: open house with innovative applications and "smart" products
Lossburg, 06/10/2020
On 30 September 2020, Raffaele Abbruzzetti, Managing Director of Arburg Srl, opened the new premises of the Italian subsidiary in Peschiera Borromeo in the presence of more than 100 invited guests. With Managing Directors Gerhard Böhm and Guido Frohnhaus as well as Stephan Doehler, Arburg's European Sales Director, prominent guests from the Arburg parent company were in attendance. At the subsequent Open House event on October 1 and 2, around 200 guests had the opportunity to experience innovative machines and applications live and to gather comprehensive information about "smart" digital products and services.
The Arburg subsidiary in Italy has remodelled its building in Peschiera Borromeo and also expanded it by 80 percent. Covering some 2,000 square metres of floor space, the new premises offer more space not only for intensive customer support and training, but also for larger conferences and events. The opening event and Open House, held in compliance with coronavirus rules, marked the start.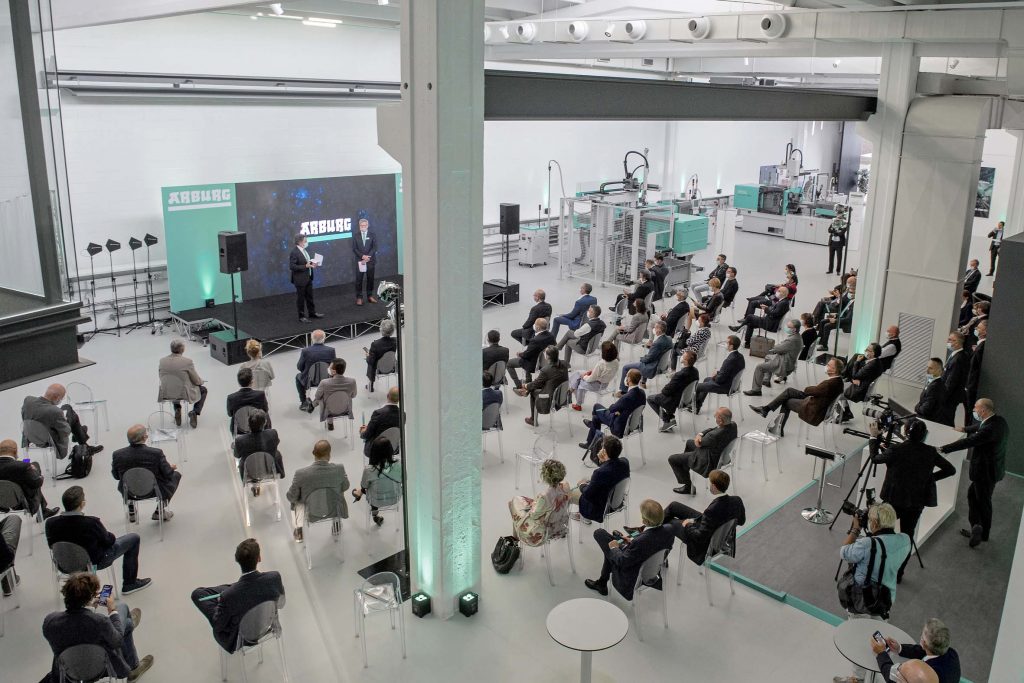 Setting standards for the future
"With this event and the expansion of the subsidiary, we are sending a positive message for the future and underline the great importance that Italy has for us as our most important European foreign market," emphasized Managing Director Sales Gerhard Böhm in his speech. "We are your partner for a successful future!" He added that Arburg Italy is now ideally positioned in terms of product and service portfolio, personnel and infrastructure. "We have been present in Italy for almost 30 years and are a solid and reliable partner for production-efficient plastics processing. Our 42-strong Italian team provides customers with support ranging from application technology consulting and mould testing to training and excellent after-sales service," continued Raffaele Abbruzzetti.
Extended offer for customers
The larger showroom now offers space for up to ten Allrounder injection moulding machines, presenting a broad cross-section of the Arburg portfolio. Customers can test their own moulds on various hydraulic, hybrid and electric Allrounders, for example. In addition, there are now special areas for Arburg Plastic Freeforming on the Freeformer and for the presentation of digital products and services relating to arburgXworld.
The training area was expanded by around 30 percent and now covers 114 square metres. The completely glazed meeting room which juts into the showroom is one architectural highlight and is reminiscent of the Customer Center at the German headquarters in Lossburg. The new premises can also be used for open house events and expert conferences on various topics. Even in times when no trade fairs are taking place, this allows Arburg Italy to present innovations and trends live and in accordance with all required hygiene measures.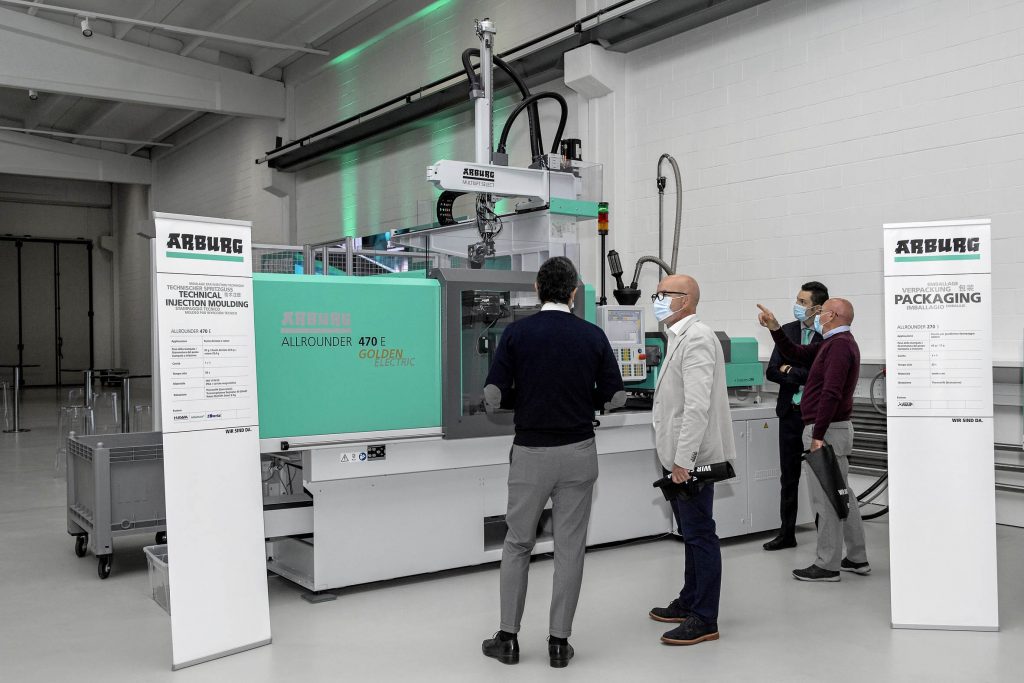 Innovative injection moulding exhibits and applications
One highlight of the current open house event was a "green" application around an Allrounder 270 S compact, processing the IamNature® organic material from partner Maip Group. The energy-efficient and compact machine produced salad servers from this innovative organic compound.
An electric Allrounder 370 E Golden Electric demonstrated how highly flexible production can be realised without conversions and non-standard sequences. The exhibit alternately produced magnetic gears and rotors. Magnetisation of the compound took place directly in the mould. The example demonstrated that it is possible to work with two injection and mould programs without additional programming effort, even on standard machines.
An electric high-performance Allrounder 470 A produced doorstops made of Kreiburg TPE thermoplastic® K, which possesses a particularly low specific weight. This injection moulding application illustrated how choosing suitable materials can reduce part weight and cycle time.
News about arburgXworld and the Freeformer
The topic of digitalisation also played an important role which was reflected in the presentation of the arburgXworld customer portal and the Arburg host computer system (ALS). Among other things, customers were able to test how the portal's numerous apps provide injection moulding support and what advantages the Arburg host computer system (ALS) offers them in terms of production planning and process optimisation.
Regarding additive manufacturing, a Freeformer 200-3X processed the medically approved original material Resomer LR 706 from partner Evonik into vertebral spacers from Samaplast. The bone-like implants are inserted directly into the body and dissolve completely after a specified period of time.
A successful event all round
"The opening event and subsequent open house was an all-round success," declared a delighted Raffaele Abbruzzetti, adding that the new premises and the extended range of services had impressed the guests. "With our innovative exhibits, we were also able to show our customers that with our products and services and with Arburg as a strong partner, they are perfectly equipped for the future".
 About Arburg
The German family-owned company Arburg is one of the world's leading manufacturers of plastic processing machines. Its product portfolio encompasses Allrounder injection moulding machines with clamping forces between 125 and 6,500 kN, the Freeformer for industrial additive manufacturing and robotic systems, customer and industry-specific turnkey solutions, as well as additional peripheral equipment.
An international sales and service network ensures first-class customer support at a local level: Arburg has branches at 34 locations in 26 different countries and, together with its trading partners, is represented in more than 100 countries. Its machines are produced exclusively at the parent company in Lossburg, Germany. Of a total of roughly 3,200 employees, around 2,650 work in Germany. About 550 further employees work in Arburg branches around the world. Arburg has triple certifications, namely ISO 9001 (quality), ISO 14001 (environment), and ISO 50001 (energy).
Further information about Arburg can be found at www.arburg.com