ARLANXEO strengthens its market position by significant investments in CR and NBR
Successfully completed turnaround of CR plant in Dormagen, Germany
Modernization of the world's largest NBR facility in La Wantzenau, France well underway
Maastricht – ARLANXEO, a leading synthetic elastomers company, is strengthening its market position by investing in its high-performance
elastomer products CR (chloroprene rubber) and NBR (nitrile butadiene rubber), laying the foundation for the further increase of production
capacity in order to meet the increasing global demand of these polymers.
The turnaround of ARLANXEO´s CR plant in Dormagen, Germany, announced in the beginning of 2018, has been successfully completed allowing for a production of up to 70,000 metric tons of CR per year. The multiple million Euro investment to upgrade and modernize the plant is a strong signal of ARLANXEO's long-term commitment to the CR business, leading to an increased flexibility and capability of the plant to produce specialty products.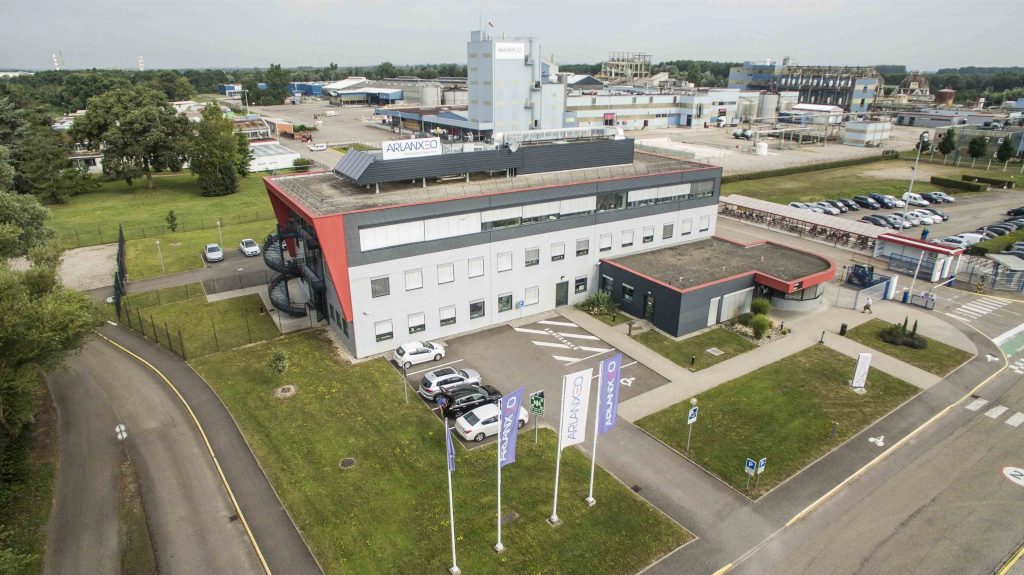 In addition to its investment in Dormagen, ARLANXEO has also already made substantial progress modernizing its NBR plant in La Wantzenau,
France. The double-digit million Euro investment program started in mid-2018 and aims to bring the plant up to the latest technology standards. Through this investment, ARLANXEO will serve the increasing demand of its high-quality NBR rubbers in the coming years while underlining the company´s long term commitment to NBR and strengthening its position as the leading global NBR supplier. This applies to the traditional business areas and new applications as well as for the use of NBR as raw material for the production of the company'sTherban® (HNBR) specialty products.
ARLANXEO´s La Wantzenau facility is the world's largest NBR production site and also the company´s center for research and development activities for NBR. ARLANXEO produces a broad high quality NBR grade portfolio in La Wantzenau which is supplied to more than 500 customers in over 60 countries worldwide.
Christian Widdershoven, member of ARLANXEO's Executive Leadership Team: "These investments are strong examples of how ARLANXEO keeps upgrading its plants to enable us to provide the highest quality products to meet increasing customer demands. Moreover they demonstrate ARLANXEO's commitment to the growing CR and NBR business and are setting the basis for its future growth."
ARLANXEO produces and markets its CR grades under the Baypren® brand. They are used for example in the production of cable sheathing,
belts, conveyor belts and wetsuits as well as in adhesive applicationsand feature high weather, UV and oil resistance.
The NBR produced by ARLANXEO is sold under the Perbunan®, Krynac®, and Baymod N® brands. It is used in the production of cables,
seals, hoses, printing blankets, and soles for safety and athletic shoes,among other uses. The most important markets are the automotive and
construction sector as well as the oil and gas production and processingindustry.
About ARLANXEO
ARLANXEO is a world-leading synthetic rubber company with sales of around EUR 3.2 billion in 2018, about 3,900 employees and a presence at more than 20 sites in 10 countries. The company's core business is the development, manufacturing and marketing of highperformance rubber for use in, for example, the automotive and tire industries, the construction industry, and the oil and gas industries. ARLANXEO was established in April
2016 as a joint venture of LANXESS and Saudi Aramco. On December 31st, 2018, Saudi Aramco, a leading producer of energy and chemicals, became the sole owner of ARLANXEO.
Forward-Looking Statements
This news release may contain forward-looking statements based on current assumptions and forecasts made by ARLANXEO management. Various known and unknown risks, uncertainties and other factors could lead to material differences between the actual future results, financial situation, development or performance of the company and the estimates given here. The company assumes no liability whatsoever to update these forward-looking statements or to conform them to future events or developments.
Press release from ARLANXEO