DMG MORI – Automation ex works in the VERTICO design
From a single source: heading towards future-oriented production with standardised and individual automation solutions ex works.
DMG MORI HEITEC: Joint venture supplies standardized and customized automation solutions
Digital Twin: Virtual models for support of engineering processes
An intelligent combination of the machine tool and the automation solution
Automation solutions for all DMG MORI machines
Production plants supply the machine and the automation system from a single source
Hardware and software – perfectly coordinated
The range of services extends from standard automation and customer-specific automation solutions to turnkey solutions
Over 2,000 machines with automation supplied already
Increase in cost effectiveness, quality and flexibility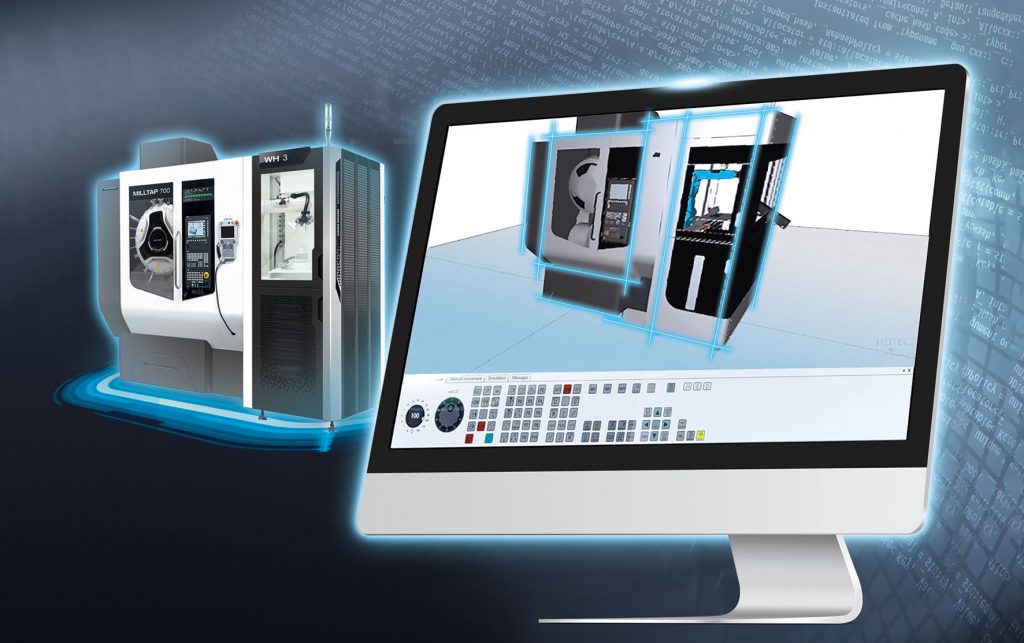 Automated machines are crucial components of a digital factory and are therefore an integral part of Industry 4.0. DMG MORI is the pioneer of digitalisation in machine tool construction, and considers automation to be a core topic. In order to strengthen the development of future-oritented automation solutions the innovation leader concentrates their knowhow with a long-standing partner: DMG MORI AKTIENGESELLSCHAFT and HEITEC AG are founding the joint venture "DMG MORI HEITEC". One in four new machines from DMG MORI is already provided with an automation solution. In future every machine shall be fitted with automation on the basis of a modular system. By modular-based compatible solutions DMG MORI HEITEC will supply customers with an integrated automation concept. The product range consists of the proven PH 150 pallet handling system, the RS 3 rotary pallet magazine and the WH 3 workpiece handling system, as well as the newly developed, flexible GX gantry loader in the VERTICO design. Robo2Go extends the portfolio as a mobile robotic automation system for a large number of turning machines.
Integrated automation concept from DMG MORI HEITEC
Software-based support for engineering processes using virtual models of machines, plants, robot applications and material flows is an essential measure to reduce costs, while simultaneously increasing productivity. DMG MORI HEITEC GmbH, based in Erlangen, has therefore set itself the goal of developing a virtual representation – in short "digital twin". With the aid of digital engineering, project lead times can be cut by around 20%, and commissioning on site can be even more significantly reduced by up to 80%. Future additions or changes can be planned and tested with the digital twin running in parallel to the live operation. "We are strengthening our automation expertize as two equal partners in a joint venture. Thus, the development of the digital twin is of key importance: it speeds up and stabilizes all the customer processes – from development and setting up right through to service – and ensures flexible, steady procedures," says Christian Thönes, Chairman of the Executive Board of DMG MORI AKTIENGESELLSCHAFT.
Future-proof automation – ex works and from a single source
Automated machine tools as part of future-oriented production guarantee users a high degree of competitiveness. This is precisely why DMG MORI has helped its customers to create the best possible automation solution for every application. The reasons for automation are as diverse as the possible automation solutions. Cost effectiveness, flexibility and reliability are just three examples of the possible benefits. Only an automation solution has a higher level of repeat accuracy than any manual workpiece clamping and unclamping operation. The introduction of automation solutions requires extensive planning following an initial needs assessment. At DMG MORI, this will be carried out in future in the relevant production plants by specialised contacts.
A solution promised for all applications
The machine tool manufacturer is achieving its goal of enabling automation solutions for each and every DMG MORI machine with a wide range of pallet and workpiece handling systems. DMG MORI showed this extensive portfolio of products in the new, uniform VERTICO design at the EMO 2017. The long-proven standard automation systems include the PH 150 pallet handling system, the RS 3 rotary magazine solution and the WH 3 workpiece handling system.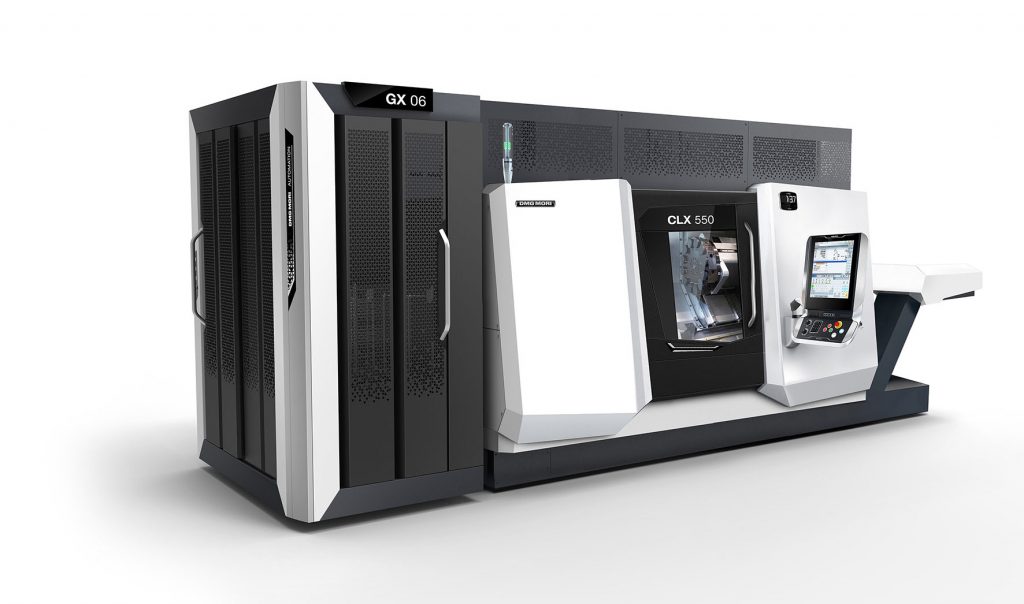 A new addition to this range is the GX 6 gantry loader, which is suitable for all models in the CLX series. DMG MORI developed the gantry automation system based on the proven gantry loader for the NLX series. It handles workpieces that weigh up to 6 kg. Another new addition is iLoading, an automation system for large quantities and small components weighing up to 5 kg. With its Robo2Go, DMG MORI also has a workpiece handling solution in its range which can be put to flexible use on a number of universal turning machines and which cuts an impressive figure as it is easy to program with CELOS. DMG MORI creates larger manufacturing cells comprising several machines using linear pallet pools (LPPs) and robotic automation systems.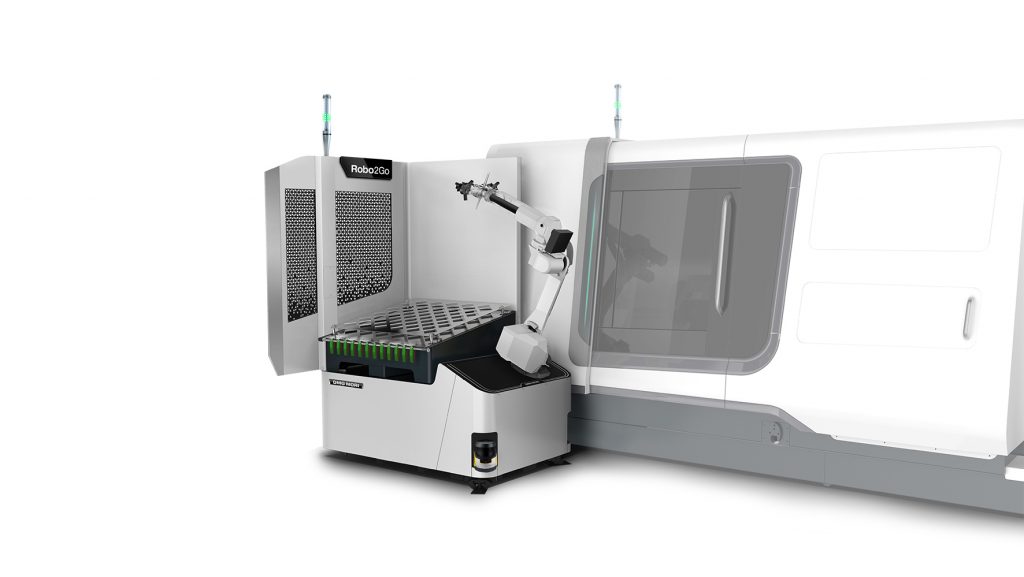 DMG MORI is supplementing its wide range of standard automation systems with application-specific solutions, which can be individually tailored to customers' needs with the aid of robots. "These are turnkey offers which link any number of machines and process-supporting work steps to one another. The integral range of services extends from planning and simulation, to the final handover of the turnkey complete system.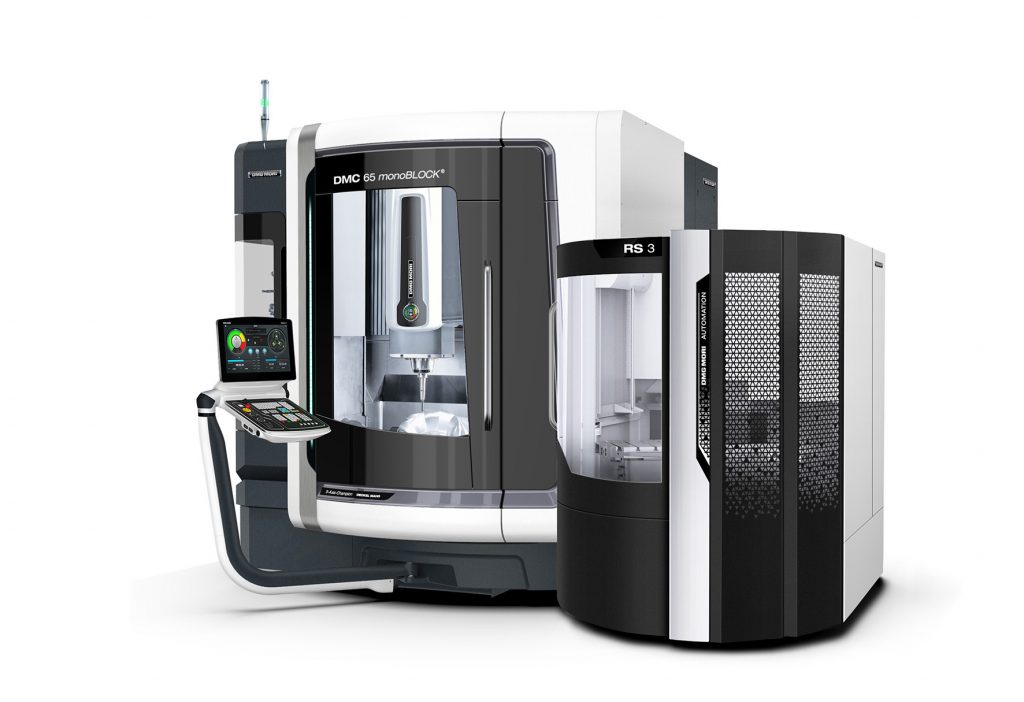 A uniform VERTICO design for all automation solutions
The vertically aligned perforated plates are what give the new VERTICO design from DMG MORI its name. With an unmistakeable and independent triangular perforated plate pattern, the design can be used on all automation solutions and is suitable for both machines with a premium design and models with a stealth design. The CI strip with the inscription DMG MORI AUTOMATION perfectly underlines the fact that the machine and the automation system for the customer are always one complete solution from DMG MORI.
A single contact from start to finish
The fact that automation solutions will in future be designed and implemented in the supply plants is beneficial for customers. DMG MORI supplies the automation solution from a single source. In other words, in each and every plant, there is a single automation specialist who is responsible for the customer project from start to finish. Within a matter of days of a customer making a request, the specialist visits the customer, creates a customer-specific solution with his team of experts, and coordinates all the other steps as the customer's single point of contact.
The extensive support provided during the automation solution purchase process ranges from selecting the ideal products and installation, to issues relating to the 24-month guarantee and service matters. Management of the entire project by a single automation specialist reduces unnecessary interfaces and cuts costs too.
A key element of Industry 4.0
With the "Path of Digitization", DMG MORI is pushing digitalisation in machine tool construction forwards. One key component in this regard is the automation of machine tools. The CNC technology must be directly integrated into a networked production environment. In this situation, operators only have to monitor and manage operations, while the machines independently work through the orders according to their priority. And, as he adds, it is precisely this aspect that characterises a digital factory: The necessary components are completely machined – automatically and at the push of a button.
Press Release from DMG MORI