Baumüller exhibits networked automation systems, innovative components and customizable solutions at Motek 2018
The Nuremberg-based company Baumüller is presenting automation and drive technology for process automation and handling at the Motek trade fair in Stuttgart from October 8-11, 2018. In hall 8 at the joint stand of Cluster Mechatronik & Automation, stand 8515, the experts will be exhibiting complete automation systems, solutions for networked systems and the latest developments at the hardware and software level.
More efficient through networking and digital twins
In the field of networking and Industry 4.0, Baumüller is presenting the optimization and monitoring tool BAUDIS IoT, which can be used to monitor systems locally or via the cloud. Users thus have the ability to meaningfully plan service intervals according to the actual machine utilization and to reduce downtimes due to unexpected servicing. In addition, the machine utilization and the process can be optimized with BAUDIS IoT and they can be easily standardized for several systems used worldwide.
The second focus in the field of digitalization are the Baumüller simulation solutions. Baumüller offers the creation of models as a service and with the simulation of complete drive concepts can optimize the time-to-market for newly developed machines and systems due to significantly shortened commissioning times.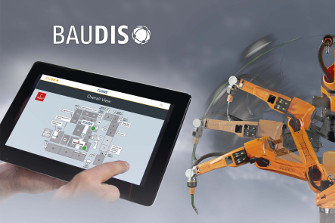 Individual solutions from a powerful portfolio
The extensive range of components from Baumüller offers the right solution for any application. In addition to converters and motors, the provider will be presenting its various control units from the box PC with HMI to the integrated softdrivePLC. Of interest for systems with many axes are also the decentralized drive concepts that, thanks to integrated electronics, significantly reduce the wiring effort in the machine and create new freedom in the machine design.
The newly developed high-precision servomotor DSH1 with an extremely low cogging torque can also impress when it comes to precision. These motors achieve a very high control quality, especially in connection with the Baumüller drive electronics. Combined with speeds of up to 5,000 rpm, the DSH1 are thus the optimal solution for applications, for example, in robotics with their high requirements for precision and dynamics.
The new multi-axis controller b maXX 5800 is also designed for robotics and handling applications. The combination of six independently controllable axes into one device enables significantly faster communication in the system than with separate axis units. The power of the individual axes can be freely selected, whereby an individually adjusted device is available for each application.
Save money with software modules
In its extensive libraries of modules, Baumüller provides pre-programmed and validated software modules for numerous applications. Users can purchase complete technology packages or individual modules, which can be used directly or can be expanded to include user-specific functions, thereby saving significant programming effort.
Press release from Baumueller