Biocompatible PLA meets In-Mold Labelling (IML)
Innovative IML-Concept: Beck Automation presents four-cavity IML machine for PLA coffee capsules
North and South American Premiere of a high-performance Single Serve Capsule IML machine on NPE 2018 in Orlando
New approach: Visually appealing packaging with IML gets biocompatible
Ultra-lightweight parts in injection molding:
IML meets environmentally friendly PLA
Oberengstringen (Switzerland), February 14, 2018: Fresh coffee straight out of a coffee capsule has been one of the most popular ways to make a good cup of coffee for years. The classic disposable coffee capsule's job is actually quite varied: the coffee aroma has to completely develop even though the capsules have a long shelf life. The capsule has to convey the feeling of lifestyle and luxury you get from enjoying a good cup of coffee. It should also ensure brand recognition and provide information about the contents. Once used, the packaging should be disposed of easily while demonstrating that it is environment-friendly, both during manufacture and when in use.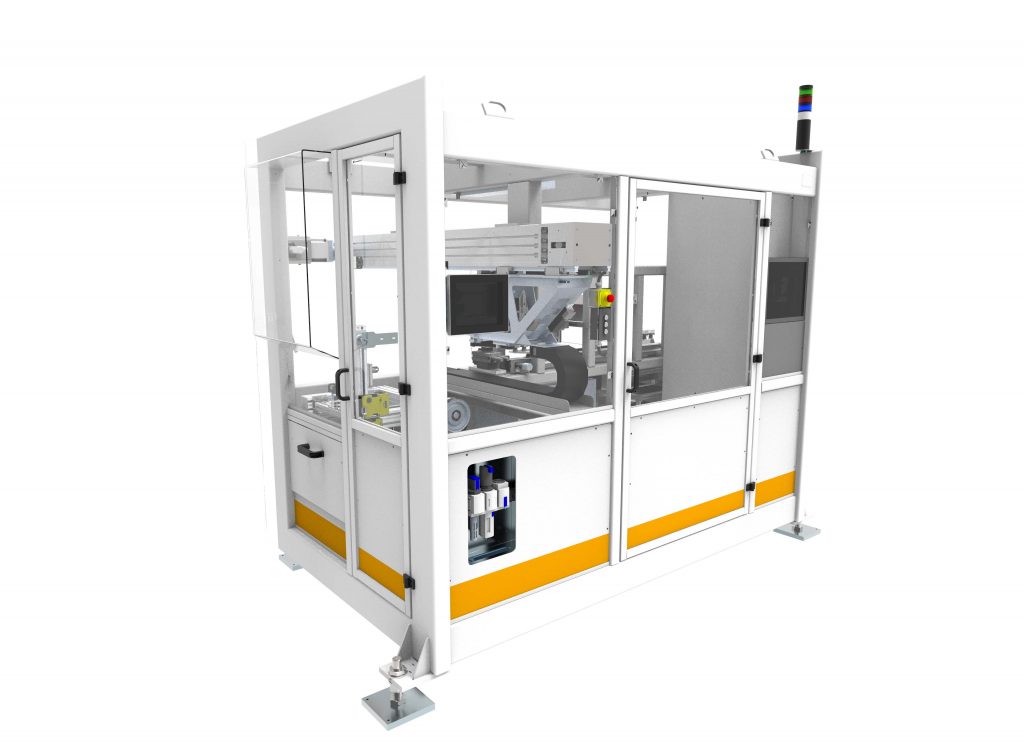 The brilliant print quality of the In-Mold labelling not only serves to effectively staging the product, but also has a concrete boost in sales: the customer can get an accurate picture of the content. Especially in the sensitive food industry, this fact can decide whether a product is purchased or left on the shelf. What might seem straightforward at first glance is becoming increasingly difficult to communicate to consumers – a good example of this is conventional aluminium capsules. The environmental awareness of consumers has noticeably been on the increase in recent years. A Polylactide (PLA) injection molding solution with IML decoration could be just the right answer. This saves resources and gives the packaging a premium look. Nick Lewis, Beck Automation Americas: "Visually appealing packaging with IML gets biocompatible."
Biocompatible Strength of PLA material
IML, when combined with environmentally friendly PLA material, a synthetic polymer, offers a new way to reposition disposable coffee capsules and to enhance the appearance of the product. PLA is obtained from renewable sources, such as corn starch. This makes PLA a biocompatible raw material. This approach is also a contribution to better achieve the sustainability goal of the providers. The sweetish smell is more reminiscent of the cornstarch contained in it than molten plastic. Low moisture absorption ensures easier storage and high UV resistance, as well as severe flammability are practical properties for a variety of applications. In general, PLA has mechanically good properties such as high surface hardness, rigidity, and high modulus of elasticity (tensile strength), but only moderate impact resistance.
American premiere at the NPE 2018 in Orlando
With this increasing demand in mind, Beck Automation set about developing an IML machine for high-quality plastic coffee capsules. The new machine shall premiere in the US when it is presented to the public at the NPE 2018. Nick Lewis, Beck Automation Americas: "The result is a highly dynamic, precise and operator-friendly machine for IML decoration. This way, the disposable coffee capsules are both more environment friendly and look more premium, too."
Single Serve Capsule IML Machine in Detail
The exhibit at the NPE 2018 trade fair in Orlando is a four-cavity IML machine. The machine architecture shows that machines with much larger numbers of cavities are also possible for higher output rates. For example, in 2016 Beck Automation successfully commissioned several solutions for 32+32 stack molding machines, followed by a 32-cavity IML Single Serve Capsule machine in 2017. Nick Lewis, Beck Automation Americas: "With such small packaging sizes, the challenge lies in label inserting precision, as well as an operator-friendly concept. We are talking about very small labels and ultra-lightweight components with extremely high production volumes."
Strong global Partners of Beck Automation
The coffee capsules shown are inserted into a four-cavity mold from Fostag Formenbau in Switzerland. Nick Lewis from Beck Automation Americas states a target cycle time of 6 – 7s. The Polylactide (PLA) labels are produced by Verstraete, the Belgian IML label specialists. The IML-system also includes a quality assurance module to perform barrier checks from IMDvista. This turnkey option opens a high level of quality and improved added value. A high-precision and fast Netstal ELION 1200-250/55 serves as the injection-molding system. It is fitted with servo-electric drives for all components and is absolutely clean and quiet in operation. Its compact design, high shot weight precision, rapid closing speed and reproducibility, make it a perfect match for Beck Automation's IML machines.
 First References are promising
In the US, which is a huge market for disposable capsules, the trend towards environment friendly products is already well-established. It is more than a trend, which also attracts attention in South America. Suppliers are therefore looking for alternatives to the high quality, yet environmentally problematic aluminium capsules or simple plastic solutions, which are unable to convey the lifestyle aspect of the product.  Beck Automation solutions have been very well received by the company's first customers in the USA and Switzerland. These pilot customers are pleased with the functionality, look and environmental performance of the capsules, which they believe suit market demands. The output of a high-performance IML machine from Beck Automation also enhances added value.
Press Release from Beck Automation AG