BEKUM: Trending worldwide – water bottles made of Polycarbonate, PC
BEKUM BA series scores in terms of output and performance
The BA series is a reference in water bottle production
Berlin (Germany), February 15, 2018: Thirsty on the go or at the office? Water dispensers are available today in many places. The containers, which were first developed to provide water for offices in the USA, have long since found a home in supermarkets, retail stores, medical practices and fitness studios all over the world. However, in places where the public drinking water supply is not enough, these containers supply precious water. As a result, the demand for PC (polycarbonate) water bottles is increasing worldwide.
 To this day polycarbonate (PC) is the most used material in the manufacturing of water bottle containers over 10 litres. This is due to the excellent material properties for stability, cleaning and transparency. Thanks to the transparency of the PC water bottle, with just a quick glance at the water level you can see when it is time to replace it. Replacing the water bottle is easy thanks to the practical cartridge system. The high-quality optics of the container also adds an appealing look to the water. The container size of 5 gallons (18.93 litres) is a widely used standard size with high quantities. It is designed in such a way that it fits all dispensers which are common in the market.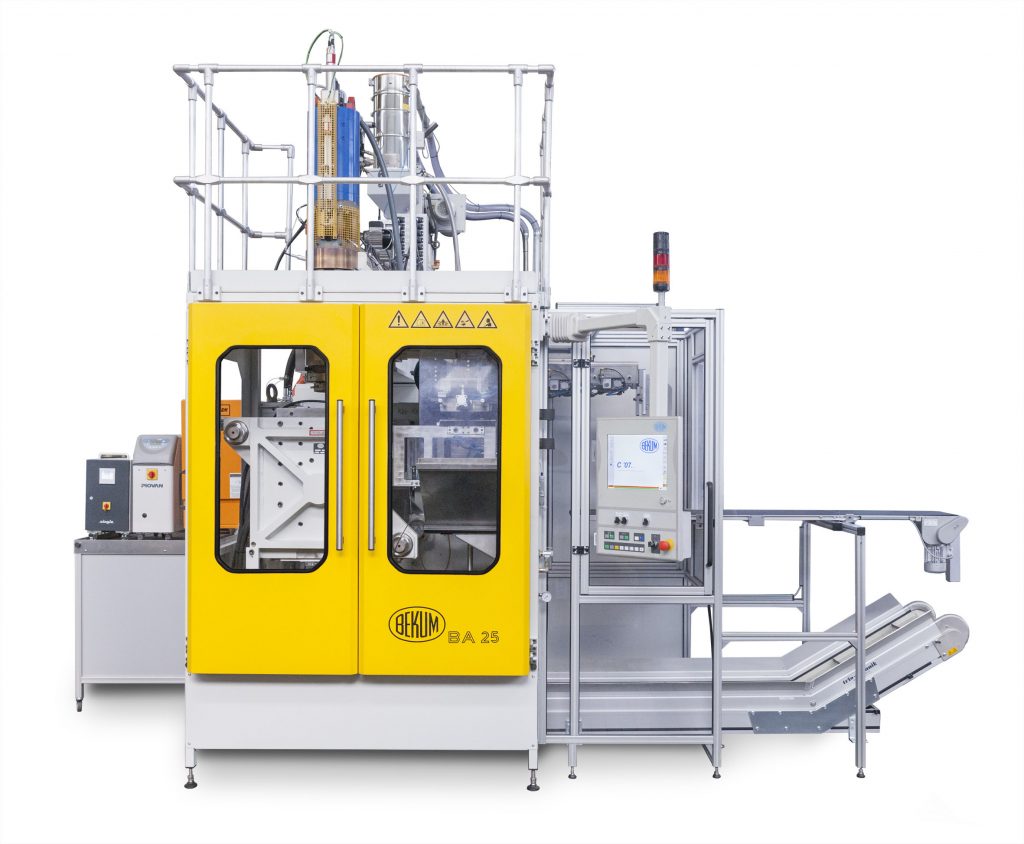 BA series with high market shares
Extrusion blow moulding plants for BEKUM's BA series have been firmly established in this market segment for years. The BA 25 by BEKUM is a very marketable PC water bottles machine that combines high performance and efficiency. With a clamping force of 200kN and its compact footprint, the BA 25 is the obvious choice for manufacturing water containers. It has a very stable clamping unit and is highly wear-resistant. The BA 25 machine has been designed for high durability as well as long production capability and has long provided a reliable and, above all, economic contribution to the drinking water supply via water dispensers worldwide.
Clamping and plasticising unit impresses in production
The quality of the BA 25 from BEKUM is apparent: The BA 25 machine is designed for discontinuous accumulator operation as well as bottom calibration and uses parison spreaders with vertical adjustment. Modern controls and hydraulics allow the processor very accurate repeatable cycles for high efficiency production. The BA 25 system has also excellent plastification. BEKUM extruders use a special screw geometry for optimum homogenisation of the material. An energy-saving AC motor ensures that the material is melted gently at low rotational speeds. The patented spiral mandrel distributor head technology from BEKUM allows uniform wall thickness over 360° of the water bottle and offers reproducible product quality that is second to none. This in-house development by BEKUM practically excludes article thinning and flow marks, ensures a crystal-clear water bottle transparency with a cloud-free surface and, by doing so, enables products of high quality.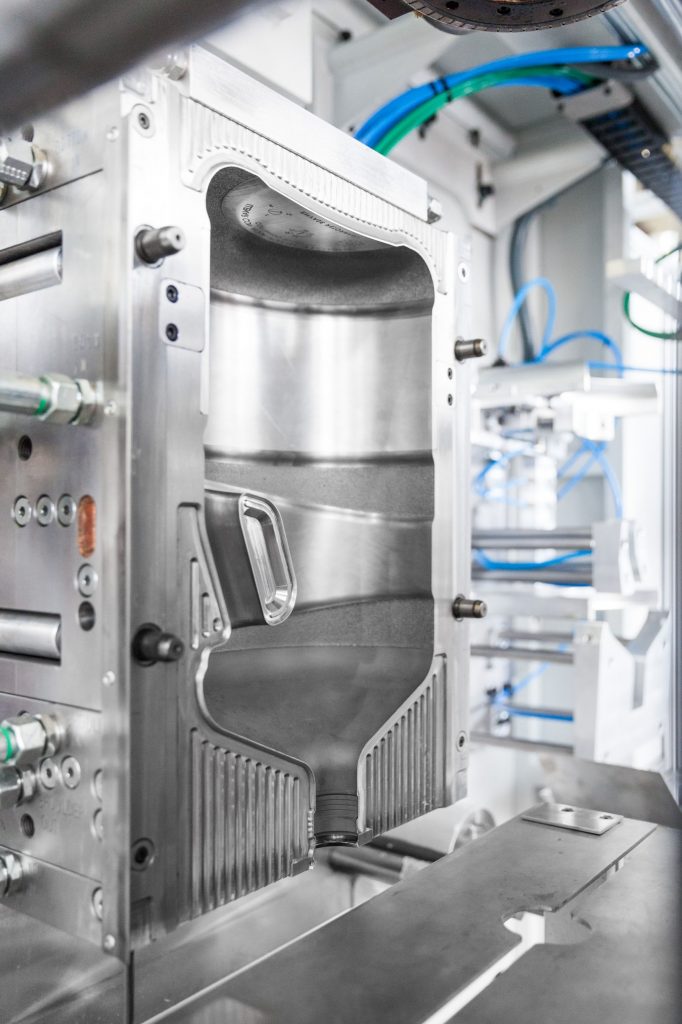 High efficiency at the forefront
The highly transparent PC containers are blown out in a special blow mould, which has multi-zone temperature control and magnetic quick-change inserts, with or without a handle. The BEKUM single-station blowers of the BA series achieve an undisputed output of over 160 containers / hour at a net weight of 750 g based on the reference article "Nestlé 5 Gallon Aqua Design without handle". This high output rate is possible without compromising the high article stability as well as the crystal-clear transparency, even at demoulding temperatures of over 85°C.
Sophisticated polycarbonate
PC containers are country-specific and made out of pure new materials (e.g. from Bayer Makrolon, Mitsubishi Novarex and other PC materials), a varying material mix of new material and recycled material, as well as 100% recyclates. Processors know: When melting, polycarbonate is a sensitive material. This requires specially tailored material handling systems for material drying and material inlet. After shaping, the cooled article material and flash are very hard, requiring coordinated cutting mills. For an optimally coordinated, high-performance periphery, BEKUM brings with it the experience gained from many installed user projects and relies on tried and tested, high-performance partners.
Practice-oriented automation to increase productivity
Last but not least, automation plays an important role for the user if efficiency should be increased. Especially for containers with an integrated handle, fully automatic and guided flash removal is important. Furthermore, the automated removal with removal grippers and alignment by a turning station for placing on an article production line, increases efficiency of the operation. With its convincing performance characteristics and the system design optimally aligned to PC water bottle production, the BA series is a reference in water bottle production.
Press Release/Images : BEKUM