DLC Anti-friction Coating from PEDROTTI
DLC is an increasingly used coating in the world of molding tools.
Since long time we have focused on DLC and other modern coating because the right coating significantly increases the quality and performance of the products on which it is applied.
He re below some of the benefits it guarantees:
It does not modify the hardness of the part to which it is applied. The deposition technology used (PaCVD) keeps the working temperatures down to 180°C so you can apply this coating even to steels with low tempering temperatures.
It has a very small thickness (about 2μ) that does not substantially change the geometry of the workpiece, so it does not modify part machining or compromise mechanical couplings.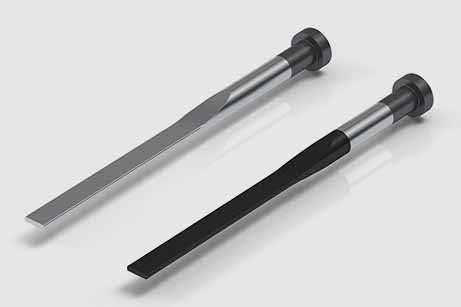 It has a very high hardness (2500HV) which increases surface resistance and makes it scratch-resistant. This property is very useful in the molding of polymers filled with fibers of any kind, because it protects mirrored, photo-engraved or brushed surfaces, protecting them from corrosion or rubbing abrasion.
The lowest friction coefficient 0.05-0.1/100Cr6 makes it perfect for applications (medical, food) requiring rapid sliding but do not allow lubricants.
Our EES-2DLC standard ejector pins and EES2TL blade ejector pins, coated on request, guarantee your molds superior performance and efficiency. Even guides, centering and stacking have gained considerable benefits from using DLC, especially in terms of maintenance cost savings.
Applied on stamping surfaces such as inserts, slides, nozzle tips it guarantees a reduction in filling times of the mold cavity. However, it is important to check that the plastic to be injected is chemically incompatible with the coating.
It has remarkable fatigue resistance and the technology used guarantees excellent adhesion (if the surface is properly polished and prepared) therefore increases the life of the product on which it is applied.
It is chemically inert, non-toxic and biocompatible, resistant to chemical solutions and organic agents, and can be applied on medical, prosthetic components, and can be used to stamp food contact parts.
For information or purchases write to: sales@pedrotti.it.