DMG MORI honors TOP supplier partners
Bielefeld // DMG MORI honored seven strategic partners and suppliers with the "DMG MORI Partner Award 2019" at EMO Hannover – the world's largest trade fair for machine tools. Dr. Eng. Masahiko Mori, President of DMG MORI COMPANY LIMITED, and Christian Thönes, Chairman of the Executive Board of DMG MORI AKTIENGESELLSCHAFT, presented the medals produced additively on the LASERTEC 30 SLM to more than 300 top decision-makers.
"Suppliers and partners of DMG MORI are characterized by high quality, reliability and innovation. As strategic partners, they are an important member of the global DMG MORI network. The award winners of the evening have again exceeded these high standards," says Dr. Eng. Masahiko Mori. The following companies convinced with extraordinary achievements in close and constructive cooperation: ALGRA S.p.A., CKD Corporation, CNC-Technik MACK GmbH & Co. KG, Compa S.A., FESTO AG & Co. KG and the RYOWA Corporation. Lothar Horn, owner and managing director of Hartmetall-Werkzeugfabrik Paul Horn GmbH, received the honorary prize for "Loyalty, Reliability and Partnership".
"Together with strong partners, we are driving our innovative strength forward – with dynamic and excellence. Stable, innovative partners are an essential success factor in the continuous changes," says Thönes. As the largest exhibitor, DMG MORI is presenting a firework of innovations on more than 10,000 m² at EMO Hanover – especially in the future fields of automation, digitization and ADDITIVE MANUFACTURING.
In the field of automation, the WH-Flex is a modular automation concept for workpiece and pallet handling for up to nine machine tools. Another highlight will be the new driverless transport systems, so-called "Automated Guided Vehicles" – AGVs, a joint innovation with development partner Jungheinrich.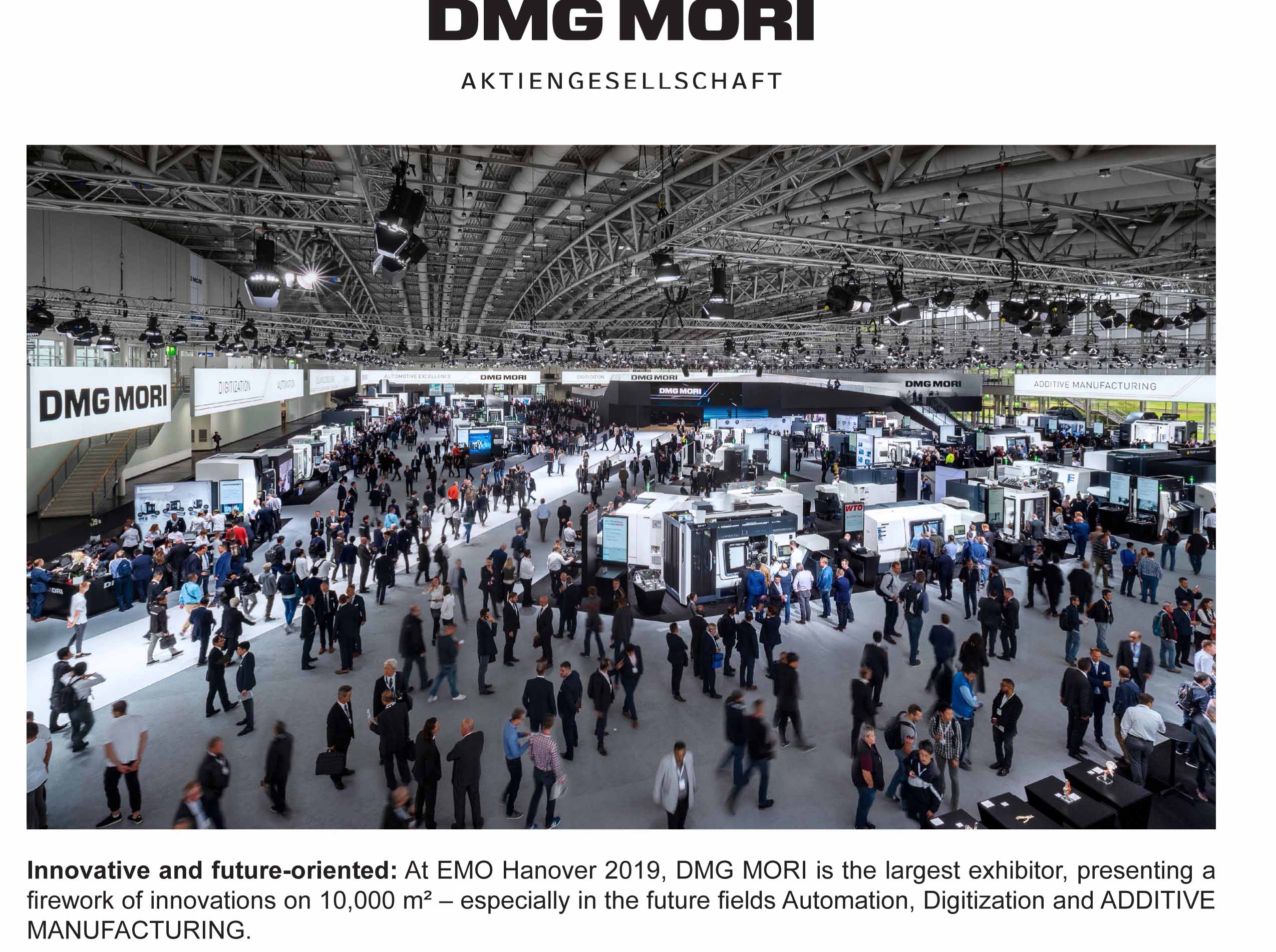 In the field of digitization, DMG MORI presents more than 30 innovations, including CELOS APPs for comprehensive DMG MORI monitoring and efficient production planning and control. From EMO on, "my DMG MORI", the new customer portal for service optimization, will also be available. Customers gain fast direct contact with service experts, status monitoring of their service and spare parts enquiries in real time and access to all important documents. In the future field of ADDITIVE MANUFACTURING, DMG MORI covers the entire process chain – from the material cycle through simulation to service and consulting.
DMG MORI AKTIENGESELLSCHAFT
The Executive Board
Company Profile // DMG MORI
DMG MORI AKTIENGESELLSCHAFT is a worldwide leading manufacturer of machine tools with sales revenues of more than € 2.6 billion and around 7,500 employees. As "Global One Company" – together with DMG MORI COMPANY LIMITED – we reach sales revenues of more than € 3.8 billion.
Our integrated technology and automation solutions cover turning and milling machines, as well as Advanced Technologies, ULTRASONIC, LASERTEC and ADDITIVE MANUFACTURING. With our CELOS APPs, exclusive Technology Cycles and Powertools, we offer an easy, fast and scalable entry into digital production. The modular ISTOS and WERKBLiQ products further facilitate consistent digitization of the entire process chain: from the planning and preparatory work to production and monitoring to service. The open, manufacturer-independent ADAMOS IoT platform rounds off the product range for a digital factory.
Our technology excellence is bundled within the main sectors of "Aerospace", "Automotive", "Die & Mold", and "Medical". Our partner program "DMG MORI Qualified Products" (DMQP) allows us to offer perfectly matched peripheral products from a single source. Our customer-focused services covering the entire life cycle of a machine tool include training, repair, maintenance and spare parts service.
More than 12,000 employees work for the "Global One Company". With 157 sales and service locations – thereof 14 production plants – we are present worldwide and deliver to more than 100,000 customers from 42 industries in 79 countries.