DMG MORI launches subscription business with PAYZR
With "Sub & all-in instead of Investment & Purchase" to the Netflix of machine building
Bielefeld // DMG MORI launches subscription for mechanical engineering: PAYZR – PAY with Zero Risk – is the name of the new, digital business model. Customers can subscribe to machines instead of purchasing them, accelerate innovation cycles and at the same time avoid high investment costs. With PAYZR, DMG MORI becomes the "Netflix for Manufacturing".
"Sub & all-in instead of investment and purchase is the key to success. No investment risk, no down payment – but full financial flexibility, cost and price transparency and thereby highest planning security. From now on, we are offering PAYZR for both Equipment-as-a-Service and Software-as-a-Service," says Christian Thönes, Chairman of the Executive Board of DMG MORI AKTIENGESELLSCHAFT.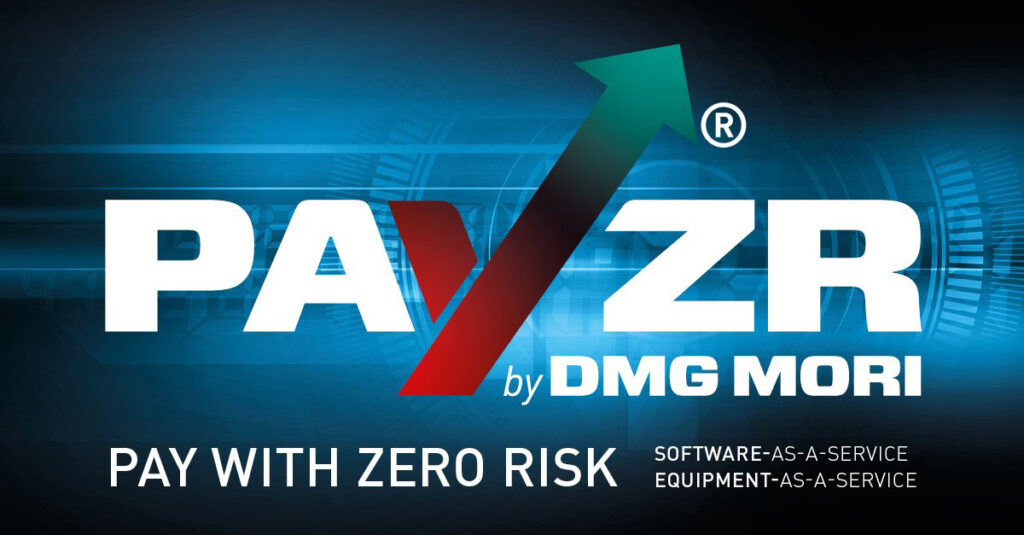 New, digital business models are the future and expanding the classic machine and service business by networked, scalable platform-based solutions. DMG MORI is therefore increasingly investing in end-to-end processes that can be made available to users quickly, scalable and inexpensively. PAYZR represents – in addition to purchasing, financing or leasing – the digital and flexible alternative as a subscription model.
With PAYZR, customers get exactly what they need. And they only pay for what they use – with Equipment-as-a-Service in the form of a monthly basic fee and usage-based fee per spindle hour. DMG MORI thus facilitates the transition to the new normal and manufacturing of the future. This is particularly attractive for start-ups and smaller companies.
Access to PAYZR is simple and possible via several digital channels, such as the DMG MORI website or the "my DMG MORI" customer portal, where single sign-on takes you directly to the new "DMG MORI Store powered by ADAMOS". In the digital point-of-sale for all PAYZR offers, there are four products at the start: the 3-axis milling machine M1 as Equipment-as-a-Service as well as the Software-as-a-Service solutions from ISTOS, TULIP and WERKBLiQ. As "Netflix for Manufacturing", DMG MORI will continuously expand the PAYZR offer in the coming months and years.
DMG MORI AKTIENGESELLSCHAFT
The Executive Board
Company Profile // DMG MORI
DMG MORI AKTIENGESELLSCHAFT is a worldwide leading manufacturer of machine tools with sales revenues of more than € 1.8 billion and around 6,700 employees. Together with DMG MORI COMPANY LIMITED, our sales revenues are around € 2.7 billion. Around 12,000 employees work for the "Global One Company". With 138 sales and service locations – including 15 production plants – we are present worldwide and deliver to more than 100,000 customers from 54 industries in 86 countries.
Our integrated automation and end-to-end digitization solutions enrich the company's core business with turning and milling machines, Advanced Technologies (Ultrasonic, Lasertec) and Additive Manufacturing. Our modular products allow quick, easy and scalable access to digital manufacturing and integrated digitization along the entire process chain – from planning and preparatory work to production and monitoring to service. Our mission: Empower our customers in manufacturing and digitization.
Our technology excellence is bundled within the main sectors of Aerospace and Automotive as well as Semiconductor, Medical, Die & Mold. The partner program DMG MORI Qualified Products (DMQP) allows us to offer perfectly matched peripheral products from a single source. Our customer-focused services covering the entire life cycle of a machine tool include training, repair, maintenance and spare parts service. The online customer portal "my DMG MORI" digitizes all service processes.
Already since May 2020 DMG MORI AKTIENGESELLSCHAFT has an equalized CO2 balance (Company Carbon Footprint). All machines delivered since January 2021 are produced worldwide – along the entire value chain – completely CO2-neutral (Product Carbon Footprint).
Press release from DMG MORI