DMG MORI programme for the EMO 2017
digitisation, automation, ADDITIVE MANUFACTURING, technology excellence and 8 world premieres.
The future of manufacturing technology – innovative machines and integral system solutions for the digital factory
CELOS Digital Factory: digital workflows from job planning to digital tooling and on to include CELOS manufacturing
Open Connectivity: CELOS with Heidenhain, CELOS netBOX,
CELOS proTAB and the integration of third-party machines
Automation: over 30 machines with automation, including integral pallet storage solutions
ADDITIVE MANUFACTURING: continuous process chains for additive manufacturing with powder nozzle and powder bed technology
DMG MORI Technology Excellence: integration of processes at
a very early stage for customised technical turnkey solutions in the
aerospace, automotive, die & mold and medical sector
8 world premieres: Gantry and multi-spindle machines, turn-mill,
universal turning and horizontal machining centres
DMG MORI will present itself as the leading competence partner for metal cutting production and digitisation on around 10,000 m² in Hall 2 at the EMO 2017 in Hannover. Taking the "Path of Digitization" as its guiding principal, the company points the way to the future of the "Digital Factory" with numerous software and data-based products and services.
Continued priority is also given to the automation of the machine tools and turnkey solutions. The same applies to ADDITIVE MANUFACTURING, where DMG MORI offers continuous process chains with powder nozzle and powder bed technology. In its dedicated DMG MORI Technology Excellence Centers DMG MORI demonstrates its EMO branch solutions. By integrating customers in the joint process development at a very early stage DMG MORI offers customised complete technical solutions in the aerospace, automotive,
die & mold and medical sectors.
The eight world premieres include the CTX 2500|700 as the prelude to the fifth generation of this successful series and the NTX 2500 as another new turn-mill centre. The CLX 550 expands the range of European universal turning centres. The third generation CTV 250 rounds off the program in vertical turning, while a new concept for the multi-spindle automatic turning centre is presented with the MULTISPRINT 25 and the MULTISPRINT 36. Where milling is concerned DMG MORI has expanded its portfolio with the two large machines DMU 200 Gantry and DMU 340 Gantry and the second generation of the NHX 6300
horizontal machining centre.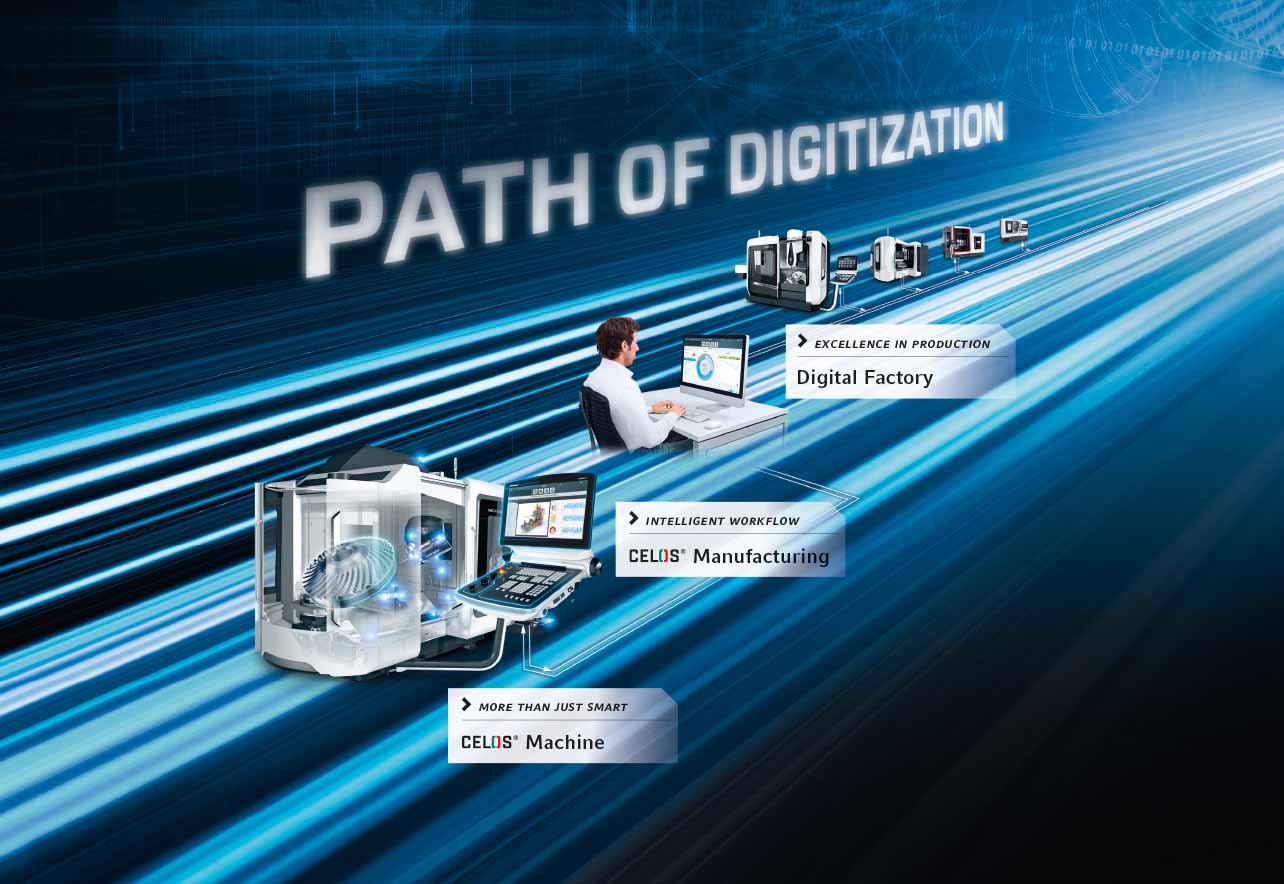 DMG MORI brings the digital factory to the EMO
The digital change is also taking place in machine tool construction with increasing momentum. With CELOS and the "Path of Digitization" DMG MORI pursues a consistent strategy – starting with the CELOS Machine and on to CELOS manufacturing right through to the digital factory. The new CELOS versions and products allow targeted realisation of the continuity required in production. With the latest version of CELOS the new APPs, such as "CELOS CONDITION ANALYZER" or "CELOS PERFROMANCE MONITOR" have laid the foundation for the optimisation of workflows and processes directly in the machine environment. A greater focus will be given to solutions for digital workflows on a shopfloor level at the EMO. Dr. Holger Rudzio, Managing Director of DMG MORI Software Solutions, promises:"We will be presenting an extensive portfolio of data-based digitisation modules within the framework of the "Path of Digitization" – including among others for production planning and tool management. These either complement or build upon each other. With these connective solutions for the CELOS digital factory we enable in particular SMEs gradual, and above all, practical entry into the future of digitalised industry."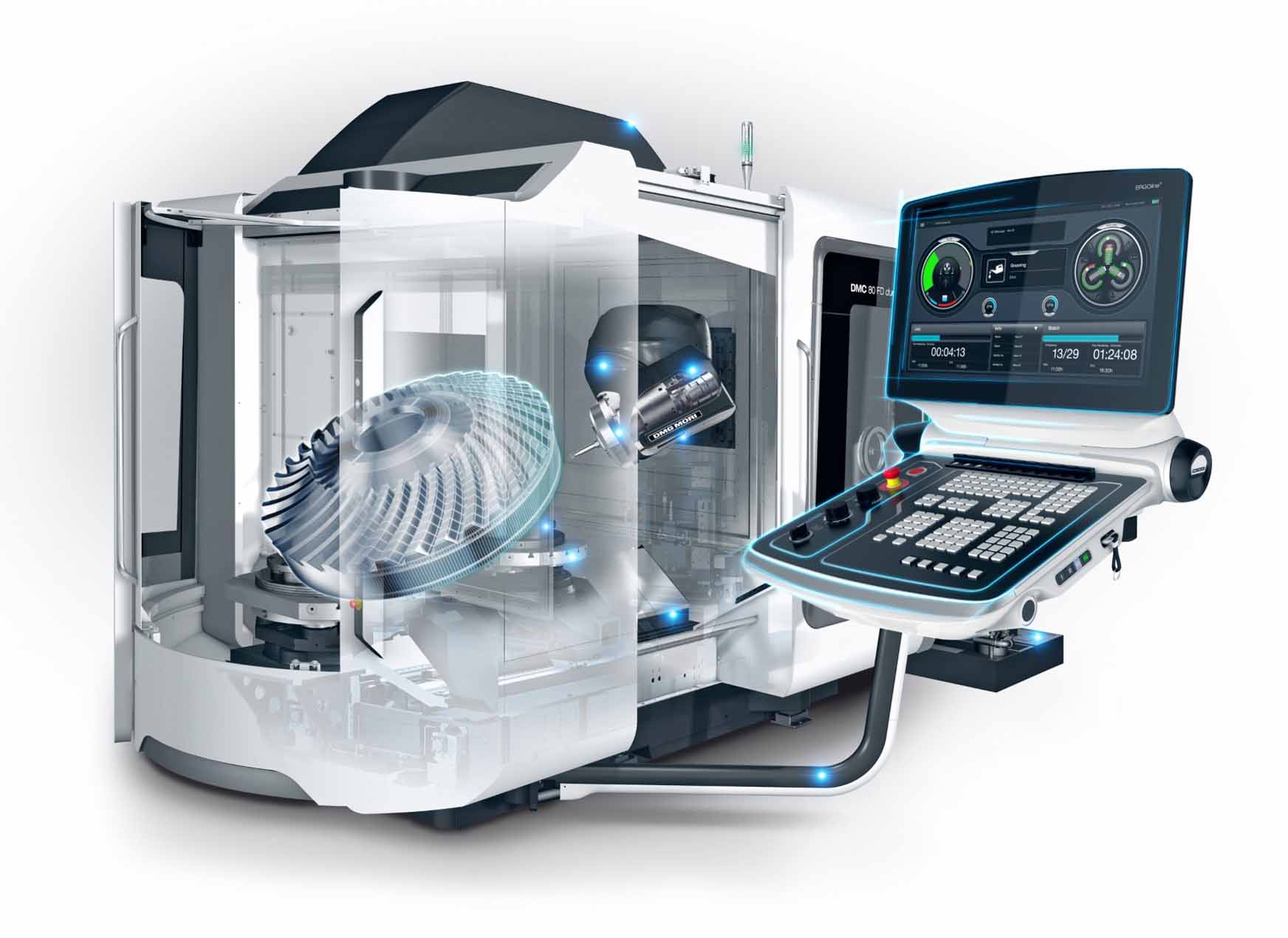 CELOS is developing into an extensive ecosystem for digital added value in production
DMG MORI will be presenting integral data-based production workflows for the first time at the EMO. An adaptive CELOS planning tool for decentralised production control will be presented in Hannover for the first time. An integral workflow for tool management from the cloud to CAM and simulation and on through to CNC control will be presented by the DMG MORI with CELOS Digital Tooling. A new mobile user interface will be presented in the form of the new CELOS proTAB, which opens up the CELOS world for the first time for both competitor products and machines from other fields of technology as well as for manual workplaces within the process chain. The new CELOS netBOX opens up the seamless integration of the machines in the higher-level network structures – through to secure data interaction via cloud platforms and the Internet of Things. In other words CELOS is developing from the APP-based control and operation interface to become a data-based, high-performance planning and control platform for the digital production of the future. In combination with digital software and service solutions it is gradually being configured to become a comprehensive ecosystem, with which customers can shape their futures both individually and holistically.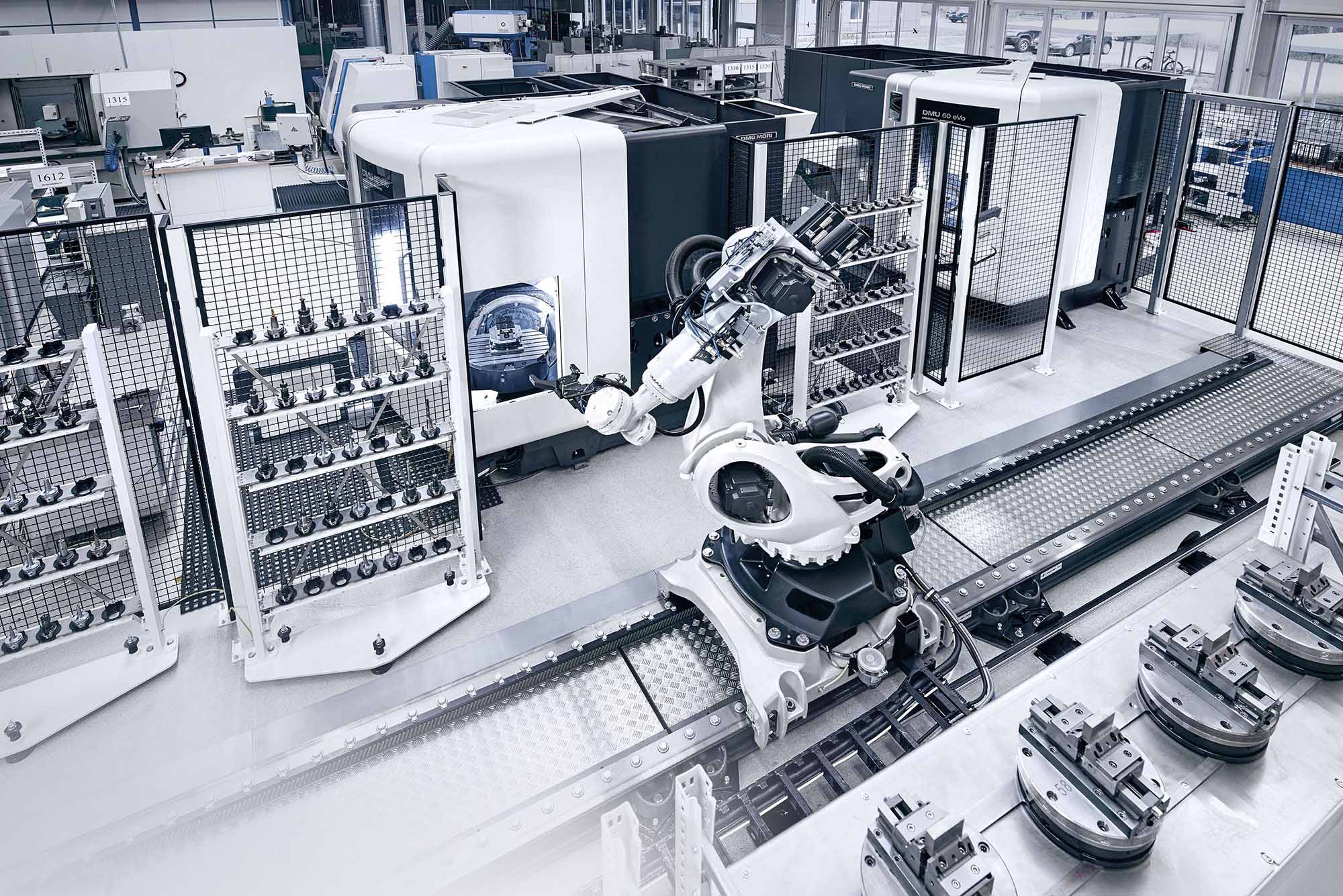 Core competence complemented with the new
Despite the fascinating possibilities of digitisation, engineering and manufacturing competence remains the core business of DMG MORI. That it is why it is important to strengthen both the new and the proven. Digitisation, automation, additive manufacturing and technology excellence as well as "traditional" high-tech machines are therefore equally the focus of the innovation offensive.
Automation –
perfectly coordinated automation solutions
Another focus of the development work is automation. It is the aim of DMG MORI that every machine in the wide and varied portfolio can be equipped with an automation option in future. Intelligent linking of the machine tool and automation is a key focus at the production locations in order to ensure customers can receive their automation solution from a single source. The offering includes the PH 150 Pallet Handling and the WH 3 Workpiece Handling systems – both of which will be presented in the new VERTICO-design. In addition Robo2Go
extends the portfolio as a flexible robotic automation for a large number of turning machines.

ADDITIVE MANUFACTURING –
complex 3D components with powder nozzle or in a powder bed
DMG MORI is successful on the market in ADDITIVE MANUFACTURING with laser deposition welding using a powder nozzle. Selective laser melting in a powder bed now expands the product portfolio. In other words DMG MORI demonstrates its integral competence by bringing together the key generative manufacturing processes under one roof and ranks as a full-line provider in both the additive manufacturing of metallic components and in post processing.
The LASERTEC 3D and LASERTEC SLM series are the cornerstones of DMG MORI's strategic orientation in this future technology. While the
LASERTEC 3D hybrid successfully combines laser deposition welding by means of powder nozzle and 5-axis milling, the LASERTEC SLM series stands for selective laser melting in a powder bed. "Both technologies complement each other ideally in our product range. We are present globally for our customers with our Additive Manufacturing Excellence Centers in Bielefeld, Pfronten, Tokyo, Shanghai und Chicago.", explains Patrick Diederich, responsible for the Advanced Technologies division. Great importance is attached in particular to the powder bed process: "This technology has a market share of 80 percent where the additive manufacturing of metallic components is concerned." The latest innovation stages of the two processes will be presented at the EMO integrated in continuous process chains.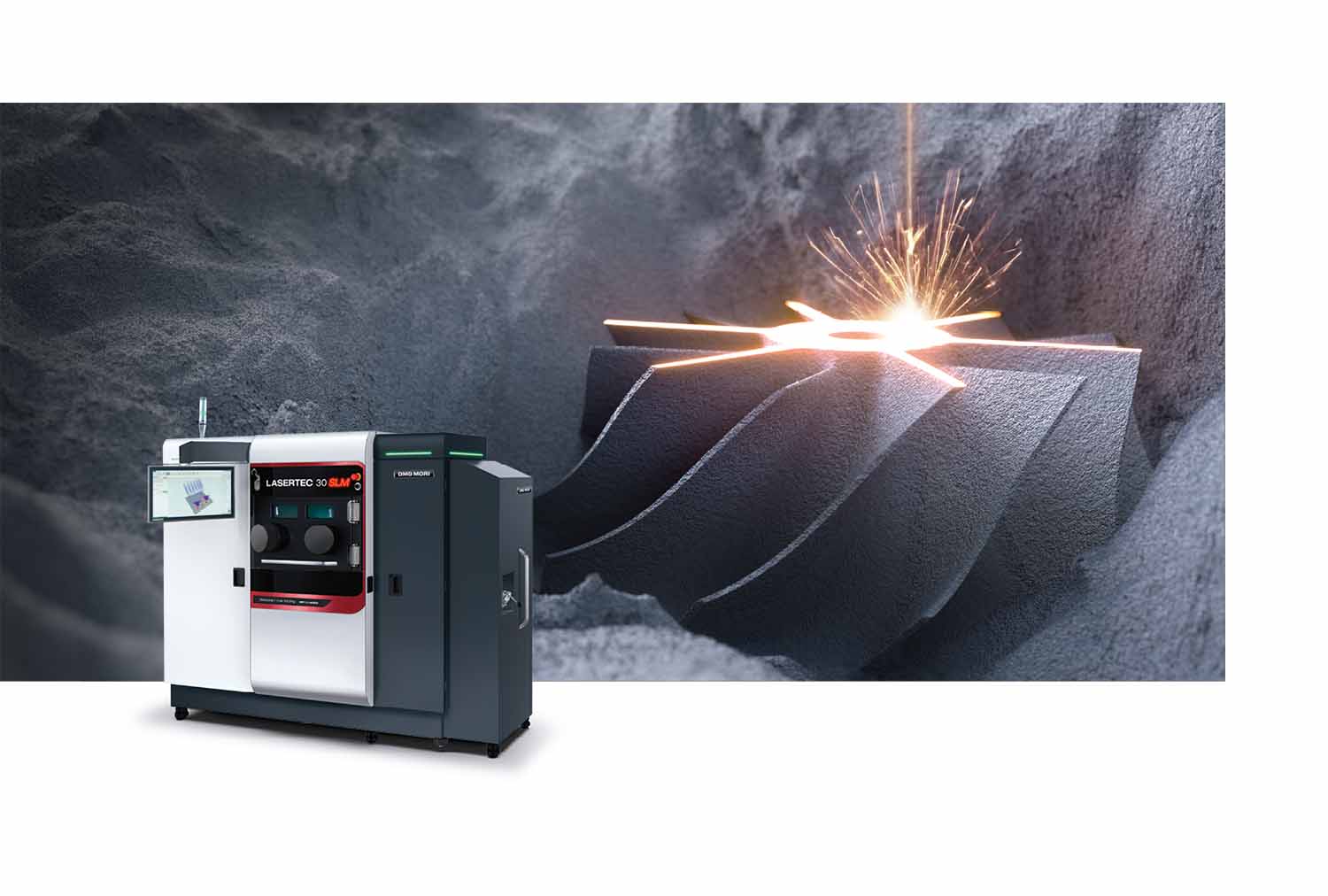 DMG MORI Technology Excellence Center
Low unit costs, automated processes and a high degree of flexibility are the key factors in an efficient production. As a leader of technology in the metal cutting sector DMG MORI is called upon to create ever more economical CNC solutions that will ensure its customers a competitive edge. To achieve this the machine tool manufacturer develops and realises holistic, application-specific turnkey solutions for the aerospace, automotive, die & mold and medical sectors in its DMG MORI Technology Centers. Experts from DMG MORI are involved in the development of customer projects at a very early stage. Together with its customers DMG MORI gains important experience and extensive knowledge. Both are used equally in the development of new machines and components right through to turnkey production solutions.
DMG MORI Aerospace Excellence Center
"Especially where the multitude of components and materials is concerned our customers benefit from the wide range of our machines and technologies. During the EMO in Hannover we will be showcasing highly dynamic horizontal centres for aluminium and CRP components, duoBLOCK machines for the high-speed milling of aluminium as well as turn-mill technology such as mill-turn centres with integrated grinding function and a unique solution for the use of angle heads with automatic changeover of front tools for reliable processes in the 5-axis complete machining of rotationally symmetrical workpieces. There is virtually no component for which DMG MORI cannot offer a production
solution." explains Michael Kirbach, Head of the DMG MORI Aerospace Excellence Center in Pfronten.
DMG MORI Automotive Excellence Center
"Under the motto 'A full Automotive Technology Integration' we will be presenting complete solutions or rather an integral modular system consisting of high-performance machine tools, integral technologies, automation solutions and intelligent software. This guarantees our customers maximum availability and process reliability in the automotive industry", says Markus Piber, Managing Director of DECKEL MAHO Pfronten GmbH, about the range of services for automotive customers.
DMG MORI Die & Mold Excellence Center
"Die and mold construction are among our core competences. Great importance has been placed on die & mold applications at DMG MORI for
decades, which on the one hand has resulted in our enormous experience in this field and on the other has given and continues to give rise to path-breaking technologies. The demands on precision, long-term accuracy and surface qualities are met with high-precision and dynamic machining centres.", says Markus Rehm, Managing Director of DECKEL MAHO Seebach GmbH.
DMG MORI Medical Excellence Center
"Medical technology in particular faces special challenges such as the use of materials that are difficult to machine – magnesium and CrCo, that require individual machine solutions. Whereby the technological possibilities are not in fact the limiting factor here, instead it is the high demands on the certification requirements and standardisation that determine the process in medical technology. The necessary expertise with regard to technology and efficient machining strategies are brought together in standardised, integral manufacturing solutions at the Medical Excellence Center Seebach. The resulting customer benefit lies in considerably simplified certification of machine solutions that fulfil worldwide standards." Marcus Krüger, Head of the Medical Excellence Center in Seebach.
Press release/Photos  DMGMORI