DMG MORI strengthens presence in China with highly automated and fully digitized production plant
€ 75 million investment for 5-axis milling machine factory in Pinghu
Bielefeld // Today starts the CIMT in Beijing – the most important industry trade fair in Asia. The ideal place and time to announce expansion plans in this world's largest market for machine tools: Already this year, DMG MORI plans to start construction of a 35,000 m2, highly automated and consistently digitized production plant for 5-axis milling machines in Pinghu near Shanghai.
"We are building the world's most modern production plant in Pinghu for € 75 million and are showing the full potential of our holistic technology solutions: flexible automation, end-to-end digitization, cutting-edge flow assembly with AGVs for 5-axis milling machines", says Christian Thönes, Chairman of the Executive Board of DMG MORI AKTIENGESELLSCHAFT.
"Made in China – for China": with this goal and a high level of value added depth, DMG MORI produces 5-axis milling machines of the DMU series. The state-of-the-art production is aligned to an annual capacity of over 2,200 machines. The new site covers a total area of 70,000 m². The Grand Opening of DMG MORI Pinghu Manufacturing Solutions is scheduled for the end of 2022. Pinghu is located in the middle of the Yangtze River Delta – one of the most dynamic economic zones in China – and has developed rapidly in terms of economy and technology due to its geographical advantages.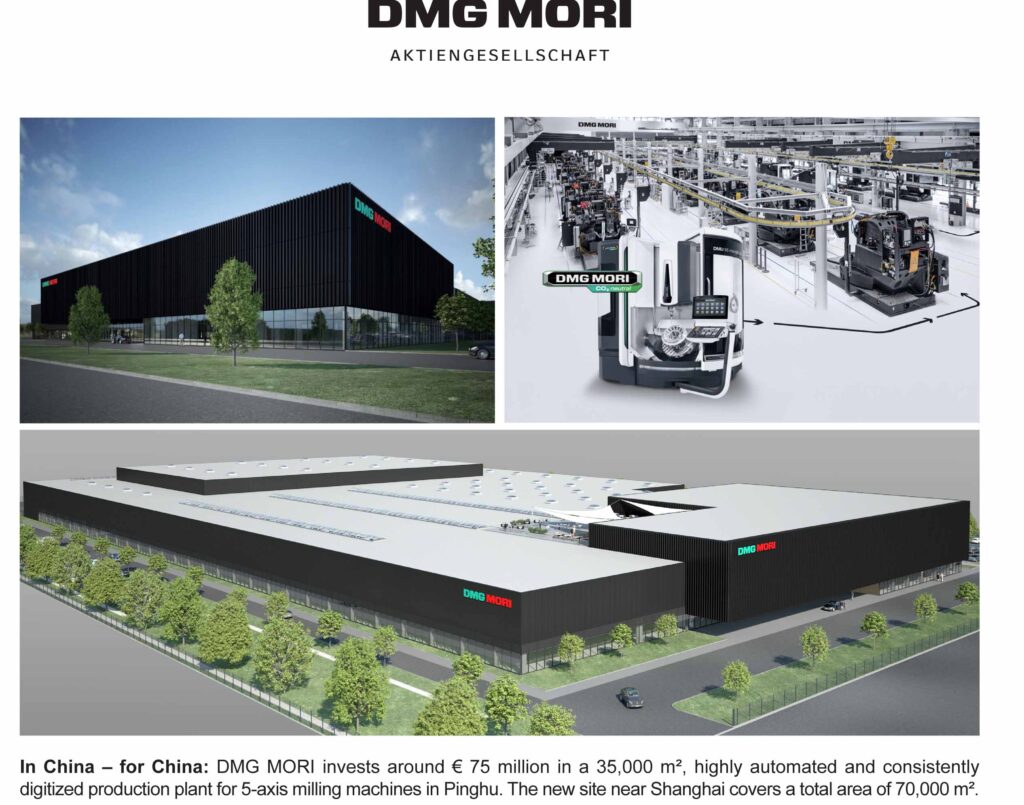 Just in September 2020, DMG MORI put into operation the new monoBLOCK Excellence Factory in Pfronten with 36 AGV transport systems ("Automated Guided Vehicles"). The value chain powered by the "no-code" platform TULIP, which is developed and completely digitized by the company's own employees, will now also be used in China.
The high demand for machine tools in this fast-growing market is currently serviced by more than 500 employees. In addition to the technology center in Shanghai and production plant in Tianjin, there are eight sales and service companies (Beijing, Shenyang, Chongqing, Xi'an, Shanghai, Ningbo, Suzhou, Shenzhen). The new investment of around € 75 million underlines DMG MORI's growth plans in China.
DMG MORI AKTIENGESELLSCHAFT
The Executive Board
Company Profile // DMG MORI
DMG MORI AKTIENGESELLSCHAFT is a worldwide leading manufacturer of machine tools with sales revenues of more than € 1.8 billion and around 6,700 employees. Together with DMG MORI COMPANY LIMITED, our sales revenues are around € 2.7 billion. Around 12,000 employees work for the "Global One Company". With 138 sales and service locations – including 15 production plants – we are present worldwide and deliver to more than 100,000 customers from 54 industries in 86 countries.
Our integrated automation and end-to-end digitization solutions enrich the company's core business with turning and milling machines, Advanced Technologies (Ultrasonic, Lasertec) and Additive Manufacturing. Our modular products allow quick, easy and scalable access to digital manufacturing and integrated digitization along the entire process chain – from planning and preparatory work to production and monitoring to service. Our mission: Empower our customers in manufacturing and digitization.
Our technology excellence is bundled within the main sectors of Aerospace and Automotive as well as Semiconductor, Medical, Die & Mold. The partner program DMG MORI Qualified Products (DMQP) allows us to offer perfectly matched peripheral products from a single source. Our customer-focused services covering the entire life cycle of a machine tool include training, repair, maintenance and spare parts service. The online customer portal "my DMG MORI" digitizes all service processes.
Already since May 2020 DMG MORI AKTIENGESELLSCHAFT has an equalized CO2 balance (Company Carbon Footprint). All machines delivered since January 2021are produced worldwide – along the entire value chain – completely CO2-neutral (Product Carbon Footprint).