Environmentally-friendly and practical drives for mobile work machines
Fully practical and efficient: Baumüller presents electric and hybrid drive solutions at bauma in Munich
At the world's largest construction machine trade fair bauma, the specialist for drive and automation systems, Baumüller, will be presenting its solutions for electric drives of mobile work machines in Munich from April 8-14, 2019. Baumüller will be represented in hall A3 at stand 313 with its offering.
Baumüller has been a specialist for electric drive and automation technology for decades. The drive components and system solutions are already very successfully in use today in many industries, in particular in the field of mobile work machines. With its broad range of services from motors to converters, and control systems to diagnostic and remote maintenance software, Baumüller offers interesting hybrid and fully electric drive solutions for mobile work machines.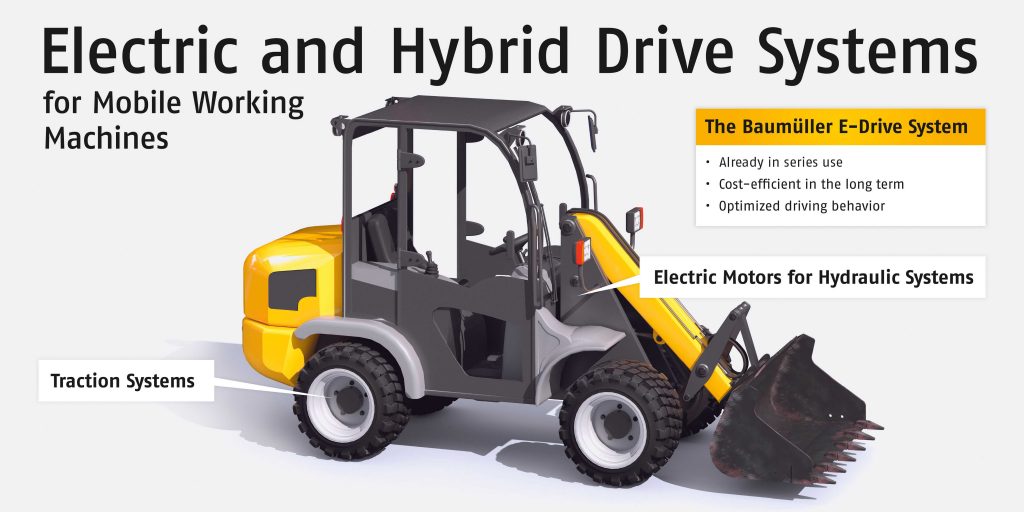 Environmentally friendly and powerful alternative to diesel
Electric work machines are a real alternative to diesel-powered vehicles. With their dynamic and powerful driving behavior, electric vehicles master the usual tasks with flying colors and they do this during long operating hours, with flexible charging options and minimum noise pollution.
Baumüller's engineering company, Baumüller Anlagen-Systemtechnik, designs and implements innovative drive concepts for mobile machines and implements them comprehensively, i.e. from battery management to control system to drive solution to the user-friendly user interface.
Baumüller equips both main drives as well as ancillary drives, e.g. the hydraulics in the bucket of a wheel loader, with its components and beyond the electric drive system also offers the possibility to incorporate the diagnostic and remote maintenance tool BAUDIS IoT. In this way, necessary service measures can be planned for specifically in advance and operating times and loads can be optimally monitored and evaluated. This saves costs and increases efficiency.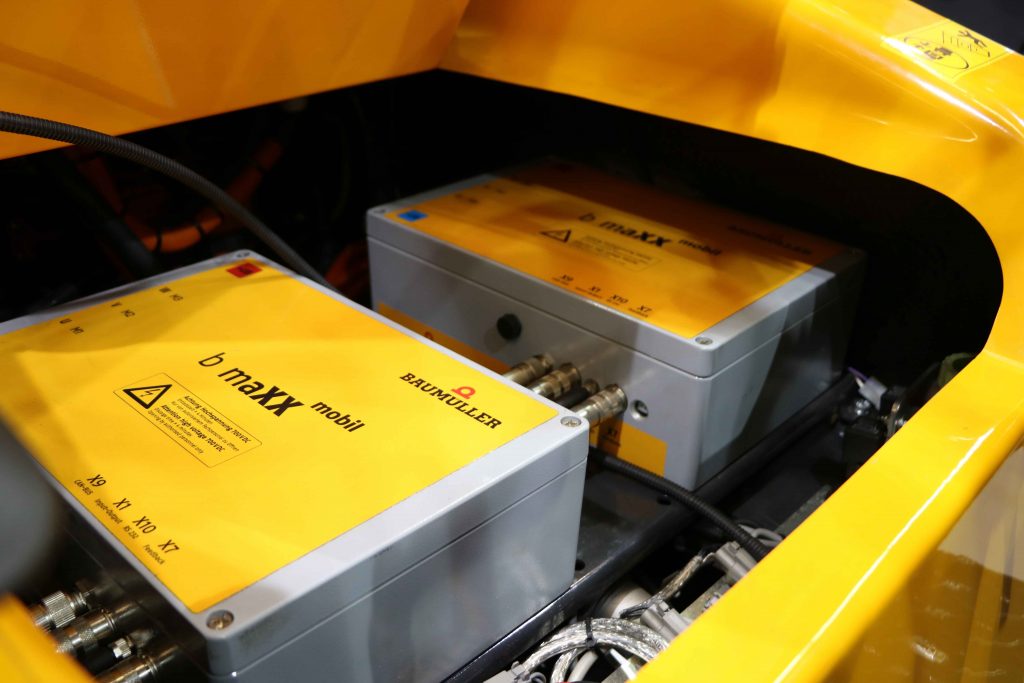 Product Highlights
The drive concept powerMELA®, which was developed in cooperation with Sensor-Technik Wiedemann GmbH and covers power outputs up to 140 kW, consists of a permanently-excited synchronous motor and an integrated four-quadrant frequency converter. In the hybrid concept with powerMELA®, a DC voltage is generated in the vehicle electrical system by a combustion engine using a combination of generator and frequency converter. With all-electric solutions, operation is exclusively by battery current. The electric motors are connected to the on-board power supply and drive the vehicle. This solution is very environmentally friendly and has very good EMC properties, e.g. an additional insulation of the stator to the housing. Other advantages are the reduced maintenance effort and the fuel savings of up to 30 percent.
Another highlight at bauma 2019 will be our drive solutions for small mobile applications. The b maXX mobil of protection IP66, for example, was designed for four-quadrant operation, it can regenerate and drive energy in both directions. For mobile use, the water-cooled controller is shock and vibration resistant and can be used in temperatures between -25 ° and + 65 ° Celsius. Combined with the compact water-cooled servomotors of the type DSP1 and DSD2 of protection IP65, which impress with their high power density and a broad speed range, even allow for use under extreme temperatures – ideal for mobile machines, such as wheel loaders or construction vehicles.
bauma, April 8-14, 2019
Hall A3, stand 313 – Munich
Press release of   The Baumüller Group