FADZ Lichtenfels – Research and Application Centre for Digital Future Technologies
The FADZ Lichtenfels is ready to roll
Research and training in 3D printing: A new master's programme "Additive Manufacturing and Lightweight Engineering" at the Coburg University of Applied Sciences and Arts in Lichtenfels
Promotion of basic and advanced vocational training in additive manufacturing
Shaping digital processes, products and prospects
Generation 3D: tomorrow starts today
Lichtenfels (Germany), 10 October 2019: Politicians of the region and from the Free State of Bavaria, representatives of the Coburg University, and entrepreneurs got together in Lichtenfels. Some 170 guests of the new FADZ met to discuss education and opportunities of digital transformation. At a promotional event on 26 September 2019 in Lichtenfels, the FADZ Research and Application Centre for Digital Future Technologies (Forschungs- und Anwendungszentrum für digitale Zukunftstechnologien) demonstrated its affirmation of the importance of basic and advanced vocational training for digital industrial strategies. Essential elements of the initiative are the new master's programme "Additive Manufacturing and Lightweight Engineering" at the Coburg University of Applied Sciences and Arts in Lichtenfels, and the promotion of digital strategies of industry and trade in order to secure competitiveness.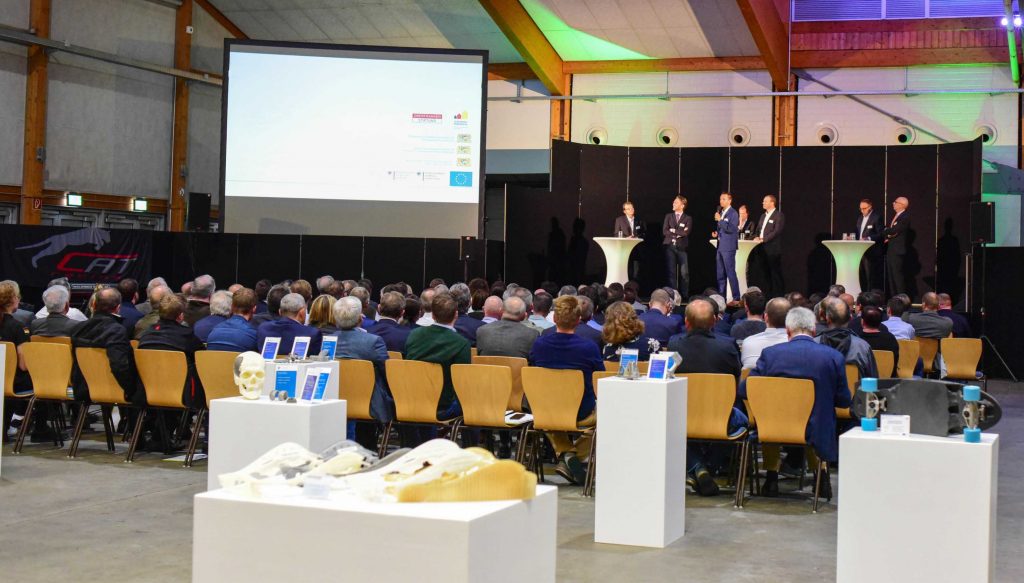 Some 170 guests from the economic sector obtain information on digital future technologies.
Following the principle "Think global, act local", the FADZ positions itself as a bridge builder and ambassador of new digital strategies in the era of Industry 4.0. The challenges of the digital transformation affect enterprises of any size, as well as employees in the occupational segments that are subjected to constant change. In this context, young people shall be kept in mind, since they have to adapt themselves to this change when they choose a career or a vocational training option. This is why basic and advanced vocational training in digital technologies is an important element in securing the future. In this matter, the FADZ pursues a holistic approach regarding the digital revolution. It encompasses academic education and research, approaches students and citizens, and strives to offer assistance to small / medium-sized enterprises and crafts on their way towards digital transformation. In doing so, the FADZ receives support from regional politics, the Free State of Bavaria and the German federal government, and it builds a bridge from the Coburg University to the regional businesses with practical application support and consulting. The approach refers to the technologies and processes aimed at making the enterprises fit for the tasks of the future.
The future cannot be shaped at no expense
The FADZ initiative launched back in 2015 is about to enter its implementation phase with its ambitious aims of boosting the know-how and training in digital technologies for economy and trade. To this end, the old Kirschbaummühle hydroelectric power plant in Lichtenfels will be reconstructed and turned into the Research and Application Centre for Digital Technologies. Architectural design suggestions of the Coburg University have already been submitted. Priorities here include the establishment of a master's programme "Additive Manufacturing and Lightweight Engineering" in Lichtenfels with initially 120 students, but also an application platform for industrial and craft businesses from the region. The introduction of pupils to digital solutions shall also provide guidance. The FADZ is investing 8.4 million euros in the building, teaching facilities and laboratories with a planned floor space of 2,300 m². The estimated yearly expenses for the operation of the FADZ amount to approximately 1 million euros. The commissioning of the FADZ in Lichtenfels is scheduled for early 2023.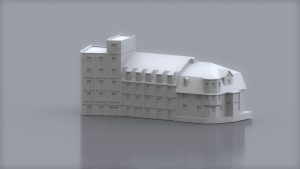 Model of the new FADZ Lichtenfels – Research and Application Centre for Digital Future Technologies.
"Digital Knowledge" as a nucleus
Process optimisation, automation and Industry 4.0 are being designed by enterprises at full speed. There is no way around it when it comes to safeguarding future added value and employment. Digital machines, processes and materials are available for new beginnings. "The next step of the digital transformation is the human being. Education and further training now need to be strengthened. The tools are in place, now we need to ensure broad-scale implementation by means of knowledge transfer for new ideas," says Frank Carsten Herzog, founder and Managing Partner of the pioneering company Concept Laser. Thanks to the laser melting process for metals, Mr Herzog created excellent conditions for the "Generation 3D" at the Lichtenfels site. Sharing these competences of the company and the Coburg University with the general public is the mission that the FADZ is now willing to face. "If traditional technologies such as mould-related methods are disruptively replaced by additive processes, we need to involve people and get them on board," adds Mr Herzog. The new master's programme "Additive Manufacturing and Lightweight Engineering" is just the first step. The realm is far more comprehensive: AI (artificial intelligence), big data, bionics, topology optimisation and lightweight engineering are getting established across disciplines in all industrial sectors from automotive and medical engineering through to aerospace and architecture. "With the help of a training campaign, today's 3D tools can dramatically re-shape our concept of processes and products. Basic and advanced vocational training is fundamental to the design of the digital future," continues Mr Herzog.
Interview with Frank Carsten Herzog (26.09.2019)
We discussed the issue of the digital future with Frank Carsten Herzog, founder of Concept Laser GmbH in Lichtenfels and pioneer of 3D metal printing:
Editors: What does the FADZ stand for?
Frank Carsten Herzog: The intention of the FADZ Lichtenfels is to enable access to digital manufacturing technologies for medium-sized businesses and young people. This shall help to tackle the issue of manpower shortage, and to provide incentives for skilled specialists to stay in the region. In addition, it shall be a sign of high-tech orientation in rural areas. The region shall be understood as a "3D hotspot".
Editors: The master's programme "Additive Manufacturing and Lightweight Engineering" at the Coburg University of Applied Sciences and Arts in Lichtenfels is the major sign, isn't it?
Frank Carsten Herzog: This is the first, concrete step. The FADZ' general approach is distributing digital strategies across industries by means of basic and advanced vocational training and knowledge transfer. We also wish to develop new educational models. If we look at the presently available machines, processes and materials, we must admit there is a lot to choose from. Now it is high time to get people on board: by means of training and upskilling. Our enterprises and workforce will have to adapt themselves to an entirely new situation as a result of the digital revolution. I think we are currently in the middle of a fundamental change the way we had it back in the 19th century during the transition from manufactories to industrial enterprises. Digital industries create digital products and processes. What we need to do now is to prepare people for this new world, and to train them accordingly.
Editors: What does the digital transformation mean in the context of Industry 4.0?
Frank Carsten Herzog: If we put conventional manufacturing technologies under pressure with – let's say – additive manufacturing or the like, medium-sized businesses will need assistance in this process of transformation. The basis for this shall be established by means of interlinking the know-how available from universities, institutes, enterprises and the workforce. Small enterprises and crafts are particularly in need of support. Industry 4.0 requires a lot of stimuli and good ideas.
Editors: Why Lichtenfels?
Frank Carsten Herzog: Concept Laser and our contribution to metal laser melting made it possible to show that innovation can just as well develop in rural areas. We have thus established the foundation that is now deeply rooted here. So, why not use it? As the saying goes: "Think global, act local" – this is exactly what the FADZ does. Digital approaches such as the use of metal laser melting can be implemented locally. Production close to the user. This is what sustainability is about. There is no reason to disapprove of regional and down-to-earth orientation. Region is everywhere, including Lichtenfels.
Editors: What are your personal plans?
Frank Carsten Herzog: 20 years ago, I founded Concept Laser GmbH and, as a pioneer, took an active part in the development of 3D metal printing technology. In the past three years, Concept Laser GmbH with the LaserCUSING® technology has grown into a global market leader. This crucial stage was a significant reason why I decided to leave the day-to-day operations, and to dedicate myself to the issues of education and further training, as well as start-ups in the future. The transition to the digital society can be a success only if we take people on this journey. The appropriate educational offer is a crucial basic element. For this reason, the FADZ is – in my view – an important landmark project that I am going to support with all my heart. Let's look ahead.
Editors: Thank you for this interview.
About Frank Carsten Herzog:
Frank Carsten Herzog studied Mechanical Engineering at the Coburg University of Applied Sciences and Arts and obtained the degree of Graduate Engineer (UAS) in 1999 with an award from the IHK Chamber of Commerce and Industry (Subject: "Introduction of New Sintering Technologies in the Rapid Tooling Process"). Based on his student research projects, Frank Carsten Herzog developed the LaserCUSING® technology, i.e., powder-bed based laser melting of metals, in 1997. He managed to file two basic patent applications for the laser melting method based on his diploma thesis, and established the company Concept Laser GmbH together with his wife in 2000.
Between 2016 and 2019, Mr Herzog in his capacity as Managing Partner, CEO of Concept Laser and Member of the Advisory Board at GE Additive actively promoted the development of Concept Laser GmbH with its LaserCUSING® technology into a globally operating enterprise.
In 2019, he founded the "Research and Application Centre for Digital Future Technologies" FADZ in Lichtenfels / Upper Franconia. Being a co-initiator of this initiative and a pioneer in the field of additive technology, Mr Herzog keeps on playing an active role in establishing the 3D printing technology in industry, trade and society. As Managing Director of the HZG Group, Coburg, he supports start-ups, particularly in the field of digital future technologies.
Frank Carsten Herzog has filed over 300 patents. Selected awards:
Nomination for the Deutscher Zukunftspreis (German Future Award) 2015 – prize of the German Federal President for technology and innovation – with the project "3D Printing in Commercial Aircraft Engineering – a Manufacturing Revolution is Taking Off" and the induction into the Circle of the Best (2015)
Award "European CEO of the Year Additive Manufacturing" (2015 + 2016)
Technology Award of the East-Bavarian Institute for Technology Transfer (Ostbayerisches Technologie-Transfer-Institut e.V.) (2016)
"Innovation Award Bavaria 2016" for the QM Meltpool 3D quality monitoring tool
"Materialica Design+Technology Award 2016" for the project "NextGen Spaceframe" together with the associated project partners
Award "Best Pioneer in the Manufacturing and 3D Printing Industry" (2016)
Finalist in the "Large Companies" category for the German Industry Innovation Prize 2014 for the development project: "The First 3D-Printed Titanium Component on Board the A350 XWB" (joint venture with Airbus Operations GmbH and Laser Zentrum Nord GmbH)
Nomination for the "Innovation Award Bavaria" for the development of a LaserCUSING® plant M2 cusing (2008)
Cover photo: The FADZ initiators together with District President Heidrun Piwernetz and Frank Ebert. From left to right: Andreas Hügerich, First Mayor of Lichtenfels, Dr. des. Ercole Erculei, Advisor on higher education development at the Coburg University of Applied Sciences and Arts, Frank Carsten Herzog, founder & Managing Partner of Concept Laser GmbH, Prof. Dr. Stefan Gast, Dean of the Department of Mechanical Engineering and Automotive Technology at the Coburg University of Applied Sciences and Arts, Prof. Dr. Jutta Michel, Vice President of the Coburg University of Applied Sciences and Arts, Christian Meißner, Head of the District of Lichtenfels, Heidrun Piwernetz, Upper Franconia District President, Dr. Markus Neufeld, Project Manager CREAPOLIS / Technology transfer at the Coburg University of Applied Sciences and Arts, Kerstin Herzog, founder & Managing Partner of Concept Laser GmbH, Prof. Dr. Markus Stark, Institute for Prototyping and Modelling at the Department of Mechanical Engineering and Automotive Technology at the Coburg University of Applied Sciences and Arts, Frank Ebert, Managing Director of Oberfrank Offensiv e.V. (moderation)
Press release/ Photos from  FADZ, Lichtenfels