Formnext 2018: VDMA Association Additive Manufacturing Demonstrates Additive Process Chain
With the help of augmented reality and additively manufactured exhibits, the User Case Area showed added value of industrial 3D print
High number of visitors and numerous expert talks at the joint booth of the Association as well
Frankfurt, November 23rd, 2018 – "Together with the team of Mesago Messe Frankfurt GmbH, we are looking back on a very successful formnext 2018," says Dr. Markus Heering, managing director of the Additive Manufacturing Association within VDMA. The Additive Manufacturing Association was pleased with the visitor and exhibitor records of the international leading fair for additive manufacturing technologies, not just as a conceptual sponsor – their own fair booths met with a lot of response on all four fair days from November 13th to 16th, 2018.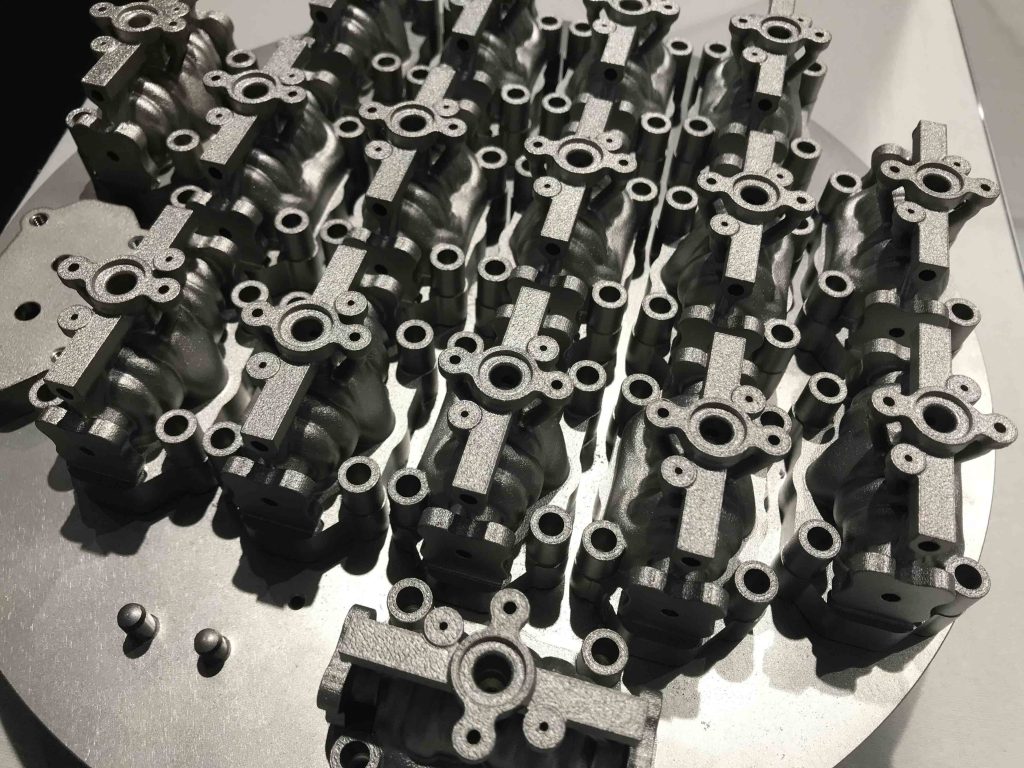 All in all, 26,919 experts and executives have visited the fair in Frankfurt am Main. Compared to the last year, this means an increase by 25 percent. Heering also appreciated the fact that nearly half of the visitors came from other countries – 49 percent. He reads the internationality of the 632 exhibitors, who came to Frankfurt from 32 nations, as a positive signal for the fair that only took place for the forth time. "We are already looking forward to the next formnext, from November 19th to 22nd, 2019, and we embrace the step towards the new, significantly larger fair halls 11 and 12," he says.
User Case Area demonstrates added value of additive technologies
With their own two exhibition areas as well as the lecture program of AM4U Area, the VDMA Association has demonstrated the potential of additive technologies for industrial users during the last week at formnext. Ten of the now 143 member companies took the opportunity to present AM systems and additively manufactured exhibits from their industrial practice in the spotlight of the joint booth belonging to the Additive Manufacturing Association in hall 3.0.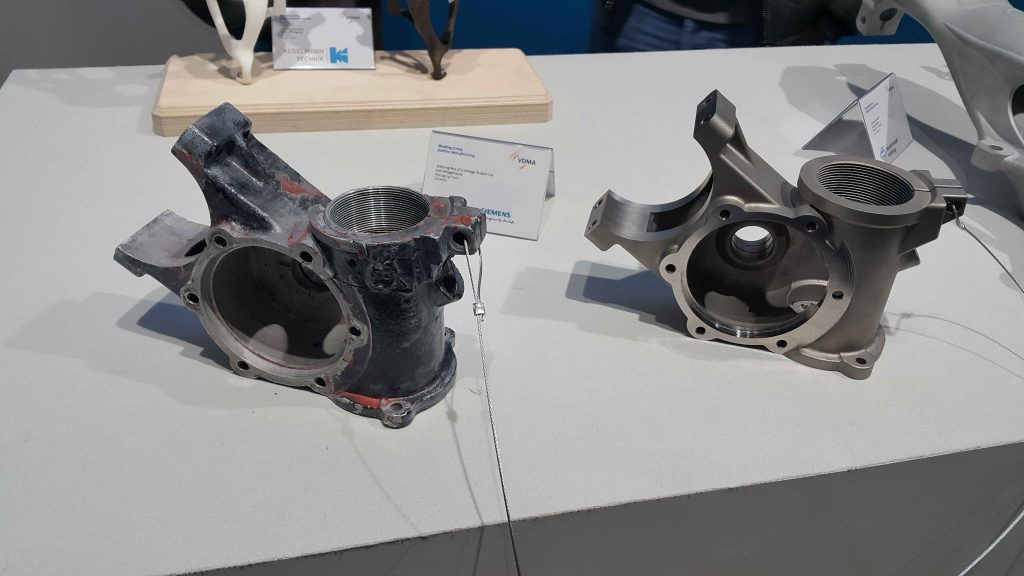 Next to this, the Additive Manufacturing demonstrated together with their member companies how additive design can change industrial process chains. To this purpose, visitors of the User Case Area could follow via augmented reality displays step by step how an airplane component manufactured with subtractive technologies could be optimized for additive manufacturing. With software from the member company Altair, the component was first run through load analyses, then it was brought to a weight and installation space-optimized design, and finally it received supporting structures for the selective laser melting process.
The visitors could also closely follow post-processing of the bionic components via augmented reality – and they could simply take up the AM components manufactured by MBFZ toolcraft with their hands. As an alternative to the selective laser melting process, the member company ExOne together with their partner Grunewald showed how such structurally optimized components could also be produced in a casting process with the help of additive technologies: through additively manufactured sand molds, highly complex bionic shapes can also be imaged.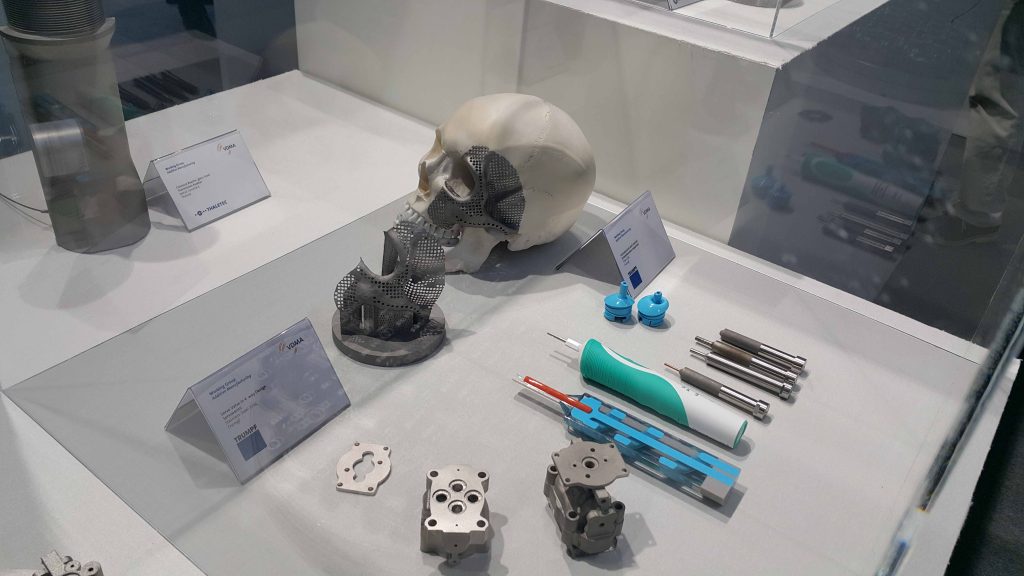 World championship in design
The Association member Additive Industries contributed a world championship exhibit: together with specialists from the SAUBER Formula One team, the company has manufactured individually customized armrests for Patrick Lange, the two-time IRONMAN World Champion in triathlon. On these aerodynamically optimized, weight-reduced rests made out of titanium, Langer could hold himself in an ergonomically optimal position during the whole 180.2 km of the bicycle route – and he thus managed an impressive new world record.
On all fair days, the public paid much attention to the new rim design for sports cars which was presented by the Association member GE Additiv together with HRE Wheels. The prototype, which is light as a feather, combines a carbon rim well with an additively manufactured spokes and hub structure consisting of titanium. So far, the titanium structure, which has been reduced to a minimum of material and is elaborately entwined, is screwed together out of several parts. In the future, the partners want to manufacture them in one piece.
Exhibits show multitude of applications
"Together with our members, we were able to present the whole range of additive technologies for metals, plastics, and ceramics – and we were able to graphically illustrate to our visitors which sort of added value can be realized through additive manufacturing for industrial users," reports Rainer Gebhardt, project manager of the Additive Manufacturing Association within VDMA. Whether it is laser deposit welding with a smooth transition between magnetic and non-magnetic metals, as presented by DMG MORI, or the additive build-up by Rosswag of a filigree impeller onto a massive, welded steel structure; whether it is tooth crowns or bone implants by the Coherent subsidiary OR-Laser or by Trumpf; or whether it is additively manufactured, elaborately post-processed and noncorroding-coated high pressure reactors by Thaletec.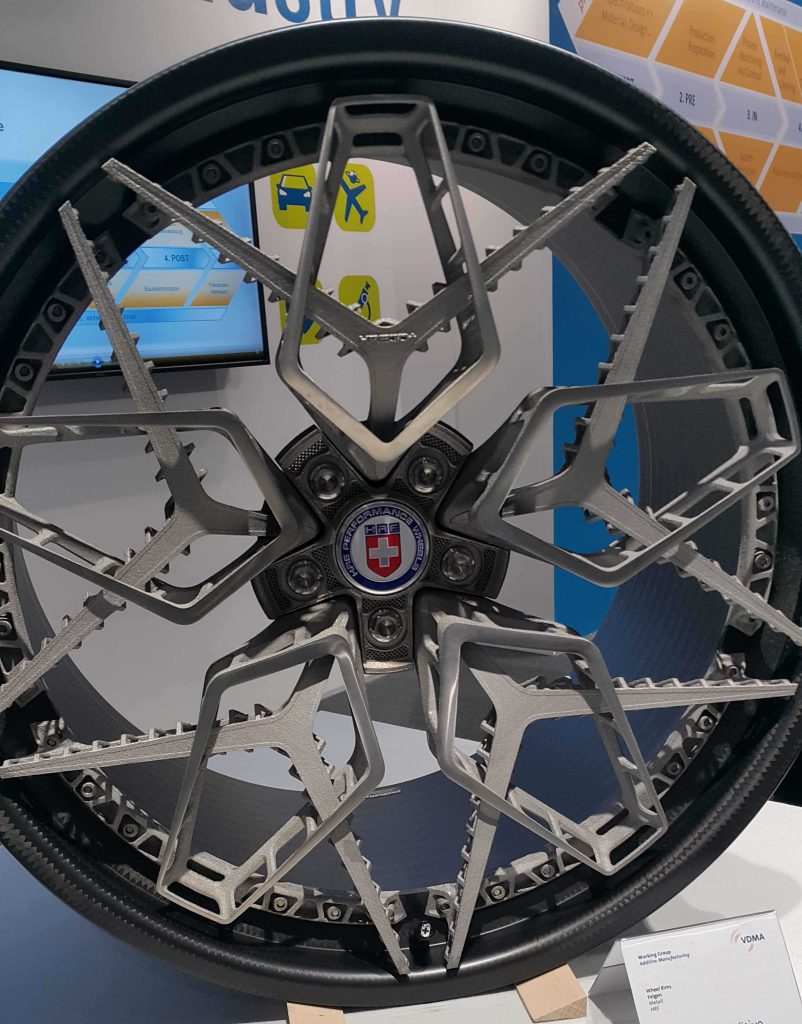 Many visitors also marvelled at complex ceramic components by Steinbach AG, structurally optimized lightweight grippers by Protiq and the vacuum specialist Piab, topologically optimized steering knuckles by Kegelmann Technik and by Hirschvogel Tech Solutions, who also contributed to the User Case Area chain tensioners, brake pedal supports, and an impressive array of highly complex spray and grinding nozzles. Siemens Materials Solutions showed how vintage car spare parts that are no longer available may be reproduced additively. The Fraunhofer Institutes IGCV, ILT, and IPV showed the potential of multi-material processes as well as new technologies for the surface treatment of additively manufactured components consisting of various metals. Meanwhile, the Ernst-Abbe-Hochschule (Jena) offered insights into the additive manufacturing of optical components for medical devices, which they realize via stereolithography with the ABS-like plastic EP-RR60CL. Visitors of the booth were able to compare these directly with components manufactured by Arburg in ARBURG Plastic Freeforming (APF).
Strong visitor response and many good talks
"Our Association unites players from all areas of the additive process and the value chain. In the User Case Area, we were able to give an impressive demonstration of this multitude," explains Gebhardt. The exhibition concept met with excellent visitor response on all days of the fair, he says. The exhibits propelled visitors from all over the world to ask questions that developed into many deeper expert talks, reports managing director Heering as well: "For the Additive Manufacturing Association within VDMA, the formnext 2018 was a great success."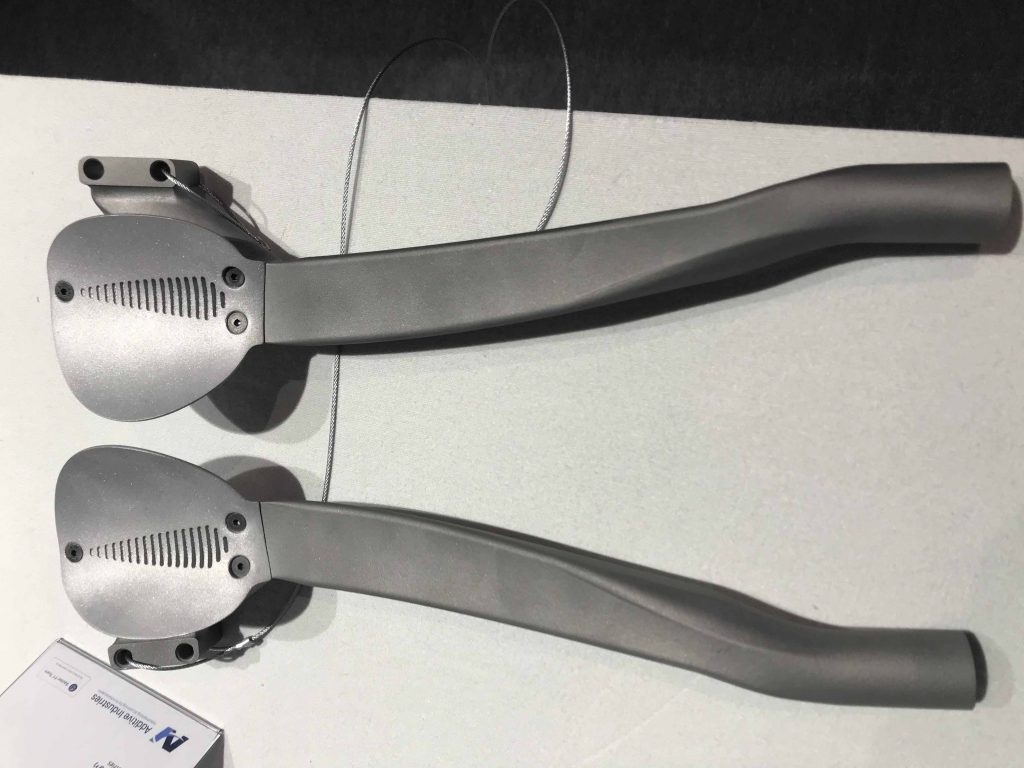 More than 140 companies and research institutes collaborate under the roof of the VDMA (German Mechanical Engineering Industry Association) in the Additive Manufacturing Association. System manufacturers, suppliers of components and materials, industrial users from the metals and plastics sectors, services providers for software, manufacturing, and finishing as well as researchers all have a common goal: the industrialization of additive manufacturing technologies.