FORMNEXT ANNOUNCES WINNERS OF THE 2019 3D PRINTING START-UP CHALLENGE
Formnext, Europe's leading additive manufacturing trade fair, has announced the winners of its Start-up challenge for 2019, organized in cooperation with Germany's UnternehmerTUM Center for Innovation and Business Creation.
3D Printing Industry sponsored the competition for the second year, and our Editor in Chief Michael Petch was a member of the distinguished judging panel, consisting of various industry professionals. The panel was tasked with selecting the top five innovative and viable 3D printing business ideas of 2019.
Recognizing companies founded within the last five years, the winning start-ups comprise of AdditiveLab; Exponential Technologies Ltd; Glassomer; Laser Melting Innovations (LMI); and Spectroplast. The five companies impressed the jury with a range of 3D printing innovations, including efficient software and simulation solutions, a low-cost metal 3D printer, and additive manufacturing using glass and silicone. Sascha F. Wenzler, Vice President for Formnext at Mesago Messe Frankfurt GmbH, the exhibition organizer, commented:
"THE HIGH QUALITY OF INNOVATION, SPECIALIZATION, AND INDUSTRIAL FOCUS OF THE WINNERS SHOWS THAT THE INTERNATIONAL START-UP SCENE IS ALSO EVOLVING AND THAT THE FORMNEXT START-UP CHALLENGE OFFERS A GLOBALLY ACCLAIMED PLATFORM FOR SHARING IDEAS AND FINDING CUSTOMERS, PARTNERS, AND INVESTORS."
Formnext Start-up challenge 2019 winners
The winners consist of a group of international start-ups that each reflect the importance of improving efficiency in additive manufacturing. Below is a breakdown of each company and their innovative business ideas.
AdditiveLab is a Belgium-based developer of advanced simulation software for the additive manufacturing of metal components. The company's technology mechanically analyzes parts to predict residual stresses and distortions, allowing users to identify problematic regions that could compromise manufacturing process and end-quality of the part. Users are then able to address the regions and optimize the 3D print prior to production.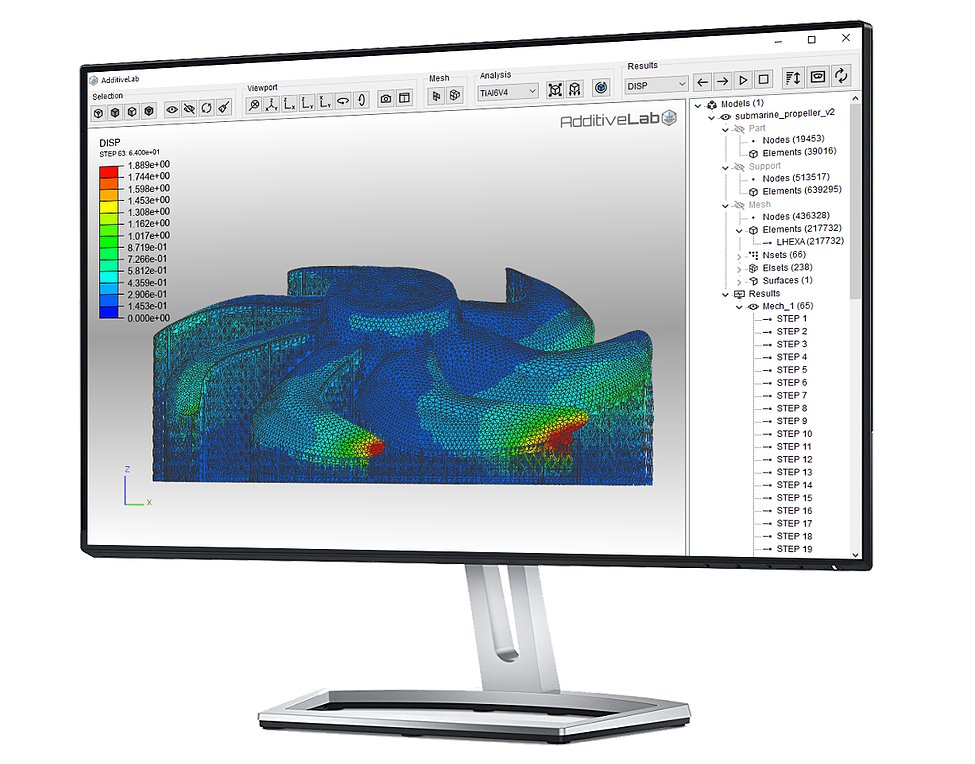 The AdditiveLab simulation software. Image via AdditiveLab.
Based in Latvia, Exponential Technologies has developed software that uses AI and machine learning algorithms to determine the most suitable machine configurations for additive manufacturing and other processes. The company seeks to enable the automatic adaptation to new materials, machines and production processes.
Laser Melting Innovations (LMI), a 3D printer manufacturer based in Germany, has established a low-cost metal SLM 3D printer targeting small and medium-sized enterprises, called the Alpha 140. Despite having a reduced price compared to existing metal 3D printers, the system is still able to offer a compact design, durability, and high cost-effectiveness of the diode laser. The low price was achieved by eliminating costly components.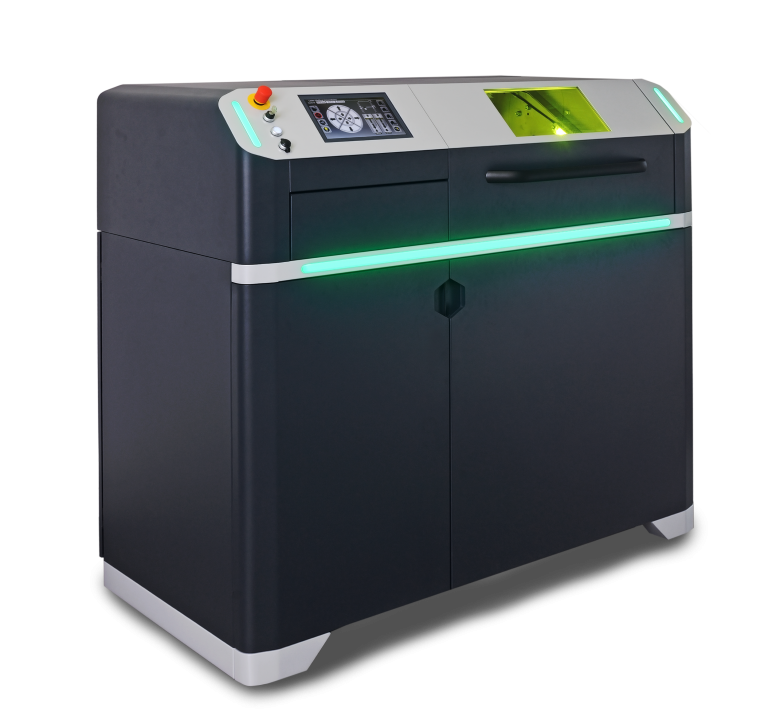 The Alpha 140 3D printer. Photo via LMI.
Glassomer, headquartered in Germany, specializes in 3D glass printing using SLA technology. Aiming to develop new additive technologies for the mass production of glass, the company has created its own industry-compliant special silica nanocomposite. The material allows the structuring of pure quartz glass that is compatible with the requirements of optics and photonics.
Finally, Switzerland-based Spectroplast is a spin-off from the Swiss Federal Institute of Technology. The company is dedicated to pushing industry-standard silicone 3D printing forward with high levels of precision and performance, without the use of moulds. Spectroplast offers its SAMT service, which allows customers to 3D print using SLA or DLP with ISO-certified silicones in a Shore hardness from A0-A80 in all colors.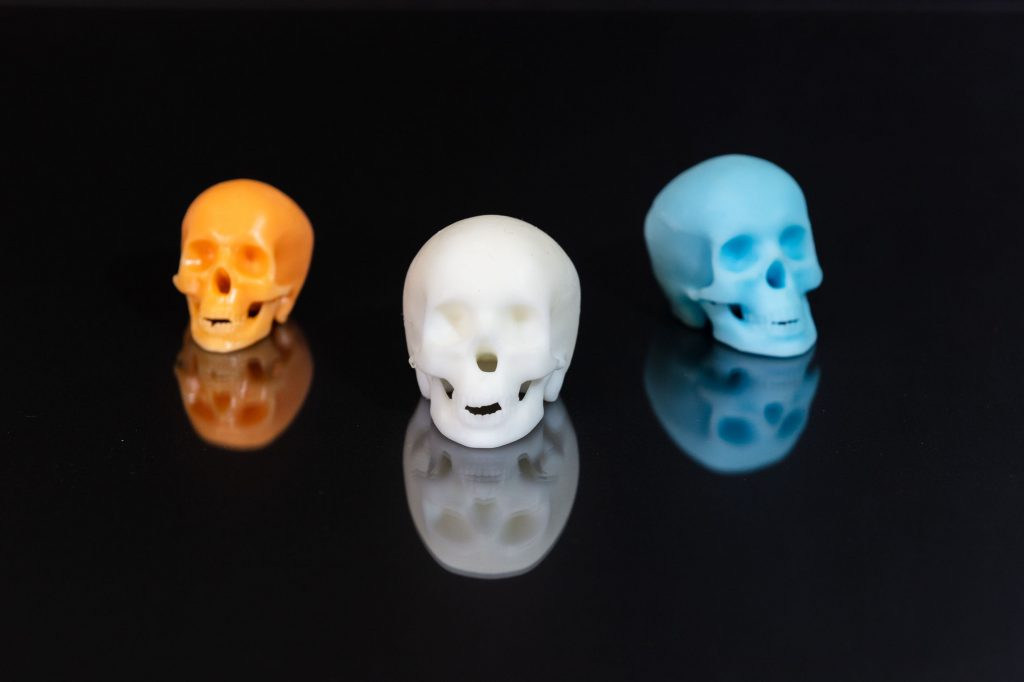 Medical models 3D printed with Spectroplast's silicone. Photo via Spectroplast.
Winning Formnext's Start-up challenge entitles the companies to a range of services designed to facilitate further growth and success. The start-ups will all get a fully equipped exhibition booth at the Formnext show, be incorporated into the global marketing and communications services of the trade fair, and receive business coaching.
Each winner will present their respective technologies at the Start-Up Area of Formnext 2019, which takes place in November in Frankfurt, Germany. The official award ceremony will be held on Tuesday 19 November 2019, where the start-ups will be awarded with trophies sponsored by German 3D printer manufacturer Voxeljet. Each of the winning firms will also get the chance to pitch their business ideas to visitors as part of the Pitchnext event.
Previous winners of the Formnext Startup Challenge that have gone on to achieve significant success include Fortify, a company specializing in Digital Composite Manufacturing (DCM), German automated topology optimization software firm AMendate, and color and post-processing specialist DyeMansion.
Source: 3dprintingindustry.com/
Title image shows the Formnext additive manufacturing trade fair. Copyright Messago – Mathias Kutt.