Four complete process chains for powder bed and powder nozzle technology
Customised manufacturing solutions: As a full-liner for the additive manufacturing of metal parts DMG MORI combines its LASERTEC 3D and LASERTEC SLM models with conventional CNC machines.
Comprehensive: Powder bed (SLM) and powder nozzle (LMD) for all materials and geometries
Unique: Four process chains with ADDITIVE MANUFACTURING and machining from a single source
20 years experience in laser technology in a powder bed
Holistic competence in the field of metallic 3D printing.
LASERTEC 3D hybrid / LASERTEC 3D:

Success on the market with laser deposition welding using the powder nozzle technique
Multi-material applications and graded
materials in one component
LASERTEC 3D hybrid: finished part in a single setup

LASERTEC SLM:

Unique rePLUG powder module system for fast material change in less than two hours
Open system for individual adaptation of all process parameters and free choice of material manufacturers
Additive manufacturing in the powder bed with 300 x 300 x 300 mm build volume
OPTOMET as an intelligent software for setting all process parameters

CELOS: integral software solution from CAM programming through to machine control
Excellence Consulting for the efficient transfer of knowhow in questions of technology and process
As a global full-liner with over 20 years of experience in the ADDITIVE MANUFACTURING of metal parts, DMG MORI represents innovative manufacturing technologies and a worldwide service. The portfolio includes four complete process chains for additive processes using powder nozzle or powder bed technologies. For this integral offer DMG MORI combines its LASERTEC 3D models and the LASERTEC SLM series with the machining centres from its broadly diversified machine portfolio.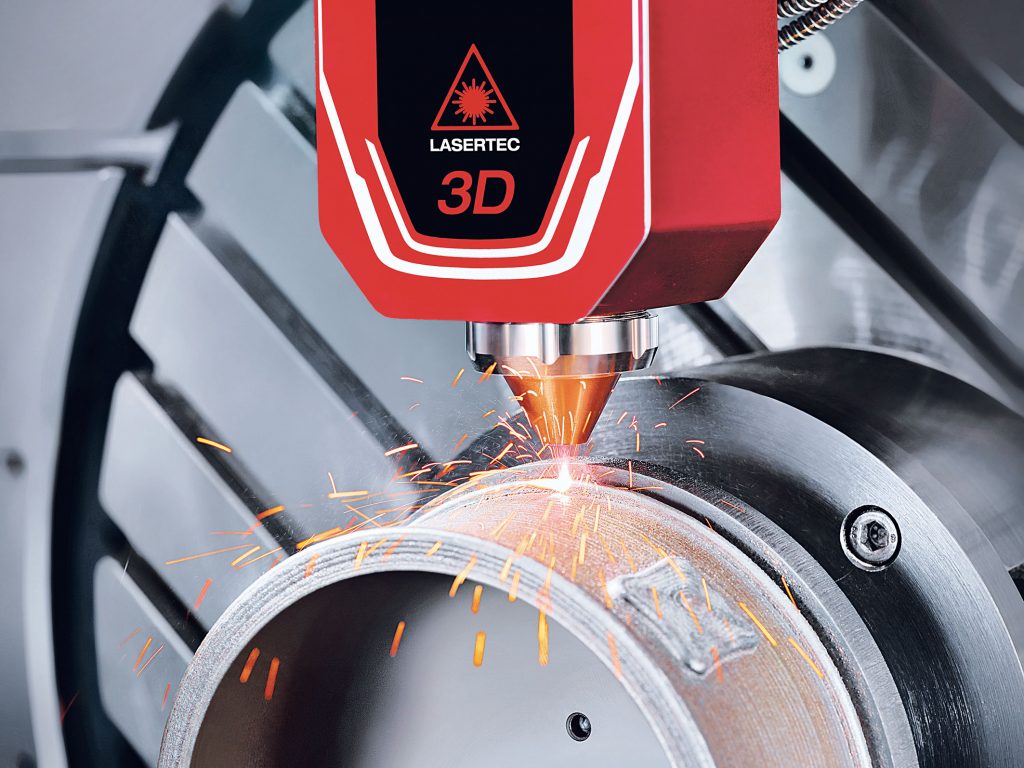 Potential of additive manufacturing
The steady growth of additive manufacturing technologies is alerting designers to the potential of this method in the construction of components and tools. The quality of workpieces produced with additive methods is also increasing as is machining speed. This has resulted in consistently positive forecasts: ADDITIVE MANUFACTURING is expected to grow by 20 to 30 percent by the year 2020. "In particular as a complement to conventional production methods powder nozzle and powder bed processes offer expedient and extremely promising possibilities", explains Patrick Diederich, responsible for ADDITIVE MANUFACTURING at DMG MORI.
With its broadly diversified machine portfolio in both machining and ADDITIVE MANUFACTURING DMG MORI's approach to this topic is clearly holistic. Patrick Diederich goes on to tell us: "If additive manufacturing is to become established on the shop floor, it is essential to integrate this method into existing production systems and process chains – especially where successfully progressing from prototype and small series production to serial production is concerned." Cost efficiency plays a key role in this respect. "It is imperative to awake an awareness for the possibilities offered by additive manufacturing, which start with the design of components and extend throughout the entire life cycle of the product." This is the only way to exploit its enormous potential.
DMG MORI has performed successfully on the market for over five years now with the combination of laser deposition welding and metal-cutting machining on the machines of the 3D hybrid series. In addition to establishing and expanding the digital process chain DMG MORI has also developed to become a full-liner in additive manufacturing. While the LASERTEC 65 3D is geared solely towards laser deposition welding as a complement to existing machining centres on the shop floor, the LASERTEC SLM series expands the portfolio to include the powder bed method using selective laser melting. Thanks to the combination of additive manufacturing technologies with conventional CNC machines DMG MORI has realised four individual needs-based process chains.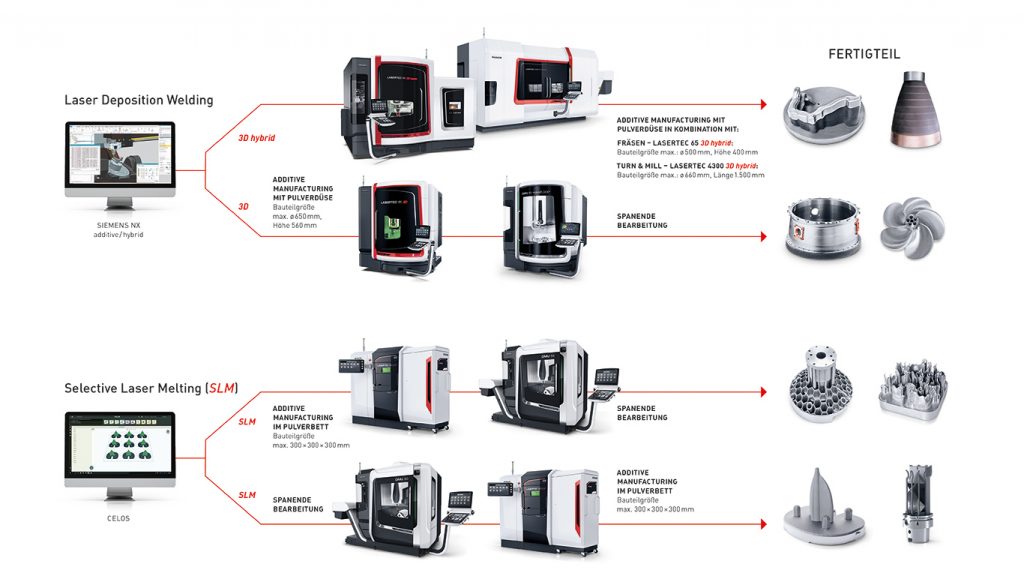 LASERTEC 3D hybrid:
Additive manufacturing using a powder nozzle and conventional machining in a single set-up
The LASERTEC 3D hybrid and LASERTEC 3D machines are available for users in the field of laser deposition welding with a powder nozzle. The first combine additive manufacturing and conventional machining in a single set-up. The LASERTEC 65 3D hybrid is designed for the 5-axis simultaneous machining of parts measuring up to ø 500 × 400 mm. The LASERTEC 4300 3D hybrid enables
6-sided turn & mill operations for workpieces with sizes up to ø  660 × 1,500 mm. Designed for the complete machining of demanding geometries the LASERTEC 3D hybrid machines enable flexible changeover between laser deposition welding using a powder nozzle and mill or turn operations.
LASERTEC 65 3D:
The right addition to the machines already installed on the shop floor
A second process chain based on the powder nozzle includes the compact LASERTEC 65 3D for 5-axis laser deposition welding and a machining centre for final finishing of the additively manufactured components. This makes the LASERTEC 65 3D the ideal addition to the machines already installed on the shop floor, a combination that ensures optimum utilisation of production capacity. With travel paths of 735 × 650 × 560 mm the work area of the LASERTEC 65 3D is around 40 percent larger than the hybrid version and its footprint is about 45 percent smaller.
DMG MORI completes the process chains in laser deposition welding with NC programming in hybrid CAD / CAM with SIEMENS NX, technology parameters from a material database plus process monitoring and documentation. "Different materials can also be combined in one build process in the two process chains with the powder nozzle, a capability that can give parts special properties", adds Patrick Diederich.
LASERTEC SLM series:
Two process chains with additive manufacturing in the powder bed
DMG MORI offers the LASERTEC SLM series for additive manufacturing in the powder bed (Selective Laser Melting). The LASERTEC 30 SLM 2nd Generation has a 300 × 300 × 300 mm build volume and with its Stealth design offers optimum user comfort, while the new LASERTEC 12 SLM is designed for the high-precision build of thin-walled components. It has a 125 x 125 x 200 mm build volume and a focus diameter of 35 µm. Two process chains can be realised with powder bed technology: On the one hand, workpieces produced by means of additive manufacturing can be finished to the required surface quality on a milling machine such as the 5-axis DMU 50 3rd Generation. On the other, the LASERTEC SLM machines can finish previously milled base plates and bases without any need for support structures.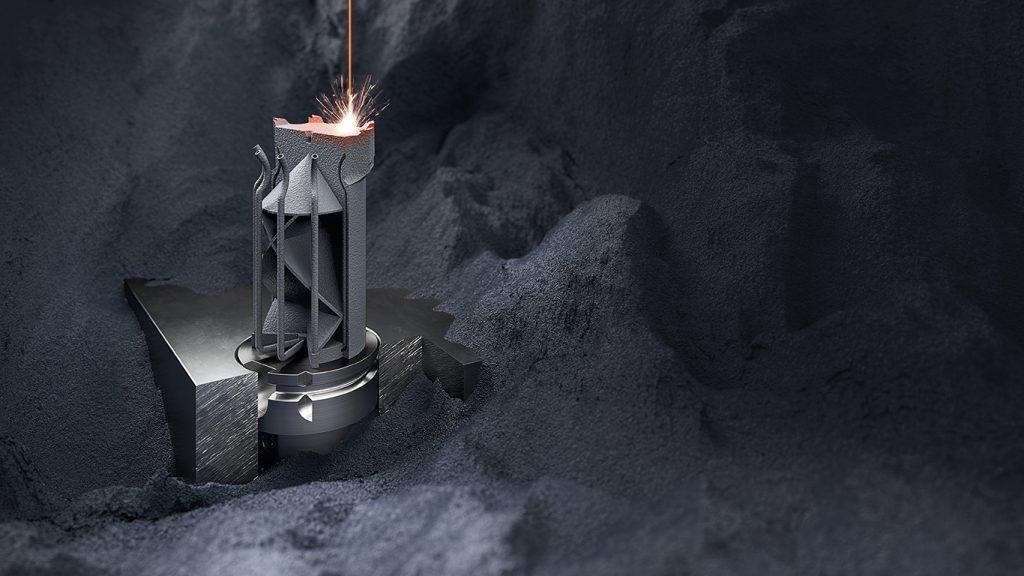 Cannot be achieved conventionally: Functional integration and lightweight structures ensure shorter cycle times thanks to selective laser melting.
The integral software solution for CAM programming and machine control CELOS rounds off the process chains with the LASERTEC SLM series. The coordinated and uniform user interface enables parts to be programmed externally with minimum time expenditure and transferred to the machine – regardless of their complexity. Thanks to the efficient flow of information and intuitive operation CELOS ensures optimum processes in the pre- and post-processing of additively manufactured parts. In addition the open system of the LASERTEC SLM series enables individual adjustment of all machine settings and process parameters, right through to include an unlimited choice of material manufacturers.
DMG MORI has developed the software OPTOMET in cooperation with INTECH, for the control of the process parameters in the powder bed process. It has self-adjusting and learning algorithms that calculate the required parameters of the SLM process in advance within minutes. This means layer thickness can be calculated freely, which in turn enables a faster and therefore also more productive build. OPTOMET has a material database that allows users to use material from all manufacturers without having to test them in advance. The open system also allows independent expansion of the database using the customer's own experiments. OPTOMET is also able to adapt parameters in such a way that material properties, such as hardness, porosity and elasticity, can be changed or optimised.
LASERTEC SLM series:
Fast material change with the rePLUG powder module system
Flexibility, productivity and process reliability are the outstanding features of the LASERTEC SLM series that make it an impressive machine on the market of additive systems for selective laser melting. One highlight is the flexible powder module rePLUG. "This enables a material change in less than two hours. In addition the closed material circuit ensures a high level of work safety and process autonomy," explains Mathias Wolpiansky, Managing Director of REALIZER GmbH. The ergonomic construction of the machine in the new Stealth design also reflects the principle that DMG MORI has been pursuing and optimising continuously for many years, namely making work easier for the user by ensuring better accessibility to all key control features. "This will make working with the machine more efficient in the long term."
Press release from DMG MORI