Frankfurt, 8 August 2019 – Interview with Bernd Niemann, Managing Director of FM Kunststofftechnik GmbH, and Korbinian Kiesl, President of Billion SAS
"Our coffee mugs decompose in the ground"
• Biopolymers can be composted underground
• Circular economy has different drivers these days
• A bad image hinders recruitment of skilled staff
Mr Niemann, your company manufactures long-lasting plastic parts for industry. Now you are also producing reusable coffee mugs from plastics which are fully compostable. Why are you doing this?
Bernd Niemann: In the face of the increasing problem of plastic waste, we feel we have a moral obligation to do something good. At the same time, we want to show how far we have progressed in the processing of biopolymers. It is our goal to make a better case for our sister company, which produces the material, and in doing so secure our market position. With this coffee mug, we can show how innovative we are.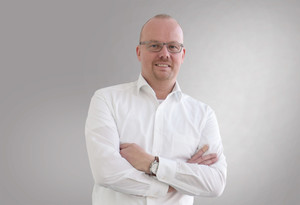 What kind of material do you process?
Niemann: For the coffee mug we use a material called Golden Compound Green. It is a biopolyester that is enriched with sunflower hulls by up to 40 per cent. These hulls are a waste product from the production of sunflower oil. On the one hand, they enable savings in bio-plastics and, on the other, they increase the stability of the product. The coffee mugs are even dishwasher-safe. The greatest advantage, however, is that the coffee mug decomposes in the ground and does not need to be heated up to 60 degrees, as PLA does.
Can this material mix be recycled?
Niemann: Yes, you don't have to compost it. But recycling is only possible if it is collected correctly, i.e. the material is homogeneous. This is still a problem at present because there is not enough of the material to make collection systems practical. But in principle, the material can be ground and reused in the same way as glass-fibre reinforced polyamide.
Mr Kiesl, Billion has supplied a machine for manufacturing the coffee mugs. What special requirements did it have to meet?
Korbinian Kiesl: In the process section, the screw had to be specially designed. And the wear protection had to be adapted to the material. Intelligent control of the machine is crucial. If a coffee mug is manufactured with an additional smooth outer shell to improve its appearance, then our multi-component technology comes into play. We have vast experience in this field. We could apply the same technology to dustbins, bumpers and many other products. The driver of our business is a specialised customer approach.
The EU is counting on a circular economy for plastics. Will it prevail?
Kiesl: The circular economy as such is nothing new in the world of plastics. As early as 2000, biodegradable materials were already being discussed. In 2005, we had already supplied a machine for producing plastic buckets with an outer shell consisting of virgin polypropylene and an inner shell of recycled materials made from paint buckets which had been returned to the manufacturer. All this already exists. What has changed is the driver. Back then it was costs; today it is the consumer and public opinion.
Plastics has a very bad image, in particular in Germany. What is it like in France, where Billion is headquartered?
Kiesl: There is no great difference between Germany and France. The effects of plastic bashing are also perceptible in our market. We do not manufacture plastics, but we are part of the plastics industry; for this reason we cannot be indifferent to this negative image. We haven't noticed it yet in terms of our own company, but in general the negative public perception is a problem for us.
Is the bad image having a negative effect on your company, Mr Niemann?
Niemann: When an entire sector is under general suspicion of destroying the environment, this naturally rubs off. For example, we notice this when we recruit skilled personnel. An industrial electrician, a mechatronics engineer or a student looking for a position as an apprentice does not differentiate between permanent plastic parts and plastics packaging. Many people think that plastics as such are bad. Our employees know that we operate sustainably, that we recycle production remnants and parts. All the materials are labelled so that they can be recycled properly. Our staff know this, but outside our company the perception is different. We have an unemployment rate of only 3 to 4 per cent in our district. That would already make it difficult to find personnel. If, on top of that, you're fighting a bad image, you have to find a way of distancing yourself. And this is where the coffee mug comes in, or the extensive use of biopolymers in general.
Can the circular economy bring about an economic upswing?
Kiesl: Yes. The way it works is this: you realise that you cannot go into cities by car because there is too much traffic, and you start thinking about using a bike. Then you notice that you are faster when travelling by bike and that you can avoid getting stuck in traffic jams. So, going by bike is a good solution. The only thing you have to do is get going and cycle. In the same way, we need to provide technological solutions for the circular economy. Then it will provide a good opportunity for future business.
Niemann: I quite agree. You have to be innovative; you have to make a start and show that it's working. In our region, we at FM Kunststofftechnik are far ahead when it comes to processing biopolymers. This is appealing to many people.
—————–
In our world, plastics are indispensable. The downside is the littering. Carelessly discarded plastics products condense to form thick carpets, not just on rivers and seas, but also on land. A complete circular economy could prevent this evil and put the focus back on the benefits of plastics. In order for this to be a success, we all need to work together: processors, raw material manufacturers, mechanical engineers and recyclers, but also brand owners, end consumers and politicians.
VDMA will shine the spotlight on circular economy at the leading K 2019 trade fair in Düsseldorf in October and show how closed loops can work effectively. Throughout the process, stakeholders will be having their say in a series of interviews in the run-up to this international industry event.

About VDMA Plastics and Rubber Machinery
More than 230 companies are members of the association, covering more than 90 percent of the industry's production activities in Germany. Ten percent of our member companies come from Austria, Switzerland and France. The German member companies represent sales of EUR 7 billion in core machinery and EUR 10 billion including peripheral technology. Every fourth plastics machine produced in the world comes from Germany; the export rate is 70 percent. Ulrich Reifenhäuser, Member of the Management Board of the Reifenhäuser Group, is the chairman of the association.