Sumitomo Demag – Greek food packaging specialist serves up global export success
Schwaig, With global demand for Greek food delicacies accounting for 30% of the country's overall revenue, Kotronis K.Plastics SA. is one of the biggest success stories to emerge from the country's decade-long economic crisis.  Now, with the addition of 21 El-Exis packaging machines and eight new high-speed, energy efficient Sumitomo (SHI) Demag all-electric injection moulding lines, the premium Greek food packaging specialist has the capacity to become an even bigger export sensation.
Over the past few years, Kotronis K.Plastics has invested in its state-of-the-art, high-speed injection moulding facility, securing its position as one of Greece's leading manufacturers of premium plastic containers. The distinctively branded packaging used predominantly by Mediterranean food producers and destined to international markets is produced at the modern 33,000 sq. metre plant located in Efpalio, western Greece.
Producing in excess of 350 million packaging products for deli-salads, yoghurt, Feta cheese, spreads, antipasti and ice cream annually, the company has a fleet of 50 injection moulding machines, operating 24-hours a day, seven days a week. In the past five years, turnover for Kotronis has doubled, and so too has its workforce, which currently stands at 160.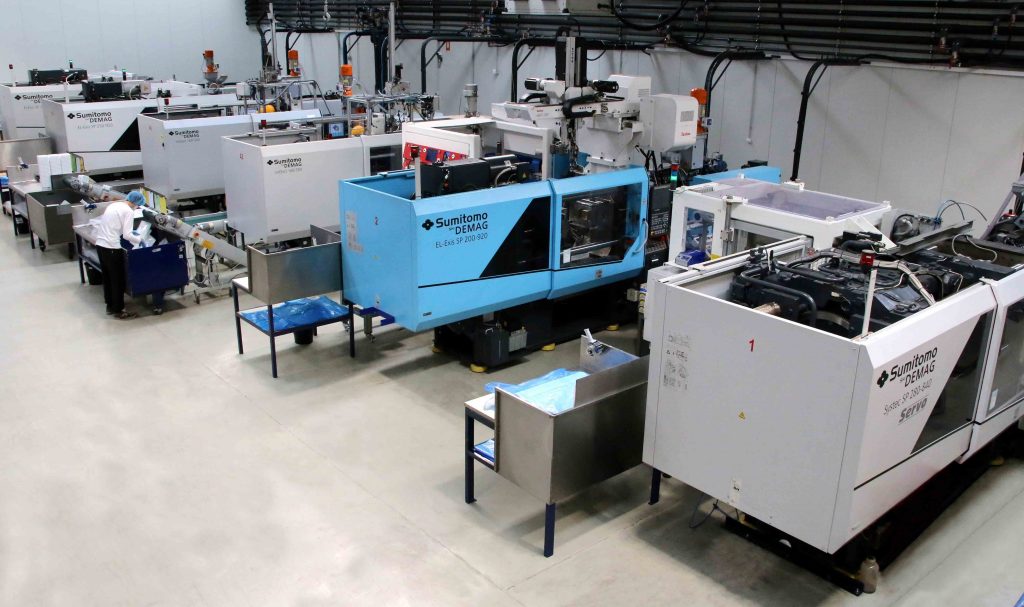 The company's Greek packaging production fleet comprises 50 injection moulding machines including 21 El-Exis SP and eight new all-electric IntElect machines from Sumitomo (SHI) Demag
To cater to the growing demand, the company has 21 El-Exis SP packaging machines located at its headquarters, with five more on order. Eight all-electric IntElect machines round out Kotronis' impressive Sumitomo (SHI) Demag fleet. Integrated within the line up are numerous in-mould labelling systems, enabling Kotronis to deliver global marketing and promotional campaigns at the push of the button.
"High availability and high machine speed are the relevant factors that keep us ahead of the competition," emphasises one of the founders' sons and Managing Director Augustinos Kotronis. "When a large international supermarket chain wants to launch a 'Greek Week', then we can deliver on the spot, even if special labels for this campaign are only released at the eleventh hour."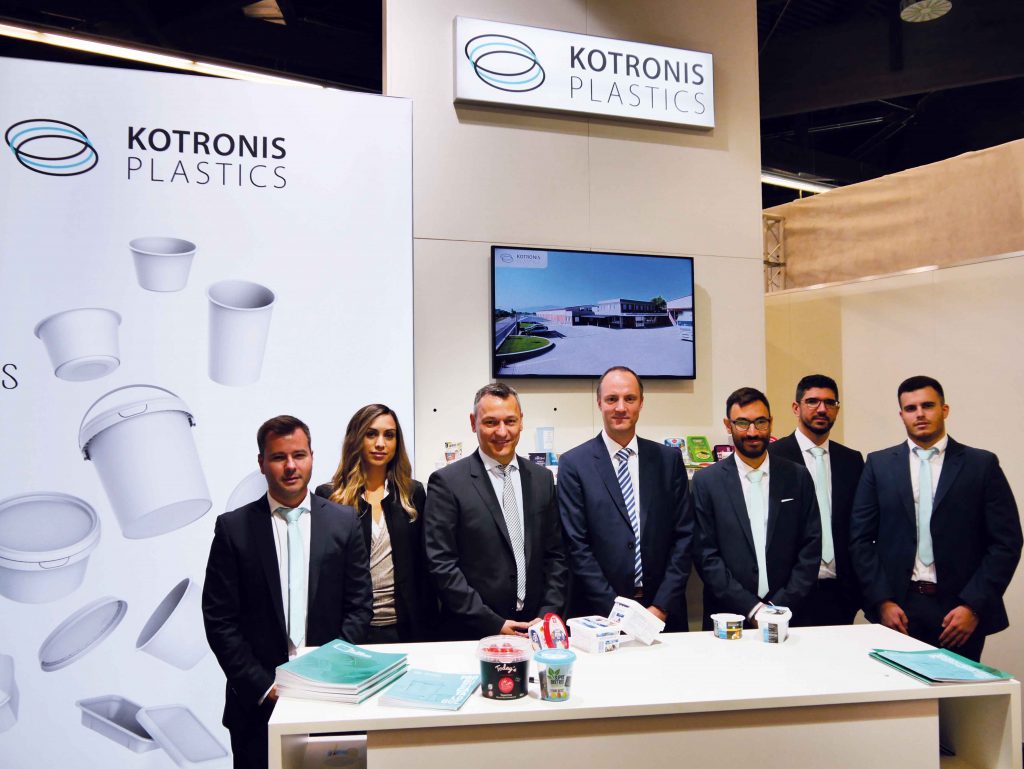 Family run business Kotronis Plastics produces in excess of 350 million packaging products annually, 40% of which are sent directly to international markets
On shelves everywhere
Founded in 1971, the family-run business, now under second-generation management, has become widely regarded as an innovator for customer-specific food packaging.
With its own in-house development and mould engineering departments, Kotronis installed its first IML system in 1998. Soon after, at the turn of the century, Kotronis broke new ground with the introduction of tamper-evident, compact Feta cheese container. Then followed a line of thermo sealed Feta packaging.
By 2004, the innovative design for Hellmann's salad redefined both the packaging and the appearance of the product.
Highlighting the critical role that packaging innovation plays in shelf appeal, Chair of the company's board Giorgos Kotronis comments: "Unlike the domestic market, where the packaging appearance of dairy products are deemed by local consumers as rather irrelevant, international customers demand attractive and practical packaging with pleasant visual and tactile properties."
Giorgos continues: "Domestic customers repeatedly come to us as they seek assurance that their products are going to win the tough international competition for shelf space."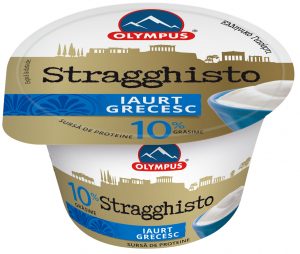 Greek yoghurt world appeal
The mass-market success of Greek-style yoghurts in recent years cannot be underplayed. Currently accounting for 7.3% of the share of Greek products in the world market  with the country ranking fourth as the world's largest yoghurt exporting nation, Kotronis has contributed significantly to this dynamic trade market with the introduction of the complete range of thin-wall injection moulded cups. "Because of our long-standing expertise, we were perfectly prepared for the export boost experienced by the Greek food industry," says Giorgos.
"One of the biggest customer compliments received suggests that Kotronis packaging was a key factor in their company's export growth rates," adds the Chairman.
Despite Greece's economic crisis, high interest rates and funding challenges, Kotronis predominantly used its own capital and financial muscle to fund its latest automation and injection moulding investments.
"Kotronis is by far the most innovative packaging producer in Greece," says Arnaud Nomblot, Packaging Business Development Director at Sumitomo (SHI) Demag.
Future innovations
With packaging aesthetics being such a critical purchasing influence, Kotronis is continuing its quest to serve the €3 billion export food market, as well as tackle global challenges such as food waste and the plastics agenda.
Most recently, the company, in collaboration with one of Greece's largest Feta cheese producers, has developed a new packaging barrier that uses brine to significantly extend shelf life without the use of preservatives. Kotronis has also embarked on testing biodegradeable packaging concepts, which includes exploring the viability of introducing IML with an oxygen barrier.
Right now though, Kotronis is benefiting from its new energy and resource-efficient Sumitomo (SHI) Demag injection moulding fleet. "In addition to delivering exceptional process consistency and lowering operational costs, the latest generation of El-Exis SP machines installed by Kotronis consumes up to 20% less energy when measured against comparable packaging machines," adds Arnaud Nomblot.
In order to make processes even more efficient, Sumitomo (SHI) Demag is currently exploring with Kotronis further integration of robots, automation equipment and solutions for visual mould control into higher-level control and management systems. "Hygiene is prevalent throughout our production facility.  We use automated systems to collect the packaging as it comes off the moulding machines, reducing the risk of cross contamination", adds Augustinos Kotronis.
Being a supplier of packaging that is destined for international markets, Kotronis is ISO 9001, ISO 2000, BRC/IoP, IMS/FDA and SMETA/SEDEX certified.
WHAT'S BEHIND THE GREEK FOOD SUCCESS STORY?
Healthy eating and the brand positioning of the Mediterranean diet are frequently cited as the reason Greek food is such an export success.
Topping the list of products exported from Greece are vegetables, fruits, olive oil, dairy products, fresh seafood, canned fruits, olives, raisins, wine, and tomato products.
Enterprise Greece highlights that it's not just product but also packaging where Greek companies are innovating and differentiating themselves in the global marketplace.
Greek food and beverage companies are rapidly penetrating higher-growth markets such as the US, China, Russia and Western Europe.
According to a recent report carried out on behalf of the Association of Greek Food Industries, food is now the largest sector in Greek manufacturing. Over a quarter of all manufacturing businesses are involved in food and/or beverages (compared to 12.5% EU average). This accounts for approximately a quarter of the industrial turnover in the country.
The food industry is the second largest employer in Greek industry, providing jobs to one-third of the manufacturing workforce (compared to 13.6% EU average).
Between 2009 and 2017, Feta cheese exports increased 50%. During the same period, Greek yoghurt shot up by 204%.
Sumitomo (SHI) Demag Plastics Machinery GmbH
Sumitomo (SHI) Demag has shaped the development of the plastics industry from its very beginning. As a specialist for injection moulding machines for plastics processing, Sumitomo (SHI) Demag and its Japanese parent company are leading the industry.
The global development and production network of Sumitomo Heavy Industries and Sumitomo (SHI) Demag is comprised of four facilities in Japan, Germany and China with more than 3,000 employees. The product portfolio includes all-electric, hydraulic and hybrid injection moulding machines with clamping forces of between 180 and 15.000 kN. With more than 125,000 installed machines, Sumitomo (SHI) Demag is present in important global markets and ranks among the largest manufacturers of injection moulding machines in the world.
At Sumitomo's headquarters in Chiba, Japan, the company manufactures machines with clamping forces in the small to medium range. Nearly 95 % of all delivered machines are equipped with an all-electric drive concept. Sumitomo (SHI) Demag's German facilities in Schwaig and Wiehe produce the Systec Servo range with hybrid drive as well as the El-Exis SP and Systec SP range of high-speed, high-performance machines. The all-electric IntElect range for international customers is also being produced in Germany.
As early as 1998, Sumitomo (SHI) Demag set up its first production site in Ningbo/China. In 2015, the Chinese subsidiary Demag Plastics Machinery (Ningbo) Co., Ltd. installed a new facility with a 13,000 m² floor space. It is earmarked for the production of the Systec C range with clamping forces of between 500 and 10,000 kN for the Asian market.
In addition to injection moulding machines, Sumitomo (SHI) Demag offers customised and standardised systems for the part handling automation, technical and process solutions for special applications, tailored services and service concepts as well as a range of financial options to support investment in injection moulding machines.
With its comprehensive sales and service network of subsidiaries and agencies, Sumitomo (SHI) Demag is present in all major markets.
Press release from Sumitomo (SHI) Demag