GREEN LINE POLYMERS, INC INSTALLS NGR's LARGEST RECYCLING MACHINE
Feldkirchen/Donau, Austria – April 30, 2018 – Green Line Polymers, Inc, an Advanced Drainage Systems, Inc. ("ADS") (NYSE: WMS) recycling subsidiary, has recently installed the largest NGR recycling machine ever built capable of recycling well over 4,000 lbs. per hour of plastics scrap materials in a variety of forms.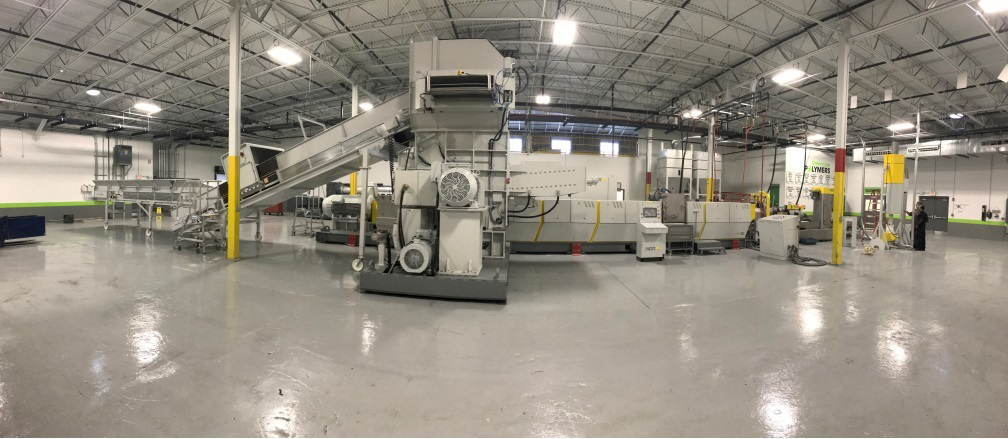 Their recent installation will recycle high volumes of post-industrial PE scrap materials. This recycled product will then be a raw material building block for the next generation of ADS corrugated piping products and water management solutions (WMS).  Green Line Polymers is one of the largest recyclers of polymer products in North America.
ADS is a leading manufacturer of high performance thermoplastic corrugated pipe and ancillary products, providing a comprehensive suite of water management products and superior drainage solutions for use in the construction and infrastructure marketplace. Their innovative pipes, fittings, basins and other products are utilized across a broad range of end markets and applications, including non-residential, residential, agriculture and infrastructure applications. Founded in 1966, ADS operates a global network of approximately 60 manufacturing plants and over 30 distribution centers. Today, more than 8.5 billion feet of ADS pipe are in service around the world. You can see their products everywhere – from major construction sites with drainage requirements, to residences in your own neighborhood. In fact, ADS technology has now led to the specification of total polyethylene systems for drainage, collection, and maintenance access.
NGR, based in Austria, just delivered their 1000th plastics recycling line. Key benefits for their customers is the "One-Step Technology" which utilizes a shredder-feeder-extruder combination. This configuration ensures the highest energy efficiency while minimizing equipment footprint and reducing material handling steps.  NGR operates their Technical Center near Atlanta, GA along with a full-scale recycling line available for customer testing and trials.  All sales, technical service, spare parts, and training functions for their North America customers are handled from this facility.
For more information about on Green Line Polymers go to: www.greenlinepolymers.com.