hotset presents innovative system solutions as the focal point of its Fakuma presence
Targeted temperature control and instant analysis
In addition to the continuous expansion of its range of heating elements and temperature sensors, hotset is also pressing ahead with the development of innovative system solutions for use in plastics technology. In this context, the Z-system for partial-cyclical temperature control of injection molds and the D-system for instant analysis of the thermohydraulic incident of the water circuits in the cavities are currently acknowledged as groundbreaking trendsetters. At the company's booth at Fakuma this year, injection molding experts and toolmakers will be able to take an up-close look at both solutions."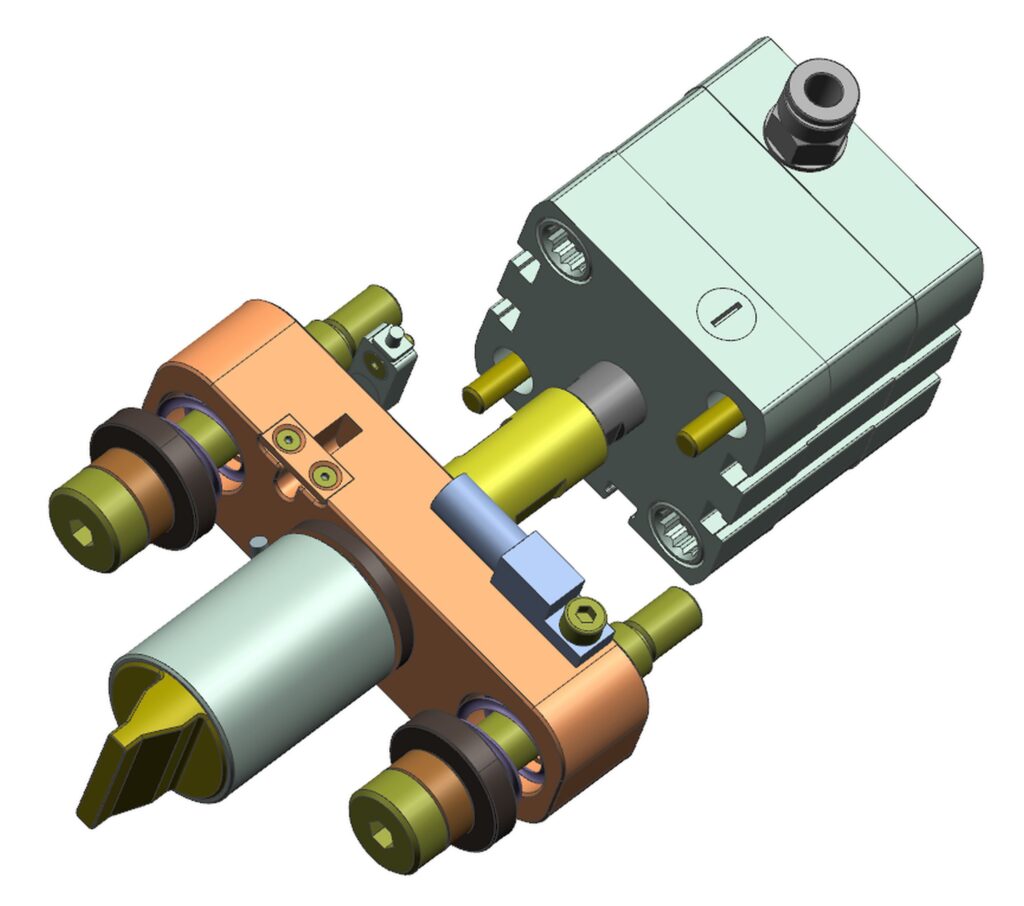 The Z-System from hotset is always configured to customer and project specifications and provided as a complete solution ready for use. The image shows the Z-System assembly with fin and base plate. (Image: hotset)
In the future, we will continue to primarily see ourselves as a manufacturer and supplier of high-quality heating elements and temperature sensors for industrial applications. However, the success we have achieved to date in the field of system development encourages us to also continue to drive forward the realization of innovative process solutions for injection molding technology and mold making," says hotset Sales Manager Sven Braatz. At Fakuma in Friedrichshafen (October 12.-16, 2021), hotset will therefore not only be presenting itself as a component supplier, but will also be focusing on the presentation of two trend-setting innovations at the heart of its trade show presence. What this means specifically: At booth 3005 in hall B3, plastics technology specialists will have the opportunity to get detailed information about the flexible Z-system for partial-cyclical temperature control of injection molds and the D-system for in-situ analysis of the thermohydraulic processes in the water circuits of cavities.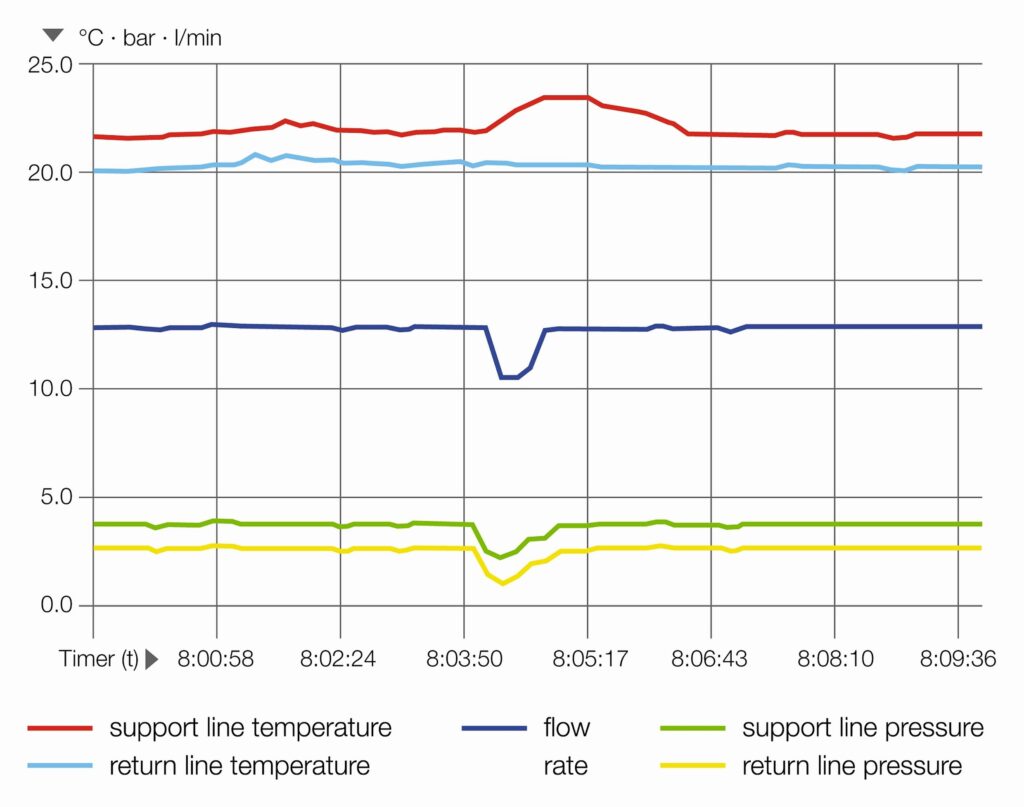 Multiple graphs can be displayed simultaneously: hotset's D-System calculates and visualizes the hydraulic and thermal processes of the water circuits in injection molds.
Instant energy analysis
hotset's D-System is a mobile data logger for instant energy analysis of the thermohydraulic incidents in the water circuits of injection molds. The flexible measuring instrument is network-compatible, has a 7-inch color touch screen and is equipped for battery operation. It immediately provides toolmakers with all the important measurement data they need to evaluate the energy flows of their water circuits and, based on this, optimize the mold's temperature control system. The D-System from hotset determines the flowing water quantity, the supply and return temperature ∆T as well as the supply and return pressure ∆P – and it calculates all relevant parameters for the energy that a process or system withdraws from or adds to the water circuit. All recorded data can be stored, documented and compared intermittently – also with other evaluation processes. W-LAN and LAN interfaces support network connectivity and access to the touchscreen for data visualization on a PC or smartphone. Processes can also be logged and synchronized, with limit violations being documented, for example.
The D-System from hotset not only proves its worth directly in the tool shop, but is now also part of the emergency equipment of mobile service and MRO teams. Additional uses are emerging as its use as a quality assurance tool during sampling, mold commissioning, and pilot and pre-production runs. "We also know of injection molders who manufacture for medical technology and use our D-System as part of product validation," reports René Schlöter, who developed the system as hotset's project manager. It can also be deployed as a preventive maintenance tool to detect any hidden defects in water circuits at an early stage – caused, for example, by premature pump wear or ingested dirt particles.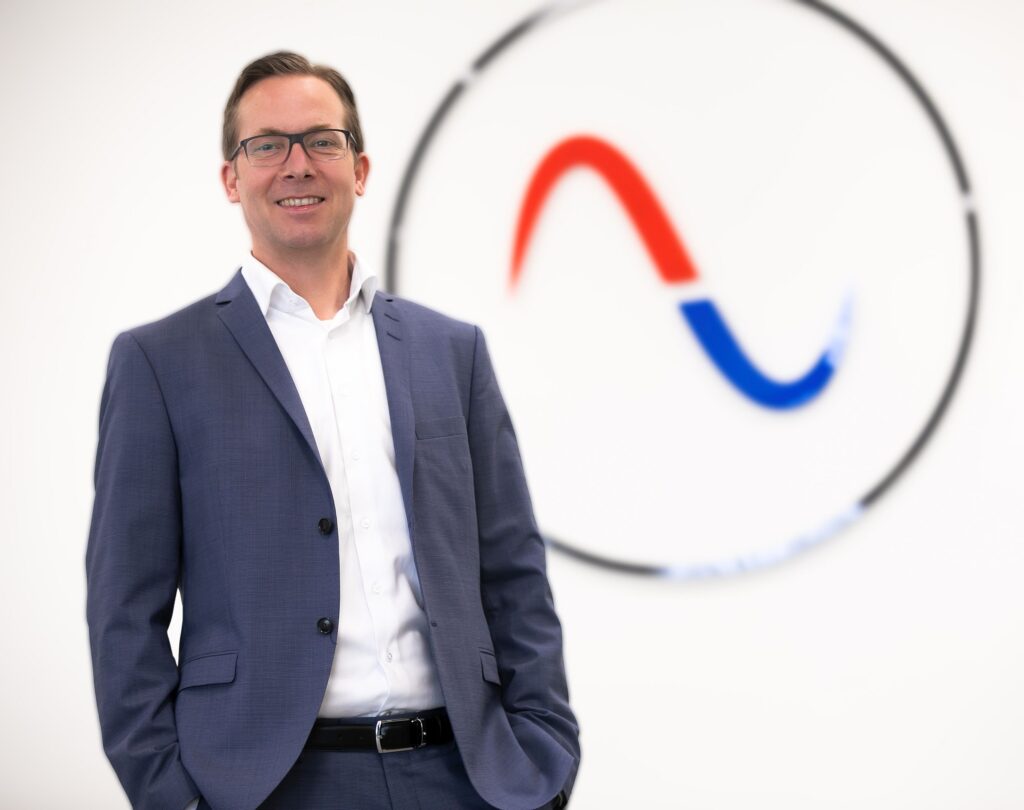 Partially cyclical and very fast
The highly successful Z-system from hotset operates at an entirely different level of process and quality optimization. This system solution for partial-cyclical cavity temperature control is now being used by a large number of injection molders and toolmakers and is offered by machine manufacturer ENGEL as a control technology option for its injection molding systems. What makes hotset's high-speed process so popular is the enormous quality improvements it can achieve in the production of injection molded parts. Thanks to its high degree of precision and speed, the Z-system can reliably prevent both process-related weld lines and dull halos on the surfaces of the molded parts. It also enables the realization of filigree microstructures and very thin wall thicknesses, which are typical of thin-wall injection molding. "Manufacturers of injection-molded components for the consumer industry and automotive construction in particular can use it to significantly improve the surface quality of their products and open up new possibilities for microstructuring and miniaturization of components," says Sales Manager Sven Braatz.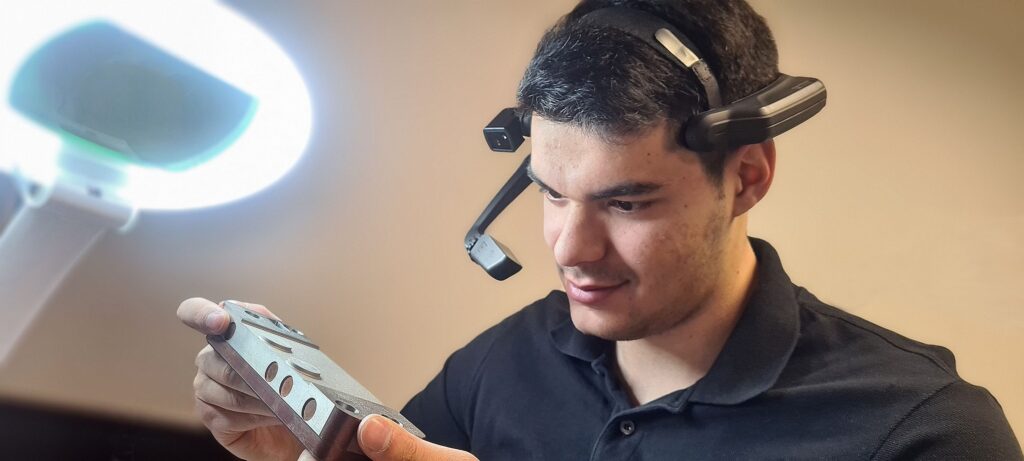 hotset has recently expanded its Z-System to incorporate the use of multimedia data glasses. This now opens up a host of new opportunities to collaborate between the company's technicians and its customers in plastics processing and toolmaking.
hotset's Z-system is considered to be the technological pioneer of a new generation of highly flexible dynamic temperature control systems for injection molding technology. Compared to the variothermal mold temperature control still widely used at present, it not only stands out for its higher precision, but also for its significantly higher energy efficiency, which is why it proves to be more cost-effective and resource-saving. It is always configured to customer and project specifications and provided to the customer as a ready-to-use complete solution including the appropriate measurement, control and sensor technology as well as a color touchscreen. Its components are integrated into the mold – comparable to a conventional hot runner system. The cavities can be heated and cooled in synchronization with the injection molding process, either selectively or in sections. Since this takes place at a rapid heating rate of up to 60 Kelvin per second, very fast temperature changes can be achieved in very short cycles.
At Fakuma, hotset will also be providing information on the numerous ways in which the Z-System can be customized. For example, the company is constantly developing the system's closed-loop and open-loop control technology and, as part of its customer-oriented preparation, is also optimizing the range of matching services – for example, by offering mold-oriented and process engineering simulations or online support with the aid of intelligent data glasses.
Hotset GmbH, headquartered in Lüdenscheid, is one of the leading international manufacturers of industrial heating elements, temperature sensors and temperature control technology. The company was founded in 1973 and today employs a total of 350 people at six locations in Lüdenscheid (headquarters), Malta, Georgia (USA), Singapore, Suzhou (China) and Bidadi (India). Hotset GmbH is certified according to DIN EN ISO 9001:2015.
Against the background of its successful components business hotset serves many customers with innovative product and system solutions around the industrial heating and heating technology. The main sales areas of the company are plastics processing, toolmaking, foundry, food and packaging technology as well as hot runner technology. In many areas hotset is regarded as a technology leader that provides its customers with a decisive competitive advantage with innovative problem solutions. International project business and the takeover of complete value chains from customers (outsourcing) are currently gaining in importance for hotset.
The business activities of hotset range from development and production to after-sales service. In addition to the production of numerous standard and series products, the realization of intelligent customer and application-specific solutions is in the focus. On the basis of its engineering know-how and with the objective of making the right temperature available at the right place and at the right time within industrial processes, the company is currently opening up numerous new areas of application.
Since 2020, hotset has been operating the system center for industrial temperature control technology (SIT) in Lüdenscheid.