Interview with Dr. Michael Ruf, CEO of KraussMaffei Group GmbH
Way2K: Industry interviews in the lead-up to the K 2022 trade fair
"Our industry is facing the task of the century"
Dr. Ruf, KraussMaffei wants to operate all its plants in a CO2-neutral way by 2030 and make its machine production climate-neutral by 2035. Why is this necessary?
KraussMaffei is firmly convinced that sustainability is an economic, ecological, and therefore business imperative. For us, sustainable business equals successful business. In doing so, we do not only focus on our own actions; rather, we also see ourselves as pioneers for our customers and suppliers, also enabling them to achieve their sustainability goals. The given timeframe is the result of intense discussions and also follows the realisation that the environmental policy framework at national, European and global level will change significantly in the coming years, which we intend to be prepared for.
What are the steps towards this goal?
We have set ourselves several milestones on our road to climate neutrality. By 2023, we want to reach the "Silver" rating level with EcoVadis, the world's most reliable provider of sustainability ratings. Our 2025 goal is to be one of the best machine plant manufacturers for the plastics industry in the areas of sustainability and profitability. In 2027, we want to reach the "Gold" rating level with EcoVadis. By 2030, we will have modernised the database, the technical foundation, and the processes at KraussMaffei in such a way that we can achieve our CO2 neutrality goal for our plants. A committee of experts from several areas of our company is currently working on how exactly this should take shape.
How important is the circular economy for KraussMaffei in this context?
Our industry is facing the task of the century. We need to regard plastics that are already in use as a reusable material. The circular economy has therefore long been an essential part of KraussMaffei's corporate strategy. Our goal is to expand our range even further, and to be the essential partner for our customers for the mechanical, solvent-based, as well as chemical recycling of plastics.
What do you do to help close the loop?
We have been dealing with the topic of recycling and its related technologies for more than thirty years. One important prerequisite is that, in order to close the cycle in the long term, plastics must no longer be regarded as waste, but as a valuable material that can be recycled properly; something that is enabled by our modern technologies. Through them, the treatment process can already be designed in such a way that the end product is of higher value than the input material. We are also continuously working on new methods to make the recycling process even more efficient and therefore more attractive. At our new location in Laatzen near Hanover, a centre for extrusion and recycling technology is currently being built, where we will be working intensively on this matter.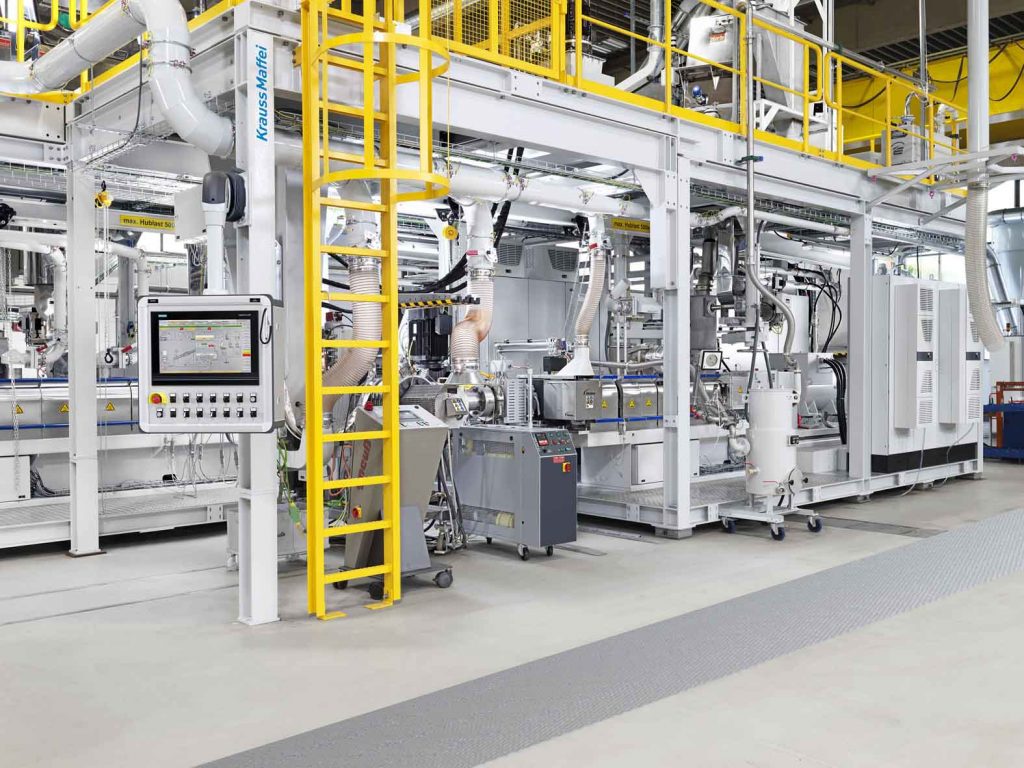 What recycling solutions do you offer?
KraussMaffei uses mechanical, solvent-based and chemical processes. Here we offer different system concepts that can handle a wide range of recycling tasks. One example is our Purity CompoundingLine, formerly Edelweiss Technology; this combines the two processes of recycling and compounding: instead of cooling and pelletising the material after recycling, it is processed further inline – in a melt – in a second compounding stage. This not only makes the recycling process more efficient, but the technique also saves energy during cooling and melting between a recycler and a compounder. Another example is our ColorAdjust. This intelligent system measures the colour value in the material and actively controls the colour addition, so that colour deviations in the recyclate are reduced to a minimum.
What role does digitalisation play in this process?
Digital tools make the circular economy much more efficient and cost-effective than before. For example, the DataXplorer records up to 500 machine signals in real time during the recycling process and as a resultcxx enables CO2 footprint measuring. Energy consumption in the recycling process can also be optimised by digital tools, as we are presenting at the K trade fair: together with Motan, we have developed an application that displays the energy consumption per process stage. During the recycling process, energy consumption can be recorded and improved in a targeted manner.
What are the overall benefits of digitalisation in the production process?
With digital solutions, customers can make their production more efficient and save energy and costs. Functions such as APCplus keep the reject rate in component production low, and consequently counter material waste. Digital tools also make it possible to prevent potential faults on the machines or, if they do occur, to react to them in real time. For example, with the smartAssist tool, service technicians or maintenance staff can give the customer instructions via video communication on how to clear the fault themselves.
Does sustainability also pay off economically?
Yes, both for our customers and for ourselves. If expenses for matters such as energy and maintenance for example can be reduced, this not only benefits the environment, but also increases profitability. Sustainability is a principle that ultimately only generates winners.
Industry interviews on the road to the K:
The world is facing major challenges: Climate change must be fought; the environment must be protected, and resources must be conserved. It is also important to make good use of the opportunities offered by digitalisation. The plastics industry has a key role in this process because plastics are ubiquitous in the world.
Climate protection, digitalisation and the circular economy are therefore also the three major topics at K 2022, the world's leading trade fair for the plastics industry. To get in the mood for the industry meeting in autumn 2022, the VDMA is letting representatives of the plastics machinery industry and all other stakeholders in the sector have their say through weekly interviews.
VDMA Plastics and Rubber Machinery
More than 200 companies are members of the trade association, covering over 90 percent of the industry's production in Germany. Ten percent of our member companies come from Austria, Switzerland and France. German member companies represent a turnover of 7 billion euros in core machinery and 10 billion euros including peripheral technology. Every fourth plastics machine manufactured worldwide comes from Germany in terms of value; the export quota is 70 percent. Ulrich Reifenhäuser, managing partner of Reifenhäuser GmbH & Co KG, is the chairman of the trade association.