Interview with Jochen Hirdina, Head of Plastics Technology at Krones AG
"Economically, recycling is perfectly feasible"

Mr. Hirdina, Krones is pursuing its own sustainability strategy. What are the cornerstones?
Krones has set itself very ambitious climate targets for 2030. As a company, we will have reduced our carbon footprint by 80 percent by that time. For our products, we plan to reduce carbon emissions by 25 percent. We will also reduce hazardous waste and drinking water consumption by ten percent. Another important element in our sustainability strategy is to contribute our part towards a closed-loop recycling economy. We want to help avoid plastic in the form of waste. In the beverage industry, we are well on the way to completely closing the loop with PET bottles in Germany, and things are also moving in Europe. The reason for this is, that the European Union has made provisions for recyclates that are forcing our customers and the industry to take action. I'm witnessing a great deal of movement in that regard right now.

Could you give us an example?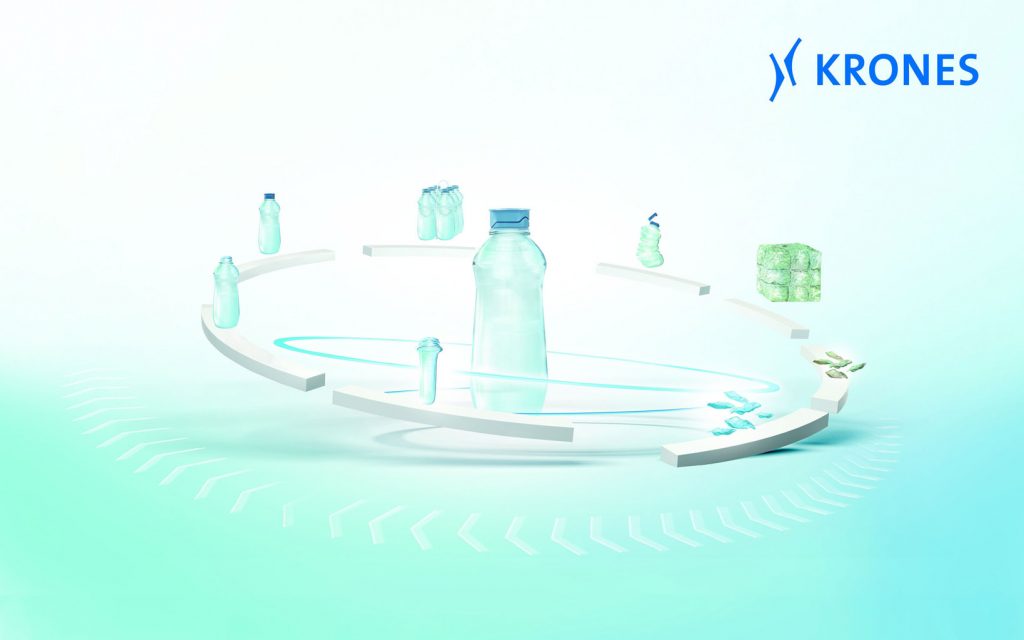 First of all, you have to realise how the cycle works. Products are manufactured, which are then returned after use and reprocessed into a new product. Collection is of course the basic prerequisite for a cycle to function, but you also have to know what happens to the material, and where you'll reuse it. The ideal scenario is to use it again in exactly for the same application it had originally. This works relatively well with short-lived products such as bottles, because there is a high turnover rate. In other areas, it will probably be much more difficult. A large discounter in Germany has started to build its own value chain for a closed loop. For me, this is a kind of blueprint for how the whole process can work.
If we look at the situation in Germany, a lot has happened in recent years. For instance, not all PET bottles were included in the cycle in Germany until now in the beverage sector. Bottles containing fruit juice for example were not included. This has now been standardised, and the bottle deposit now applies to the entire beverage range. We have collection rates of 98 percent for PET bottles, and it has been found that the collected PET quantities are actually used again to produce new PET bottles. So, Germany is already doing very well in terms of the closed cycle.

But when some big companies like Lidl do something like this, there will not be enough left for the many small ones.
That is indeed the reality of today. However, this is due to the fact that we still have too little recycling capacity available. It must of course increase so that the returns can be completely converted into new recyclate. Viewed globally, the current low capacity is a consequence of the lack of economic efficiency of recyclates to date. In recent years, it was simply cheaper to buy virgin material because of the low oil price. Meanwhile, we have very high energy prices, and the use of recyclates is regulated by law. Because of the price development and the increased demand, recycling can now be implemented economically. We will therefore see an expansion of recycling capacities in the years to come. Another factor of course is the raised awareness of sustainability in the industry. For example, a major US beverage company has announced that it will only use rPET for some of its products.

In addition to its core business of bottling plants, Krones also has recycling plants. How did that come about?
We have basically been involved in recycling for a very long time. We gained our first experience in the field in 2000, when we built the first PET recycling plant in Switzerland, together with another company. In addition, we have decades of experience in building cleaning machines for bottles. After all, every recycling plant needs cleaning machines to remove the label and product residues, for example. And we were aware early on that plastic recycling represents the future, so for this and a number of other reasons, we decided to enter the recycling sector in 2009.
We undertake complete project planning for recycling plants, which is a core competence for us as a plant manufacturer. We offer our own core modules for this purpose. MetaPure W, for example, is a washing module for plastics. And to bring plastics back to the desired product properties, we offer a system named MetaPure S. Our recycling business is very important for us, even if we are not the market leader in that sector, which we are for beverage systems. However, our recycling technology is very well received by our customers.
Does it make sense to link such recycling plants with an application, such as a beverage bottling plant?
In principle, it is of course possible to use the material from a recycling plant as a starting material for the production of new preforms. It is also possible to place the interface in a beverage plant and use the recyclate to make new bottles, however, it won't be integrated into the process. The reason for this is easy to explain: ideally, a recycling plant will be operational for 365 days a year; that's when it's at its most efficient. In a beverage line on the other hand, there are fluctuations, because people drink more in summer than in winter, so more bottles are filled accordingly. During the summertime, the lines have to run around the clock, whereas in winter, you can skip a shift or two. One-to-one interlocking would not work and would not make sense economically, either.
How important is cross-company exchange in the circular economy?
This is indispensable in view of the complexity of the circular economy and the many industries involved in it. In the past, these different industries had few points of contact. If we want to get to grips with the common problem of plastic waste, exchange is essential. At present, there is still room for improvement. Everyone has to be open in their dealings with partners, otherwise it will be difficult to implement an end-to-end circular economy. Fifteen or twenty years ago, companies were still extremely secretive towards each other. Fortunately, this has improved, because, if we want to leave a liveable planet for future generations, we all have to pull and work together, and time is currently working against us.
Industry interviews on the road to the K:
The world is facing major challenges: Climate change must be fought; the environment must be protected, and resources must be conserved. It is also important to make good use of the opportunities offered by digitalisation. The plastics industry has a key role in this process because plastics are ubiquitous in the world.
Climate protection, digitalisation and the circular economy are therefore also the three major topics at K 2022, the world's leading trade fair for the plastics industry. To get in the mood for the industry meeting in autumn 2022, the VDMA is letting representatives of the plastics machinery industry and all other stakeholders in the sector have their say through weekly interviews.

VDMA Plastics and Rubber Machinery
More than 200 companies are members of the trade association, covering over 90 percent of the industry's production in Germany. Ten percent of our member companies come from Austria, Switzerland and France. German member companies represent a turnover of 7 billion euros in core machinery and 10 billion euros including peripheral technology. Every fourth plastics machine manufactured worldwide comes from Germany in terms of value; the export quota is 70 percent. Ulrich Reifenhäuser, managing partner of Reifenhäuser GmbH & Co KG, is the chairman of the trade association.