Interview with Manuel Laux, Head of AM Solution
"Today's problems will be solved in 2030 through automation and integration"
Under the brand AM Solutions the Rösler Group offers solutions especially for the requirements in additive manufacturing. The focus is on the surface technology know-how built up since the 1930s – in addition to solutions for unpacking and de-powdering, as well as manufacturing and development services. Manuel Laux, Head of AM Solutions, talks in an interview about automation in post-processing and integrated AM process chains in 2030.
Can you briefly introduce AM Solutions to us?
Manuel Laux: We are a brand of the Rösler Group, which has specialised in surface technology for 80 years. As a "full-solution provider" Rösler supplies machines, equipment and processes that enable customers to achieve the surface properties they require. With our mass finishing and shot blasting technology, specific abrasives and blasting media as well as deburring and washing systems, surfaces can be homogenized, levelled and cleaned. Rösler has over 1,800 employees at 15 locations worldwide. We also operate test centers where we work with our customers to develop optimal processes for their requirements. Here we have been dealing more and more frequently with AM components for several years. We have taken up this trend and AM Solutions now offers solutions for the requirements in additive manufacturing.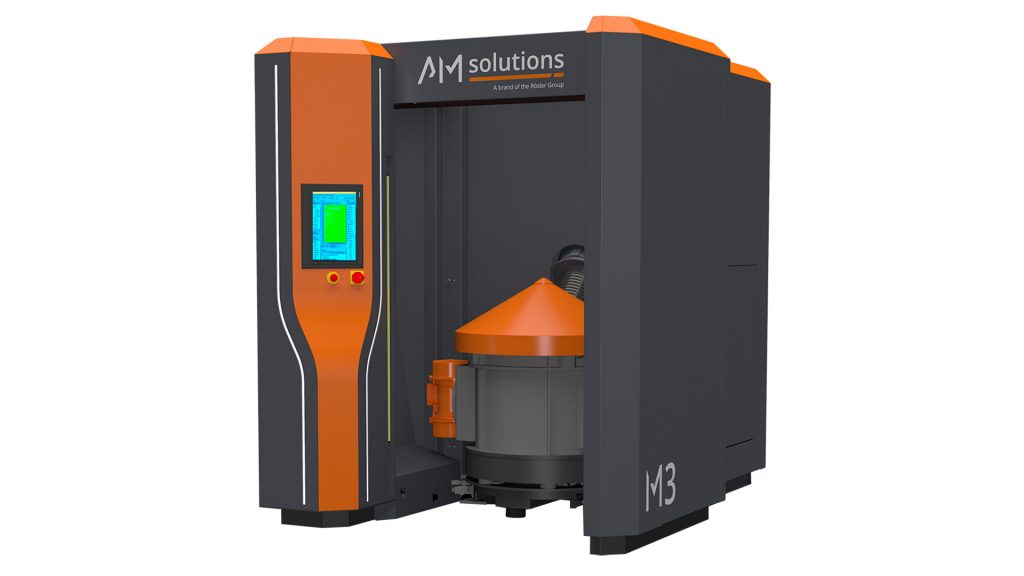 Which area of the additive value chain do you cover?
Laux: For 3D post-processing, we offer over a dozen different machines for depowdering, removing support structures and surface treatment. The solutions are based on know-how that Rösler has acquired in conventional manufacturing and specifically transferred to additive manufacturing. In addition to post-processing, we also operate AM Solutions 3D printing services, and we support our customers in the development of methods and processes.
What industries do your customers come from?
Laux: The spectrum is broad, automotive, medical technology, aerospace, mechanical engineering and some more. Usually, our customers have very high demands on AM components and their surfaces.
In post-processing, automation is a big issue. Where does AM Solutions stand in this respect?
Laux: Our machines cover a wide range: from unpacking and automated de-powdering of the installation spaces and components including inner channels, the removal of support structures to automated homogenizing, grinding, smoothing or (high-gloss) polishing of the component surfaces. We also offer colouring or coating in cooperation with external partners. The majority of our machines are suitable for metal and plastic parts, although different grinding wheels, blasting media and process parameters are of course used. Thanks to the high degree of automation and our experience, our customers can rely on reproducible surface quality. We offer scalable industrial solutions that implement fully automated processes. Only the feeding and removal of the components is usually done manually, as it is not yet worth automating in terms of the quantities involved. But it is feasible: We have already implemented fully automated solutions. We rely on OPC UA interfaces for integration into 4.0 process chains.
What role does your test center play?
Laux: It is our core. When customers send us their components and specify the quality they want and the duration of the process, we run tests and iteratively develop the process, including a sound cost analysis based on the machine type, process equipment and process parameters.
What potential do you believe AM has in industrial production?
Laux: AM Solutions is our newest business area. The fact that we already offer so many machines and services shows the strategic importance we attach to the subject. AM is an excellent complement to conventional manufacturing processes and will take a significant share of industrial production.
How do you envisage typical AM process chains in 2030?
Laux: Process and material costs will have fallen by then, while the integration of the process chain will be much higher than today. What AM Solutions currently operates on a small scale will be the rule in 2030: customers specify what their AM component should look like and what mechanical requirements it has to meet, and then receive a one-stop offer; whether metal or plastic, polished, dyed or coated. Today, the market is confusing and the process chain is fragmented. The customer does not get any quality guarantees because post-processors do not know the quality of AM components and, conversely, the printing service providers do not know how carefully the mainly manual post-processing is carried out. Automation and integration will solve such problems by 2030.
What are your goals in joining the VDMA's Additive Manufacturing Working Group?
Laux: Many key players are represented in the working group who, like ourselves, are committed to networking. In the working groups, we can exchange information on a constructive level across company boundaries, agree on a common basis on topics such as automation – and combine forces. There we have our finger on the pulse of a development which we would like to shape together with other players in the AM industry.
About 150 companies and research institutes collaborate under the roof of the VDMA in the Additive Manufacturing Association. System manufacturers, suppliers of components and materials, industrial users from the metals and plastics sectors, services providers for software, manufacturing, and finishing as well as researchers all have a common goal: the industrialization of additive manufacturing technologies.