Interview with Ulrich Reifenhäuser, CSO of Reifenhäuser Group
Way2K: Industry interviews in the lead-up to the K 2022 trade fair
"We need to reinvent plastics"
Mr. Reifenhäuser, what problems does the plastics industry face today?
In recent years, plastic has fallen into disrepute, because of waste issues. We all have the pictures of marine litter in our minds. Used plastics are not really being handled well anywhere in the world. In many places they are simply thrown away. Plastic itself has many advantages: it is very durable, very flexible, very waterproof and very light, which is why it is so successful. But these advantages are reversed where waste is concerned. Plastic floats, it does not decompose, it does not dissolve. If, in addition to function and cost, recyclability had been seen as an important criterion from the beginning, we would have fewer problems, and at least 80 per cent of plastics would already be recyclable. Today, they are not recyclable to this extent. The long pursuit of optimal function has even produced plastics that are difficult or impossible to recycle, such as multi-layer films. I am convinced that we can and must change this.
What is the appropriate course of action in your opinion?
Ultimately, we have to reinvent plastics. I see the plastics industry at a crucial turning point. It has to show that it can turn things around, actually be sustainable and enable recyclability. In short: new plastic products must be created that meet the demands of the environment. The way to achieve this is through the circular economy. When plastics are recycled, waste is avoided by extending the lifespans of the products and allowing individual components to flow back into new production cycles. I consider establishing this cycle to be the main task of the plastics industry.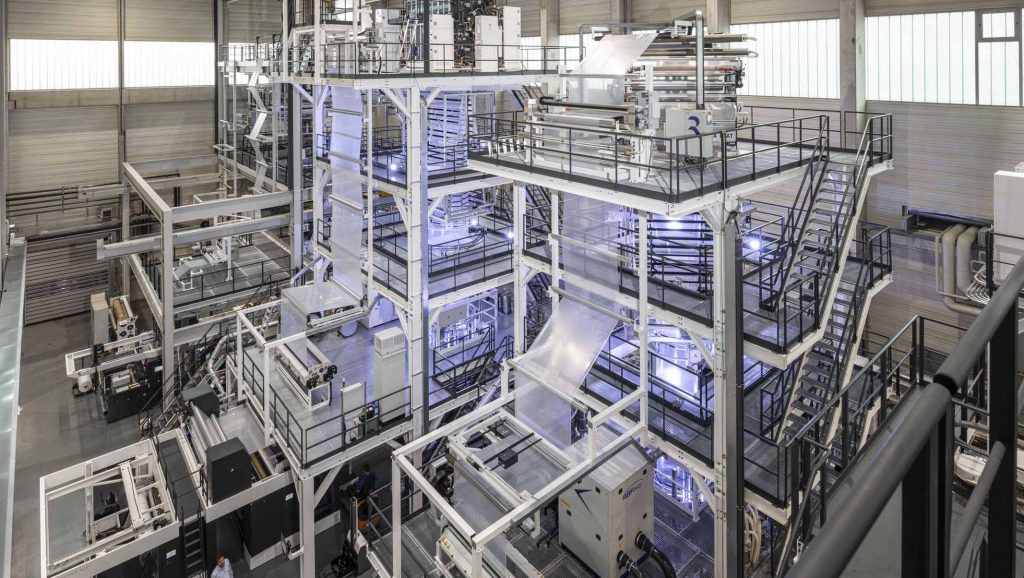 What role does plastics machinery engineering play in this?
As a machine builder, we can go into the processes. We can develop technologies that produce recyclable plastic and save material. But the initiative for these developments must come from the users, the brand owners. I will go one step further. The best thing would be for the legislator to make specifications. I would like to see a recycling quota for every plastic product. Fortunately, this is already being discussed extensively at EU level. Once specifications of that nature are in place, it will be up to the mechanical engineering industry to develop process technology to meet those specifications.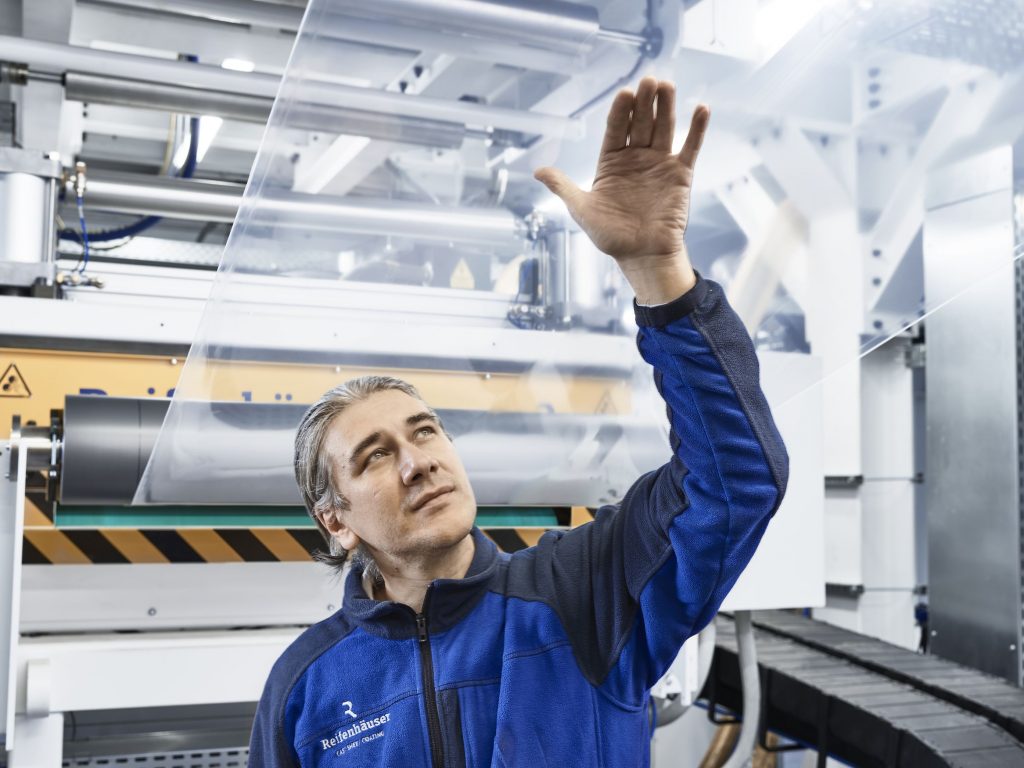 What contribution does the Reifenhäuser company make?
We are pursuing several approaches. One is to process low recyclate qualities easily and economically into high-performance products, and to be able to increase the recyclate content. For this purpose, we have developed a new extrusion technology we call EVO Fusion that can melt different polymers together in the extruder. Among polymers, there are products, such as PET and PE, for example, that previously could not be processed together because they have different melting temperatures. While one has not yet melted, the other is already burned. EVO Fusion, however, now allows them to be melted together. We use it to feed used plastic products into the extruder to make a new film. This is not a film for high-end applications, such as food packaging. But it can be used very well as construction film, as covers in agriculture, or to make rubbish bags. This film has high strength and density. So, with EVO Fusion, you can recycle and reuse products where that was not possible before.
Are there any other methods available?
We are also looking at the issue of saving materials. The world can't do without plastics, but you can try to reduce the use of plastic while maintaining functionality. We call this downgauging. We'll demonstrate this by taking the example of a spunbonded fabric, which is a fabric for nappies or medical products. We have reduced the amount of material used from 21 grams per square metre to 12 grams per square metre, plus we are about to reduce it to well under ten grams. In that case, we would have a product that fulfils the same function with half the material quantity.
What role does digitalisation play in such improvements?
Digitalisation has become enormously important in the plastics industry in recent years, and it has become increasingly better. Through digitalisation, processes are possible today that are no longer comparable with the automation capabilities of perhaps ten years ago. Processors are so much faster and more precise, that we can achieve much greater benefits with today's digitalisation. For us in mechanical engineering, digitalisation means the possibility to optimally control processes. The extrusion process, for example, is perfectly monitored and also documented. We even go one step further: we focus on the empowerment and independence of operators – by deliberately turning away from usual manufacturer-centric approaches and offering a digital solution to help producers of films or nonwovens to increase their production efficiency independently and sustainably. All customers, regardless of company size, therefore benefit from a new dimension of process transparency, which for the first time includes all production equipment manufacturers and equipment types.
2022 is a K year. What has changed since the last K 2019?
Three years ago, there was a lot of talk about the circular economy at the K, and the first approaches showed what could be possible. In 2022, we are no longer talking and exchanging ideas. Today we already have new technologies, new products, and new processes that can meet the demands of the environment. And this is the path we need to pursue. We are facing a great challenge. There is uncertainty, a lack of direction, and unanswered questions on many issues, which cannot be put off. Now is the time to act and turn challenges into opportunities, which is why our chosen trade fair motto is: The Time is Now.
Industry interviews on the road to the K:
The world is facing major challenges: Climate change must be fought; the environment must be protected, and resources must be conserved. It is also important to make good use of the opportunities offered by digitalisation. The plastics industry has a key role in this process because plastics are ubiquitous in the world.
Climate protection, digitalisation and the circular economy are therefore also the three major topics at K 2022, the world's leading trade fair for the plastics industry. To get in the mood for the industry meeting in autumn 2022, the VDMA is letting representatives of the plastics machinery industry and all other stakeholders in the sector have their say through weekly interviews.
VDMA Plastics and Rubber Machinery
More than 200 companies are members of the trade association, covering over 90 percent of the industry's production in Germany. Ten percent of our member companies come from Austria, Switzerland and France. German member companies represent a turnover of 7 billion euros in core machinery and 10 billion euros including peripheral technology. Every fourth plastics machine manufactured worldwide comes from Germany in terms of value; the export quota is 70 percent. Ulrich Reifenhäuser, managing partner of Reifenhäuser GmbH & Co KG, is the chairman of the trade association.