K 2019: Arburg sets trends
Very positive mood: plastics industry enthused by Arburg innovations
"arburgXworld": digitalisation enhances production efficiency
"arburgGREENworld": sustainable applications and solutions for closed circular economy
Lossburg, 24/10/2919
More of Arburg's digital world than ever before, concentrated expertise on the circular economy, 20 exhibits on its own and partners' stands, including exciting product debuts and innovative applications: at K 2019, Arburg showed itself to be an innovative and sustainable industry leader, helping its customers to achieve even more production efficiency in plastics processing. With "arburgXworld" and "arburgGREENworld", the company has succeeded in catching the spirit of the times, as demonstrated by the extremely positive public response.
"Many of our customers regard the current economic situation not only as a challence, but also as an opportunity. There were so many visitors at our stand who looked for information on innovations and trends in the injection moulding sector and who asked us very specific questions." summed up Michael Hehl, Managing Partner and Spokesman for the Management Team.
"We brought together more than 550 employees and trading partners from over 50 countries at K 2019, and showed industry professionals: 'Wir sind da.'," added Juliane Hehl, Managing Partner currently responsible for technology and marketing at Arburg. "Besides the big topics of digitalisation and the circular economy, our customers were particularly interested in specially configured injection moulding machines – and the first of our machines available for ordering online, the new Allrounder 270 S compact, was very well received.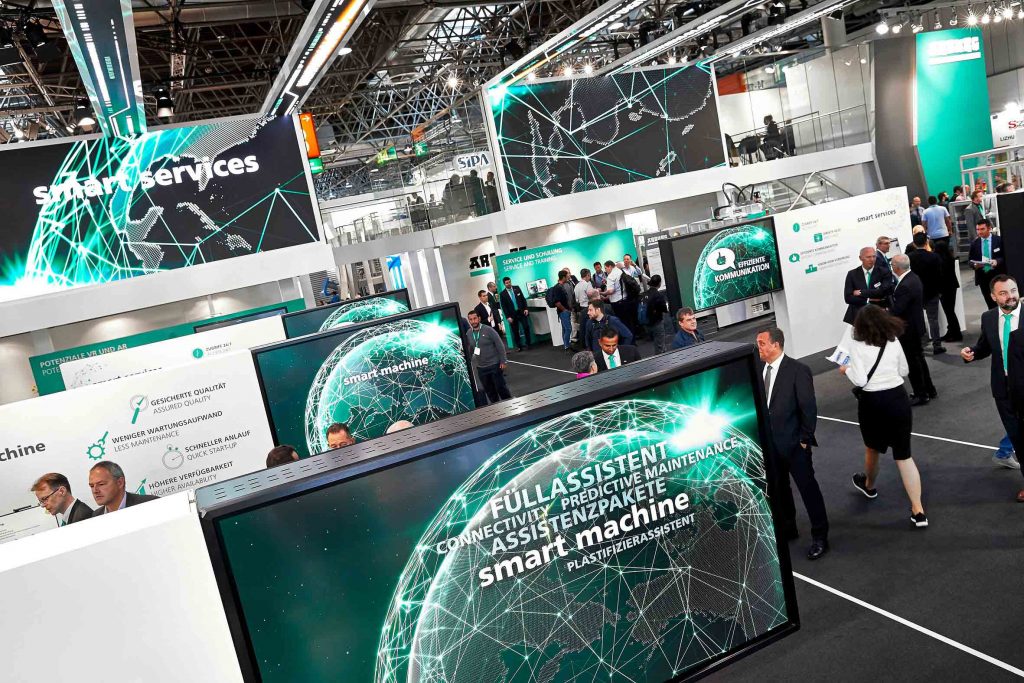 "arburgXworld": Arburg presses ahead with digitalisation
Under the "arburgXworld" banner, Arburg presented highlights and innovations from its comprehensive range of digital products and services. These included a variety of new apps for the customer portal bearing the same name – from "Machine Finder" for finding the right Allrounder and "Virtual Control" for simulating the machine control system, through to "Self Service" for guided error analysis and troubleshooting. The "Configuration" app allows customers to configure a new machine – the Allrounder 270 S compact – by themselves for the very first time and order it online. As of K 2019, "arburgXworld" will also be available internationally in 18 languages.
At a total of eleven interactive stations along the "Road to Digitalisation", visitors were able to learn more about smart machines, smart production, and smart services. Digital service solutions such as Arburg Remote Service (ARS) and the new filling and plasticising assistants (which enable the machine to "know" its product or cylinder module) were particularly in demand. Another "digital treat" provided by Arburg was free use of a fast Wi-Fi connection over the entire exhibition site for trade visitors with an eTicket. The "Arburg K 2019" app enabled users to register themselves and find out all about the company's exhibits and applications online.
arburgGREENworld: application examples for the circular economy
With its "arburgGREENworld" program, Arburg placed the focus on resource efficiency and the circular economy at K 2019. The program is based on the following four pillars: "Green Machine" for efficient machine technology, "Green Production" for innovative processes and resource-friendly production, "Green Services", which covers services and the transfer of expertise, e.g. in processing recyclates, and "Green Environment" for Arburg's internal processes.
Arburg showcased two exhibits as specific application examples in regard to the circular economy:
A new Allrounder 1020 H in the Packaging version processed PP material from Borealis together with 30 percent added single-type PP recyclate to produce thin-walled cups. Erema is the partner firm for manufacturing the recyclate. This application proves that if plastics are collected in a sensible and reliable manner, they can also be re-introduced into the value chain.

The second application made it clear how PCR from household waste can be returned to the production cycle as a raw material for durable technical products. In addition, an electric dual-component Allrounder 630 A produced handles made of foamed PCR and TPE for the safety doors on Allrounder injection moulding machines.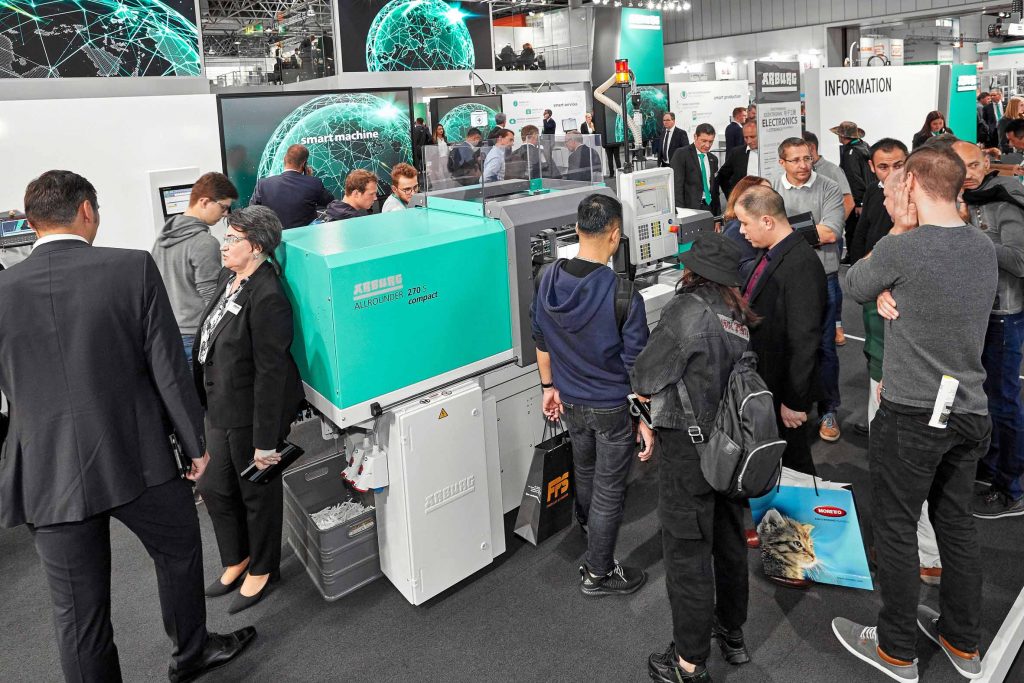 Machine premieres – clamping forces from 350 to 6,000 kN
The hydraulic Allrounder 270 S compact with a clamping force of 350 kN celebrated its premiere at K 2019. It is the first Arburg machine that can be configured and ordered online in just a few steps via the "arburgXworld" customer portal – quickly, easily, and also about 25 percent more cheaply, compared with standard hydraulic machines.
At the other end of the scale is the new Allrounder 1020 H in "Packaging" version. The high-performance hybrid machine with 6,000 kN clamping force and new size 7000 injection unit used an 8+8-cavity stack mould to produce 16 thin-walled round cups in a cycle time of 4.3 seconds. The new clamp-design Allrounder with Gestica control system is equipped with four assistance packages as standard, making it "ready for digitalisation".
Arburg's range of vertical rotary table machines now includes a 1,600-mm table diameter option in the form of the Allrounder 1600 T. This new machine, which was displayed on Lauffer's stand, has a clamping force of 2,000 kN, can be fitted with injection units ranging from sizes 170 to 800, and can be automated up to a complete turnkey system.
Applications – from Uvex glasses to night lights
A "smart" networked turnkey system built around an Allrounder 570 A with the filling and plasticising assistants integrated in the Gestica control system produced ready-to-wear sunglasses in a cycle time of some 50 seconds. The system included a six-axis robot for the handling, 100 percent check, and subsequent packaging in fabric bags, involving human/robot cooperation. The Arburg Turnkey Control Module (ATCM) merged the process and test data that was displayed on an individual website after the DM code was scanned.
A particularly compact production cell manufactured delicate LSR cover caps for micro-switches. An electric Allrounder 270 A was equipped with a size 5 micro-injection unit, an 8 millimetres screw and an LSR cartridge with a capacity of 290 millilitres for injection moulding the liquid silicone (LSR) caps, each weighing just 0.009 grams. A clean air module with ionisation, situated above the clamping unit, prevented electrostatic charges. The moulded parts were removed by a Multilift H 3+1 robotic system, visually inspected directly in the gripper, and packed in paper bags.
An electric Allrounder 370 E Golden Electric used a 1+1-cavity family mould to alternately produce a magnetised cog wheel with eight poles and a rotor with four poles in a cycle time of about 85 seconds. Thanks to the two mould cavities and flexible Selogica control system, the items could be produced with no need for conversions or non-standard sequences. A plastic-bonded magnetic compound was processed based on PA6. Magnetisation took place in the mould itself via permanent magnets. The 2-component vacuum gripper of the Multilift Select was additively manufactured as a functional hard/soft part on an Arburg Freeformer 300-3X
A vertical Allrounder 375 V with an upstream stamping/bending cell and Multilift Select that was mounted to save space overmoulded loaded parts with glass bead-filled PA6 (GB30) to produce plug inserts. Next, the pre-moulded parts were supplied by workpiece carriers to the stand of Arburg's partner, Plasmatreat, where they were turned into finished hybrid connectors using an electric Allrounder 470 A.
With a clean room cell based on an electric Allrounder 470 A, Arburg demonstrated how functional products can be created with Film Insert Moulding (FIM), using the IMSE technology of its Finnish partner, Tactotek, as an example. For this purpose, 3D touch films with integrated electronics and LEDs were inserted into the mould and laminated, removed by a six-axis robot, transferred to an LED testing station, and set down. They were then manually assembled with a circuit board and base to make a desktop night light with a second connection for charging a smartphone. In general, the FIM process is ideal for high-quality touch functions, for example in car interiors, and also for the electronics sector and medical technology.
Freeformer 300-4X additively produces fibre-reinforced parts
In the area of industrial additive manufacturing, Arburg showcased its new Freeformer 300-4X with four-axis part carrier at K 2019. The machine's additional rotary axis means that continuous fibres can now be fed in, set down as required, and overmoulded with plastic to locally reinforce functional parts. At the trade fair, the Freeformer 300-4X produced a hand orthosis locally reinforced with carbon fibres in hard/soft combination.
About Arburg
German family-owned company Arburg is one of the world's leading manufacturers of plastic processing machines. Its product portfolio encompasses Allrounder injection moulding machines with clamping forces of between 125 and 6,500 kN, the freeformer for industrial additive manufacturing and robotic systems, customer- and industry-specific turnkey solutions and further peripheral equipment.
An international sales and service network ensures first-class customer support at a local level: Arburg has its own organisations at 34 locations in 26 different countries and, together with its trading partners, is represented in more than 100 countries. Its machines are produced exclusively at the parent company in Lossburg, Germany. Of a total of roughly 3,200 employees, around 2,650 work in Germany. About 550 further employees work in Arburg's organisations around the world. Arburg has triple certification according to ISO 9001 (quality), ISO 14001 (environment) and ISO 50001 (energy).
Further information about Arburg can be found at www.arburg.com