As an industry pioneer in metal additive manufacturing, SLM Solutions' selective laser melting systems have earned a global reputation for producing high quality aluminum parts. SLM Solutions' focus on high power optics, multi-laser technology, high productivity parameters and gas flow management are key aspects in the foundation of SLM® machines producing quality material.
One exciting application of SLM® technology is enabling the development of exciting new alloys in additive manufacturing, such as Elementum3D's A6061 aluminum. The combination of high productivity technology, new alloys and material quality allows SLM Solutions' customers to increase build speeds, save time and money while enabling new and exciting applications in additive manufacturing.
CHECK OUT THE SLM®280, JUST LIKE KAM'S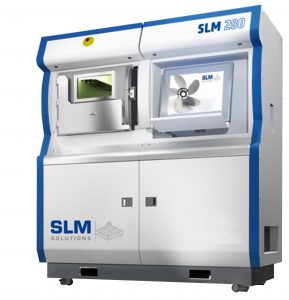 MULTIPLE LASERS AND BEST-IN-CLASS GAS FLOW FOR DEMANDING METAL ADDITIVE MANUFACTURING APPLICATIONS
Ideal for medium to high volume metal additive manufacturing part production and prototypes, the next generation SLM®280 Selective Laser Melting Machines offer a 280 x 280 x 365 mm (11 x 11 x 14 in) build envelope with an improved laser beam profile and the highest laser power offered in its class. 
SLM®280 Selective Laser Melting Machine
ABOUT KESELOWSKI ADVANCED MANUFACTURING:
Based in Statesville, N.C., Keselowski Advanced Manufacturing (KAM) is a pioneer in hybrid manufacturing (additive + CNC capabilities), using technological innovations to jumpstart the next industrial revolution. The KAM team is comprised of top engineering and machining talent who excel in the field through innovation, creativity and problem solving. 
Through partnerships with some of the world's leading manufacturers and research universities, KAM develops groundbreaking, custom solutions for several industries, including automotive- Performance, Motorsports, OEM, aerospace, defense and energy.  KAM's breakthroughs offer end-to-end capabilities in metal manufacturing – from engineering to prototype, and from post process to delivery, providing customers with vertically integrated products and services.
 info@kamsolutions.com | www.kamsolutions.com | 258 W. Aviation Drive, Statesville, NC 28677
Source: SLM Solutions Group AG