LDS filaments for 3D printing
Ensinger develops innovative compounds for laser-direct-structuring
At the K 2019 fair Ensinger will be showcasing newly developed filaments made from hightemperature plastics for the additive manufacturing of 3D micro-components with conductive structures. In addition, the Compounds division is the only manufacturer worldwide to presentPEEK LDS compounds approved by LPKF Laser & Electronics AG.(Düsseldorf trade fair, 16 to 23 October 2019, Hall 5, Stand D05).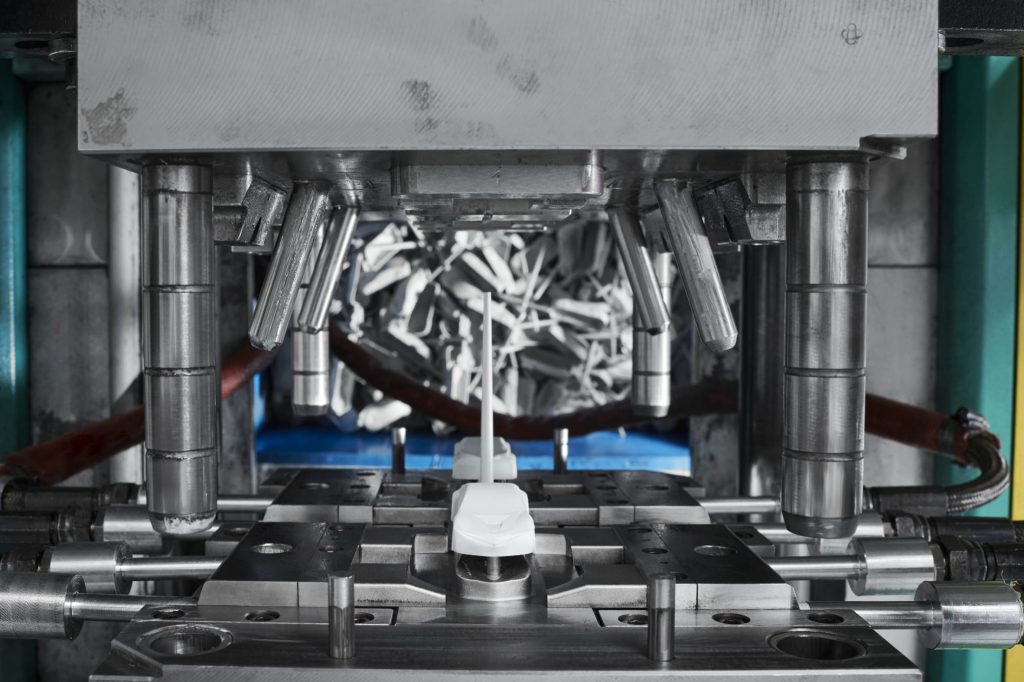 MIDs from high-performance plastics: thermally stable and thermally conductive
The demand for 3D circuit carriers (Moulded Interconnect Devices, MID) is not only increasing in the electronics industry. In industry automation, the telecommunications and aerospace sectors and medical technology, individually mouldable, conductive microcomponents with high thermal dimensional stability are also needed. The technology enables companies to develop smaller, lighter and more cost-effective components than would be possible with conventional circuit boards. For several years, Ensinger has been developing thermoplastic compounds for the LDS technique in close collaboration with LPKF Laser & Electronics. In a series of process steps, conductor path layouts can be generated on threedimensional
plastic components: Polymers with laser-activatable additives are moulded to form plastic carriers, usually by means of injection moulding. The structures of the conductor path layouts are exposed to a laser beam, which activates the additive in these sections. In metallisation baths, the conductor path layouts are applied to adhere strongly with sharply defined contours.
New TECACOMP LDS compounds for additive manufacturing
At the K 2019 fair Ensinger will be showcasing newly developed filaments for the additive manufacturing of MIDs. The filaments, which are based on polyether ether ketone (PEEK) with LDS additives, have shown good results in initial customer projects with an aerial manufacturer: The Hahn-Schickard Institute of Microsystems Engineering has confirmed – in spite of higher roughness depths resulting from the technology used – that the values for the metallisation and the fine pitch performance are comparable with those obtained with standard material.
"Customers are often afraid of the work and expense involved in switching their production to the complex LDS technique. With the new filaments from Ensinger, this hurdle has been made considerably lower. Using a 3D printer, it is possible to produce functional demonstrators quickly and easily in order to check the functioning of individual components, without having to invest in an injection moulding tool", says Thomas Wallner, Head of Sales & Marketing for Compounds at Ensinger. "We support and advise customers on the basis of our experience along the entire value added chain and provide assistance not only with the development of the Compound formulation but also with the selection of the injection moulding or laser parameters. Once the complete production process of three-dimensional circuit carriers has been set up, customers can save up to 50 percent in production costs. The costs involved will then pay off."
TECACOMP LDS compounds for injection moulding
At the K 2019 fair, Ensinger will be presenting another innovative approach for LDS materials. TECACOMP LDS White compounds, based on the polyaryletherketone PEEK or liquid crystal polymer (LCP), enable, with white additives, the production of very light coloured circuit carriers as well as LDS structuring without a copper base.
Ensinger is the only plastics processor worldwide offering PEEK for the LDS process that has been approved by the LPKF Laser & Electronics AG. The high-performance polymer stands out for its high thermal stability up to 300 degrees Celsius. It also has very good weld line strength, good adhesive strength and good chemical resistance. Furthermore, continuous bonding is also possible. Important areas of application for the material
TECACOMP PEEK LDS are shielding and security applications.
The compound TECACOMP LCP LDS is particularly suitable for components with very low wall thicknesses. The liquid crystalline material LCP stands out for very good dimensional stability and rigidity. Furthermore, the plastic has good chemical and flame-retardant properties. Target industries are electrical engineering and LED light technology, mechanical engineering and the automotive sector.
Further information:
ensingerplastics.com/en/compounds/laser-structuring