Manuwork-Balacing Human and Automation levels for the Manufacturing Workplaces of the future
In the past, people were expected to adapt to machine requirements. In the dawn of Industry4.0 which brings more complex machines and automation technology in the manufacturing workplaces, it is essential that all the necessary technology and processes are in place so as humans and automation are taking advantage of each other's strengths. Automation systems should be designed and developed so that they can be adapted according the human needs and capabilities. The EU co-funded research project, MANUWORK developed technologies to support the design and operation of manufacturing workplaces that enable human collaboration with machines, taking into account operators' capabilities such as skills, knowledge and special needs, without compromising production efficiency. The project was successfully completed in March 2020, with the final evaluation of the technologies in industrial pilot cases.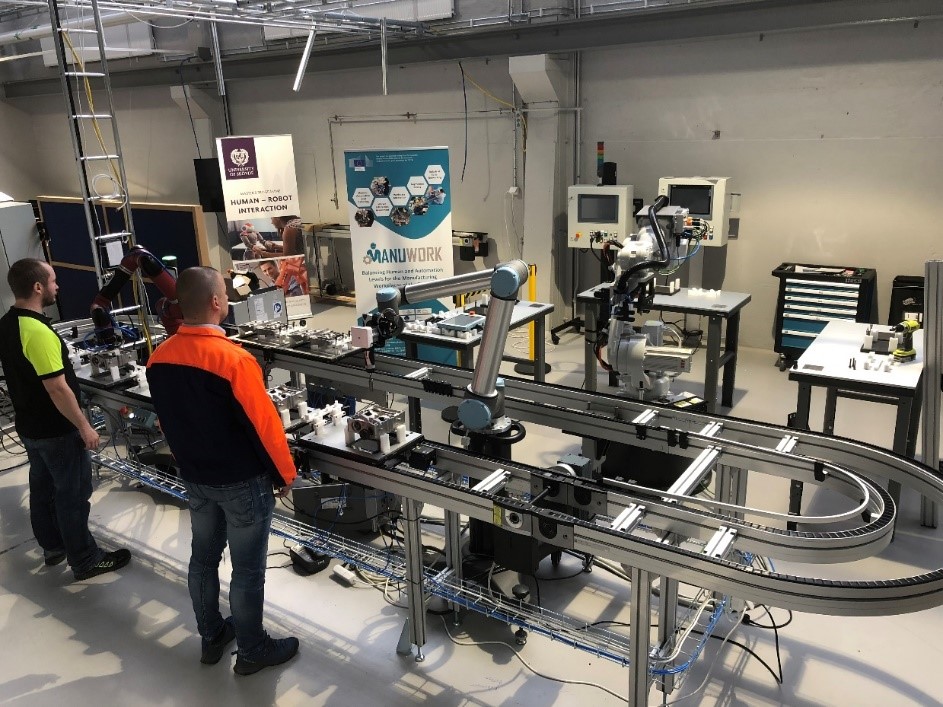 VOLVO CARS in collaboration with Skövde University and JERNBRO, developed and installed a solution at Assar Industrial Innovation Area in Skövde Sweden, that mimics a near real-world production setting of the engine component: Mass Balancing System (MBS).  MANUWORK solutions were implemented and tested for the assembly of the MBS, carried out by humans working collaboratively with robots.  A first round of validation runs was performed in December 2019 at Assar. The overall feedback is that the operators from the plant felt comfortable working close to the robots and that they saw potential uses for this type of automation in their daily work.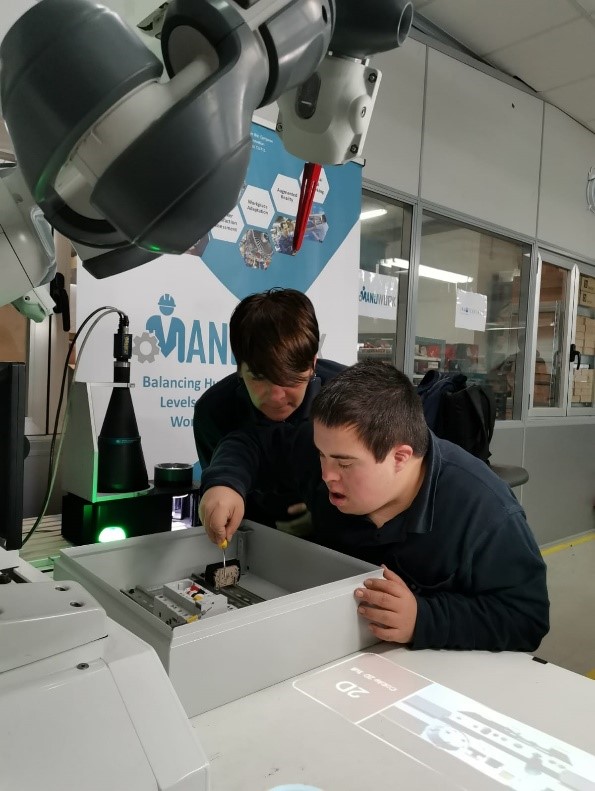 MANUWORK partner LANTEGI BATUAK from Bilbao Spain, is an organization that provides sheltered employment for workers with disabilities.  The LANTEGI BATUAK solution of MANUWORK concerns persons with cognitive disabilities, as well as other disabilities such as physical or sensorial.  More specifically, MANUWORK partners TEKNIKER and VICOMTECH have developed a solution based on collaborative robot and augmented reality technologies that help operators to perform the wiring of an electrical cabinet.  The solution has already been tested by LANTEGI BATUAK personnel and the feedback is very positive.  People with cognitive disabilities are capable to execute the task with little or no intervention from support personnel and they are happy to be able to work together with advanced technologies. LANTEGI BATUAK benefits by reducing the employee's profile threshold required to be able to carry out this assembly job while at the same time assembly time is reduced and quality issues are eliminated. Most importantly, the single main objective of LANTEGI BATUAK is to promote and achieve social integration and employment for people with disabilities.  The LANTEGI BATUAK use case provides an excellent example of how factory-of-the-future technologies can assist workers with disabilities to carry out jobs that were out of their reach earlier. This way future factories can be more inclusive and socially sustainable.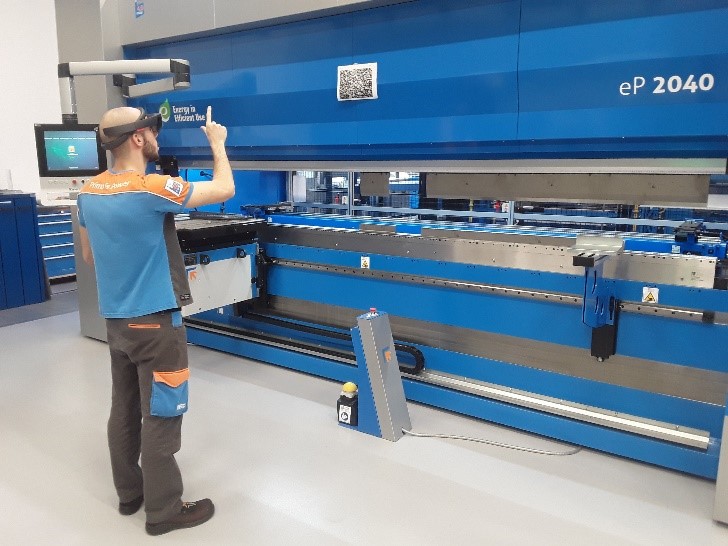 MANUWORK partner PRIMA Industrie in Torino Italy, is a worldwide leader in the field of the laser machinery for the metal sheet cutting, welding and forming applications in 2D and 3D.  Their processes involve experience demanding tasks that require the machine operators to be trained before taking action into the online production line. The challenges arising include operators' satisfaction in their workplace, minimization of training phase, adaptivity of training to each operator's needs, minimization of physical and mental stress.  An adaptive AR based solution was developed by LMS, aiming at assisting press brake operators throughout the machine operation and the tool setup phases, using a mixed reality Head Mounted Display (Microsoft HoloLens).  Initial validation of the AR solution, which adapts its functionality based on the profile of the operator (i.e. novice or experienced) and allows for training or guidance during process execution showed that this technology can be employed for supporting operators for training in press brake machines.  However, the field study demanded that the operators should go through a preparation phase that provides training to AR technology itself.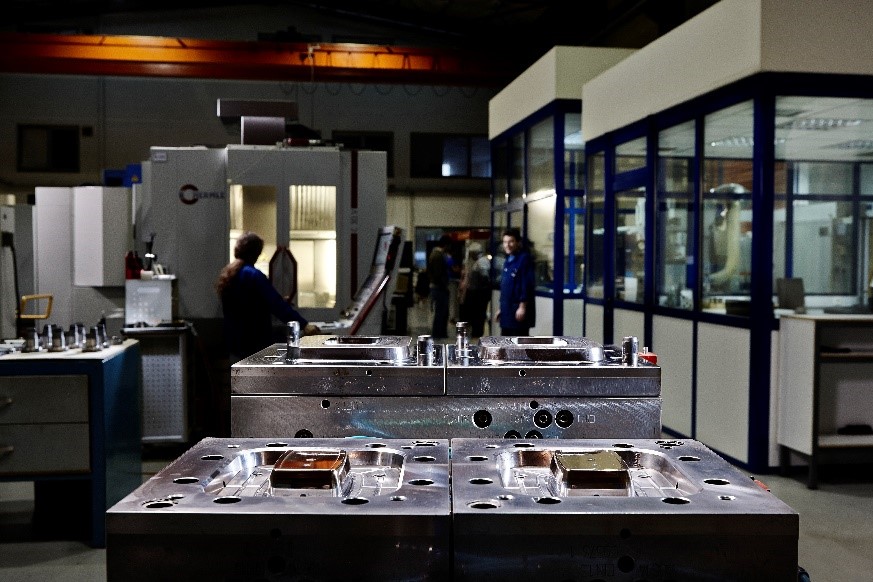 MANUWORK partner BAZIGOS, an Athens based tool maker, specialized in the design and manufacturing of molds and dies, aimed to fill the gap in the information and knowledge distribution among shop floor operators, engineers and management.  The sense that one's opinion matters and that a piece of information and knowledge that a person acquires is important for the whole organization is a focus point for the company, given the knowledge intensive nature of the tool making industry. BAZIGOS successfully tested and validated in its shop-floor environment an Industrial Social Network (ISN) tool, namely RAPpID, developed by MANUWORK partner WE+, which was specifically designed to be used by working personnel involved in the manufacturing process. The RAPpID tool enhanced knowledge sharing of past and new best practices, sharing recent lessons learnt and suggestions for improvement, while at the same time improved the connectivity and strengthened the bonds between employees working in the shop floor and engineers and other experts working in other parts of the manufacturing process, leading to an increase in job satisfaction and knowledge sharing.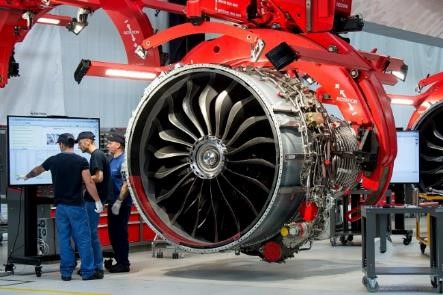 SAFRAN Aircraft Engines from France, a world leader in aircraft engines production, were interested in adopting solutions that will foster sharing of best-practices and also optimize job allocation in accordance with workers' skills. CEA in Paris developed and customized for Safran a solution, the Skimatic tool, that automatically allocated process tasks of the aircraft engine assembly line, to teams of people according to their unique skills and level of experience. Sharing tacit knowledge of experienced employees that are close to retirement with novice ones was facilitated by deploying the social network approach solution such as RAPpID.
Finally, one of the main objectives of MANUWORK was to create a framework for evaluation and promotion of the job satisfaction that was validated in the pilot cases of the project. Three approaches for evaluating job satisfaction were created: i) Job satisfaction defined by extrinsic motivational factors, ii) Job satisfaction defined by extrinsic motivational and safety factors and iii) job satisfaction partially defined by workload and isolation. Each one of these approaches was fitted to the use cases, following their unique requirements.  All these tools and technonologies were integrated by CASP, based in Athens in a single software platform, the MANUWORK platform, with the aim to further develop it to a commercial product in the coming months.
Humans in the workplace will continue to face the challenge of addressing continuous changes due to technological innovations.  Workers should be able not only to work with the physical systems but also with their digital counterparts, the so called "digital twin".  Moreover, workers and engineers in the shop-floor will have to interact with advanced Artificial Intelligence (AI) systems.  Research towards new technologies and methods to support training, skilling and reskilling of employees so as to be able to reduce stress and uncertainty and increase trust when interacting with advanced AI, digital models and automations will be required and the MANUWORK project was one step towards this goal.
For more information please visit www.manuwork.eu

This project has received funding from the European Union's Horizon 2020 research and innovation programme under grant agreement no° 723711.