Meusburger guarantees continuous delivery availability even during the raw material crisis
The current sharp increase of raw material prices is causing uncertainty for many companies. The dramatic rise in costs is due to the increasing demand for steel which has resulted in a global steel shortage. This has caused not only supply bottlenecks but an extreme increase in prices. For example, the price for steel grade 1.1730 has doubled. From today's perspective, it is unclear when the situation will ease again.
100% in-house production of plates – what does that mean for customers?
 'The procurement difficulties and the significant rise in steel prices are also a very big issue for our company. Regardless, our top priority is to continue to fill our warehouse to ensure continuous supply to our customers as they implement their projects. Our mission is to guarantee delivery availability through our raw materials warehouse – now and always. That is why despite the current challenge we will not stop purchasing raw material. As described above, the raw material crisis, particularly the steel producers' supply bottlenecks and the dramatic increase of costs, has also impacted our company. Thanks to our large stocks, we were able to prevent that this drastic price development affects our customers over the last six months. However as there is no relief in sight and steel prices are still rising, we are forced to make price adjustments', explains Managing Director Guntram Meusburger.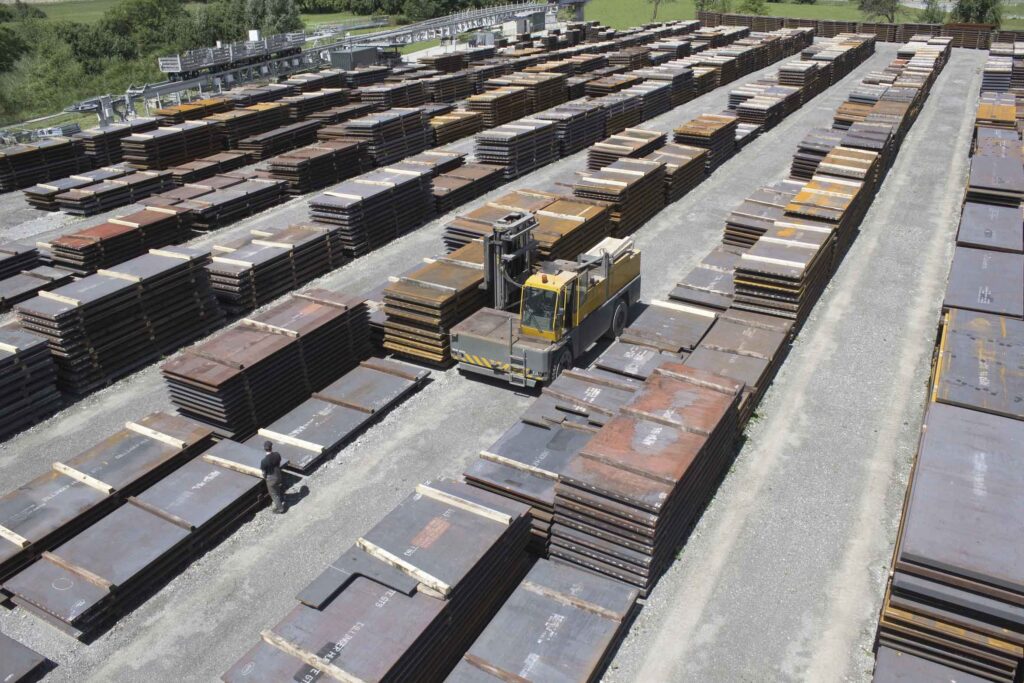 Meusburger's 24,000 m² plate warehouse, stores various raw materials ready for further processing
Thanks to their extensive stocks of standard parts and plates, Meusburger can ensure continuous availability to customers. The company also relies on a high-percentage of in-house production. Meusburger is the only standard parts supplier that offers 100% in-house production of plates. The Austrian company's mission is to continue to guarantee reliable supply in the future. Thanks to Meusburger's large stocks, customers can rely on the standard parts manufacturer for on-time delivery.
Meusburger – Setting Standards.
 Meusburger is the market leader in the field of high-precision standard parts. Customers all over the world make use of the advantages of standardisation and benefit from the company's over 55 years of experience in working with steel. The product portfolio ranges from high-precision standard parts and selected products in the field of workshop equipment to hot runner and control systems, the WBI Knowledge Management Method and solutions for efficient corporate management in the ERP/PPS software area. This makes Meusburger the reliable global partner for making moulds, dies, jigs and fixtures.
Press release from Meusburger