MICROSOFT INTELLIGENT MANUFACTURING AWARD WINNERS 2020
MIMA honors six companies from the manufacturing, process and automotive industries for innovative digital projects
With the Microsoft Intelligent Manufacturing Award, Roland Berger and Microsoft honor digital solutions from companies in the manufacturing industry that are driving the industry's transformation to Industry 4.0 with innovative ideas and creative approaches. Prizes are awarded in five categories (Innovate! // Scale! // Add Value! // Envision! // Educate!), and an overall winner is also chosen by the expert jury.
Numerous companies in Germany, Switzerland and Austria are already acting as industry and technology leaders and implementing innovative projects that are profoundly changing the areas of production, purchasing, supply chain management, engineering and operations. The aim of the Microsoft Intelligent Manufacturing Award is to identify the most innovative solutions.
More than 60 industrial companies applied for the Microsoft Intelligent Manufacturing Award 2020 last September. After an initial selection round in December, 15 finalists remained. These companies presented their projects virtually to the award's Industry Advisory Board on January 21, 2021. On February 5, the six winners were named. Prizes totaling 250,000 euros will be awarded.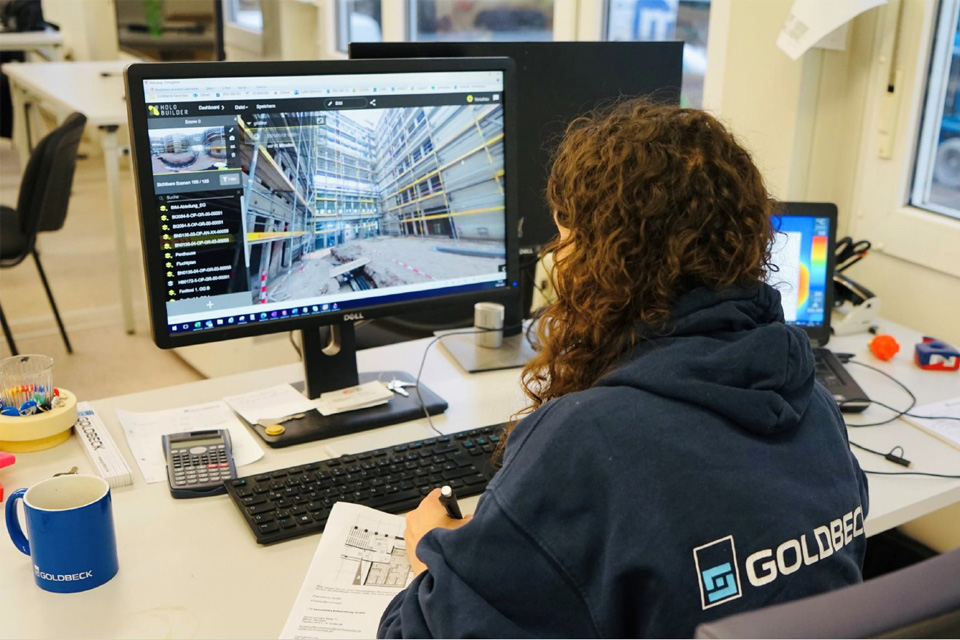 Overall Winner: GOLDBECK+Holobuilder – Automated construction progress tracking and issue management with 360° photo capture
The Bielefeld-based company GOLDBECK, a family-operated construction company with around 7,800 employees, is well familiar with the challenges of tracking construction progress and the complexities of construction management. As a result, the company partnered with HoloBuilder to develop an intelligent assistant based on Holobuilder's cloud-based construction progress management platform that automatically analyzes construction site photos and generates construction site reports. Combining 360-degree photo capture and AI-based computer vision, the solution allows construction managers to more effectively and accurately track construction progress and review construction work, even remotely. An invaluable advantage, especially during the corona crisis.
The platform uses machine learning to identify building components, detect construction defects or errors, and monitor construction progress. Timely detection of problems helps reduce process cycle times, which lowers both costs and capital expenditure. In the jury statement, the board specifically notes the advantage that the platform can be adapted to other types of commercial buildings, such as process plants or manufacturing facilities fairly easily.
Innovate!: Siemens Gamesa – Optical Blade
The use of wind energy plays a significant role in the energy transition. However, the production of rotor blades is immensely time-consuming and extremely labor-intensive due to the manual production required – for each turbine blade, around 1,400 fiberglass sheets have to be placed in a mold by hand. This step accounts for about 25 percent of the production costs of a wind turbine. Siemens Gamesa addresses this problem with an innovative platform solution.
Founded in 2017, Siemens Gamesa is a global provider of wind energy products (onshore and offshore) and service solutions. The core idea of the submission is to accelerate the complex process of positioning the fiberglass plates and to avoid errors.
Using an optical detection platform that connects cameras above the molds to an edge computing system, production workers receive real-time feedback to correlate errors and improve process efficiency. At the same time, a record of the production process is stored in the cloud to document the blade as it is being built. This supports future analytic studies and root cause analysis. The overall system enables workers to move fiberglass sheets into the correct position faster and with a higher degree of accuracy.
"The solution offers major benefits for OEMs and wind farm operators through improved product design, and ensures fewer turbine failures as well as an improvement in energy production," the jury said in explaining its decision.
Scale!: Robert Bosch GmbH – Gain efficiencies with AI-based replacement part recognition
A standstill in assembly lines can have disastrous consequences in automotive production. This is because downtimes can very quickly result in very high costs. A one-hour production standstill, for example, can cost up to one million euros. One of the main causes of a production stop is a lack of spare parts – or the time spent searching for the right part. On average, this search takes ten minutes. So reducing this time would have immense financial implications for manufacturers.
Robert Bosch GmbH has now introduced an AI-based solution to this problem: Bosch Cognitive Services' intelligent spare part recognition can help identify the right spare part with the tap of the finger. The right spare part can then be photographed using a smartphone app and found within just two minutes, a time saving of 80 percent.
The jury decided to award this innovative use case in the "Scale!" category "because, on the one hand, this use case has immense growth potential and, on the other, it can be easily adapted to any manufacturing industry with a need for spare parts handling."
Add Value!: RHI Magnesita – Automated Process Optimization (APO)
Unscheduled maintenance work is a problem throughout the processing industry that should not be underestimated – and a huge cost factor. Such production interruptions are incomparably more serious in the steel industry, where plants are operated at a temperature of 1600 degrees. This makes it all the more important to be able to precisely forecast and control processes and maintenance cycles, especially in the case of steelmakers. RHI Magnesita (13,000 employees worldwide) has developed a digital solution approach with a cloud-based platform APO.
RHI Magnesita is the leading global supplier of high-grade refractory products, systems and solutions. The company is listed on the London Stock Exchange and is a component of the FTSE 250 Index. The APO software tool enables steelmakers to optimize plant logistics and maintenance schedules through more accurate lifecycle predictions and in-depth analysis of impacts on boilers.
The platform integrates data from laser measurement, the manufacturing process and the condition of refractory materials. The laser measurement system records the thickness of the refractory lining of the boilers. A digital model calculates the real wear. This makes maintenance cycles controllable, and easier and more accurate to forecast. All important process parameters are recorded: from the raw material to the pressing pressure for each brick to the temperature profile of the kiln.
In its statement, the jury referred in particular to the enormous savings potential and the efficiency gains in a particularly complicated production environment.
Envision!: DMG MORI – CELOS NEXT – cloud-based platform for the industry
DMG MORI has put the entire manufacturing process to the test. The result: an open interface between the real and digital manufacturing worlds. Thanks to the unlimited connectivity of CELOS NEXT, DMG MORI will have an open manufacturing platform for industry in the future. This is accompanied by the possibility of integrating older machines and systems holistically and comprehensively.
The hybrid edge/cloud platform digitizes and integrates the entire process chain: based on the APP-based control and operating system CELOS of its high-tech machines, which was introduced in 2013 and has been installed 20,000 times. With CELOS NEXT, users are able to create a bottom-up manufacturing system as a digital image. This optimizes quality and increases cost efficiency. The digital solution creates synergies along the entire process chain by linking all DMG MORI machines and third-party products.
Manufacturer-specific solution approaches from the mechanical engineering environment already exist. However, CELOS NEXT goes far beyond the standard due to its holistic, manufacturer-independent approach and thus creates unique added value. And this with open interfaces and universal connectivity for all industries and markets.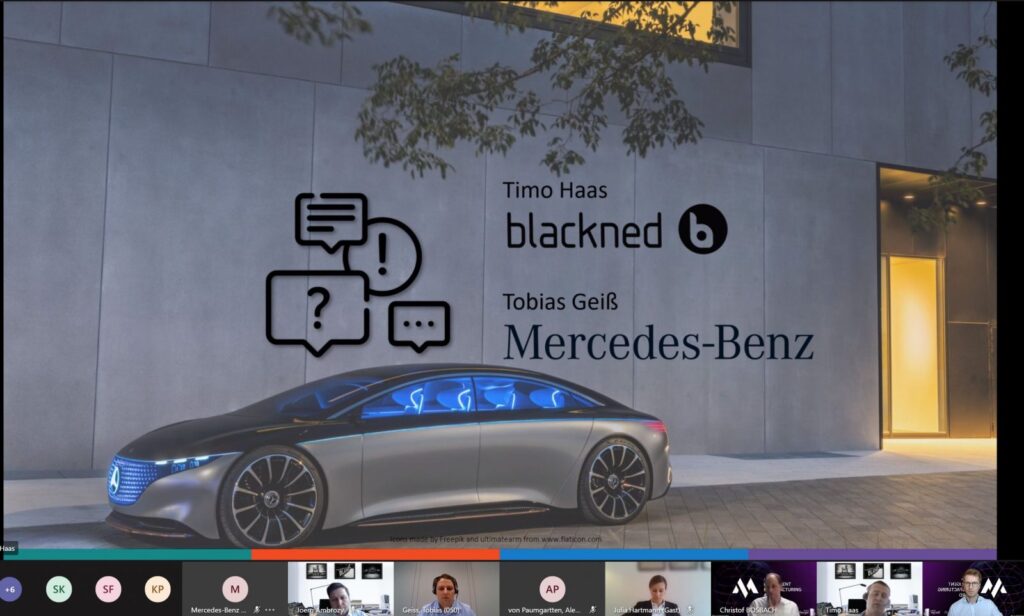 Educate!: blackned + Mercedes-Benz – Distributed 5G – Hybrid Azure Cloud Services at the Industrial EDGE
Industry 4.0, the smart factory, and the Industrial Internet of Things (IIoT); these aspects determine the future of industrial manufacturing. However, to fully exploit the potential of this combination, a stable communication system is needed: thus, the need for the new 5G standard.
The GuardStack Platform – developed by blackned – offers a service platform with comprehensive, self-organizing and dynamic integration for these communication systems. The platform brings together many independent cellular networks to form a unified network. Blackout prevention, real-time data analysis and geolocation services, amongst other applications are just a few examples that support industrial customers in handling their processes more efficiently and securely.
The jury has awarded the use case, "Hybrid Azure Cloud Services at the Industrial Edge" with the Educate! Award because this "represents a blueprint for 5G industrial infrastructure". It leverages the latest technology trends and developments in mission-critical communications and is also easily transferable to other factories and industries. "5G will accelerate the adoption of smart manufacturing concepts and help realize end-to-end specific solutions across the value chain."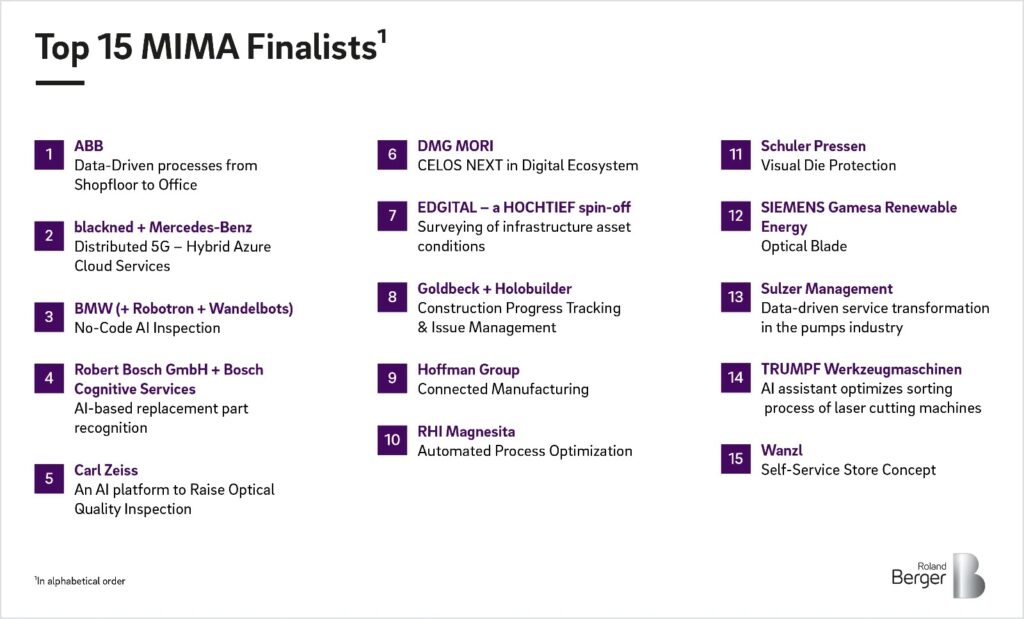 Sources : rolandberger.com        microsoft news